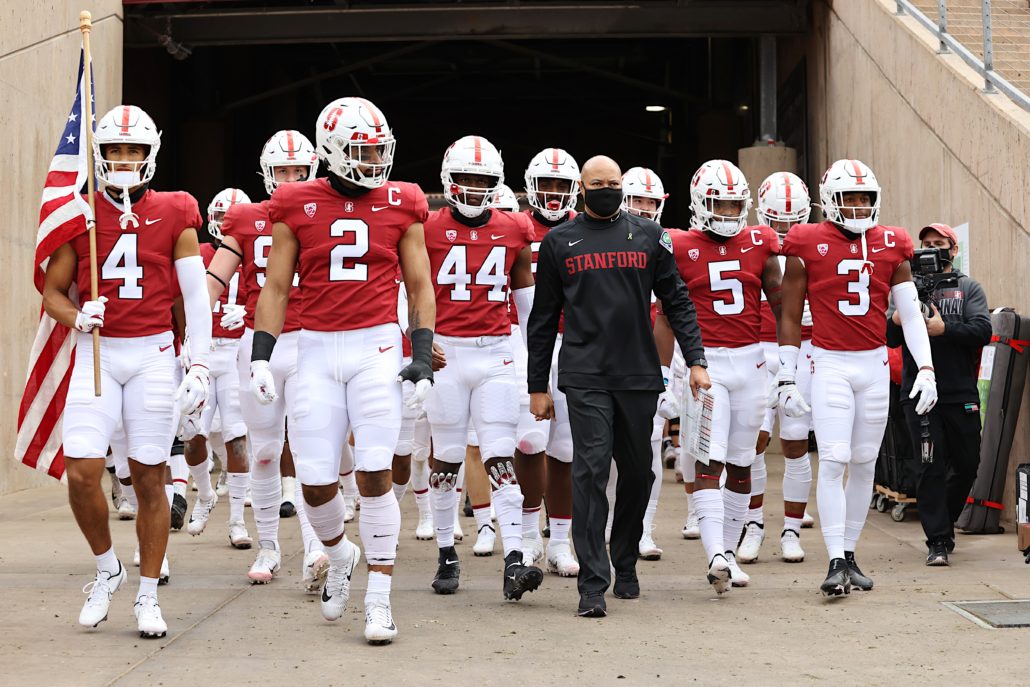 ARLINGTON, Texas — There's no denying Stanford had a disappointing outing Saturday in Jerry's World.
The Cardinal struggled the entire afternoon on offense, only made one trip to the red zone and finished with 233 total yards. The 24-7 loss to Kansas State snapped Stanford's four-game win streak. Not to mention Shaw came up short in the team's season opener  for a second-straight year.
The Wildcats controlled the line of scrimmage on both sides of the ball and held the Cardinal to a mere 39 yards on the ground. It was Stanford's lowest rushing total since November of 2019. Being held to single digits was also Stanford's lowest point total in the past nine games.
Before Shaw could blink his team was down 14-0 at halftime. It altered Shaw's game plan and forced the Cardinal to pass the ball more often than they wanted to.
"It's a tough team to just drop back and throw the ball a whole bunch of times against because they don't give you a whole lot," Shaw said.
Kansas State's defense was stifling and didn't allow Stanford to get on the scoreboard until under four minutes left in the game. It was all mind-boggling to Shaw that his team didn't execute like he wanted and lost by three scores. Although Stanford ran seven additional plays and led in time of possession, it never threatened Kansas State.
The Wildcats also scored seven points off a Cardinal turnover, which didn't help the team's cause. The 49-year old coach was surprised by his team's lackluster performance. However, in Shaw's post game press conference he emphasized how Stanford's shortcomings wasn't a reflection on the team's preparation.
"This game was not indicative of how hard we played, how hard we practiced, and how well we practiced," he said. "Disappointing to me because I put that on my shoulders that we didn't go out there and execute better."
Shaw felt like his team left a lot out there on the field. Quarterback Tanner McKee completed 15 of his 18 passes for a touchdowns, but Jack West threw two interceptions. Wide receiver Bryce Tremayne finished with a team-high, five catches for 62 yards and scored the team's only touchdown.
On the defensive side of the ball the Cardinal played more solid and consistent. The Wildcats only converted two of their seven third down attempts. Linebacker Ricky Miezan led Stanford with eight tackles, including seven solo. Dalyn Wade-Perry, Tucker Fisk and Stephen Herron each put quarterback Skylar Thompson to the turf.
Above all, the Cardinal just couldn't make the clutch plays when Shaw needed them to and they remained in a hole the entire game. Now it's back to the drawing board for Stanford as it gets ready for a pivotal conference matchup on the road at USC this weekend.
By that time Shaw hopes to have cleaned up the mistakes and mental errors made by his players. So he's counting on a grueling week of practice to help his team change the narrative on their season.
"Our guys are going to be sick when they watch this film because the opportunities are going to be there."