Skylar Thompson ready for last rodeo with Wildcats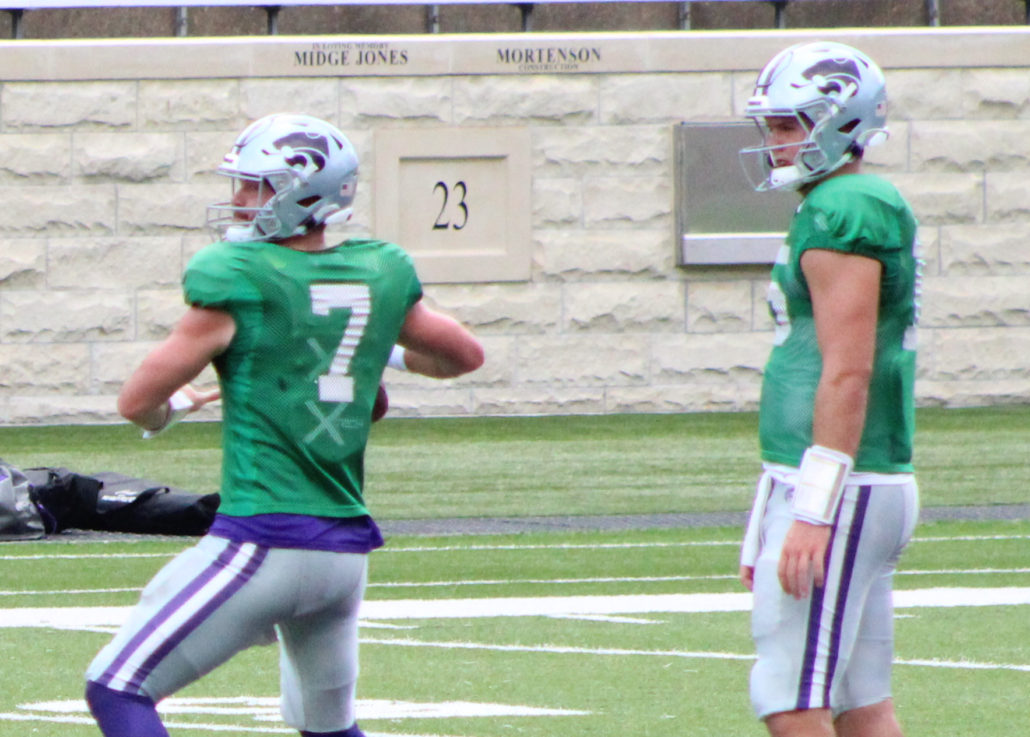 MANHATTAN, Kan. — The most experienced quarterback in the Big 12 is approaching his final season with Kansas State, and he's prepared for whatever he may encounter.
It's been a long journey since Skylar Thompson injured his throwing shoulder against Texas Tech. Missing the Wildcats' final seven games was one of the most humbling experiences of his life. So when he decided to return to the program for one final year, it gave Kansas State instant credibility.
The super senior signal-caller wants to change the narrative of his team's shortcomings last year. After all, the Wildcats went from being an eight-win team during the regular season of 2019 when Thompson was healthy. To a 2-5 record without him in the lineup in Chris Klieman's second year. Not to mention Kansas State ended its' 2020 campaign on five-game losing streak.
So it's no mystery the Missouri native is more valuable to his team than any other quarterback in the Big 12. What solidifies that statement is the fact that the Wildcats scored at least 31 points through the first three contests before Thompson's injury, but averaged 18.8 in his absence during the losing streak.
Now he's back on the gridiron with his teammates like he never left as they approach game one. Playing Stanford in Jerry's World is the ideal situation for Thompson's return to the starting lineup.
"They're a very, very sound team that plays hard together and plays with a lot of passion," Thompson said. "For us to be able to play on a stage like this, to kick the season off in the way that last year went, I think it's a big game for us."
After losing last year's season opener, Klieman has his team more equipped this time around. There's depth across the roster thanks to the transfer portal and experience at the skill positions. Although Thompson has no problem putting his team on his back and carrying them to the finish line, he doesn't have to because there's help.
True sophomore running back Deuce Vaughn will demand some attention from the defense. In return that'll take some pressure off of Thompson. Malik Knowles and Phillip Brooks are a deadly combination for opposing secondaries at wide receiver. The cherry on top is the fact that the Wildcats will be fielding their most talented and experienced offensive line of the Klieman era.
"I feel like we have a lot of playmakers, a lot of good players, but everybody wants to see the guy next to him succeed just as they want to personally," he said. "So, I feel like when you have a team that has that mindset, good things are going to happen."
The six-foot-two, 220-pound Thompson isn't worried about rust to his throwing shoulder. He put in so much hard work during the offseason, that he's confident his arm strength is back. Stanford's defense allowed 222 rushing yards per game last season, which ranked 112th in the FBS. The Cardinal has a somewhat depleted front seven and the Wildcats need to take advantage.
Kansas State is one of the best rushing teams in the league when Thompson is lined up behind center. His presence also sets up the play-action pass for a huge gain. That's going to be vital for the Wildcats' offense this weekend. Thompson is out to prove he hasn't lost a step and wants his team to make a statement.
"It's something us leaders and captains and whatnot are going to have to drive to this team that it's not too big of a moment for us, and it is something that we prepared for for eight months," the 24-year old said. "We worked really hard for this moment and prepared for it."