Buddy Wyatt avidly pursuing the next Wyatt Hubert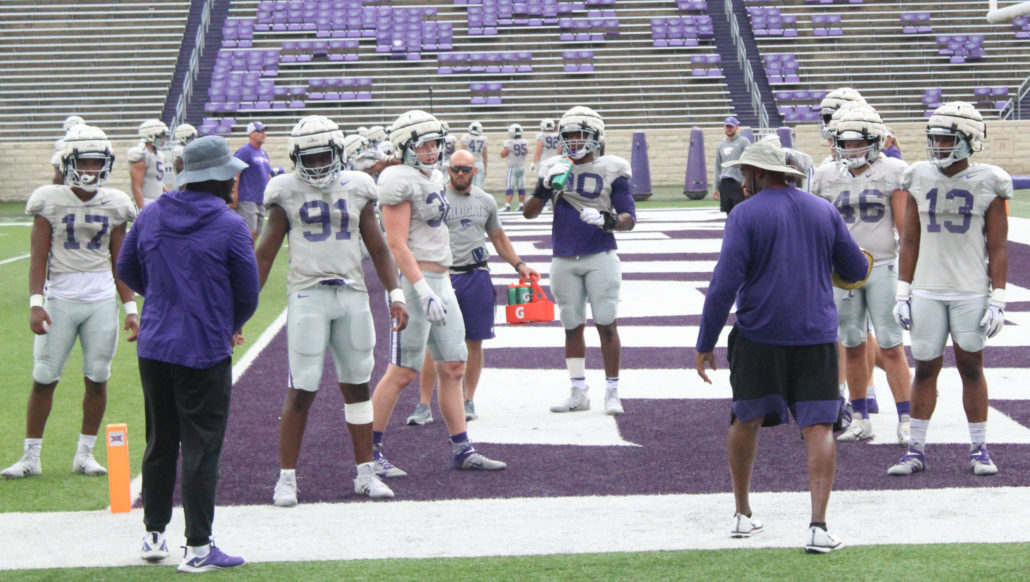 MANHATTAN, Kan. — Kansas State is 10 days from clashing with Stanford and that has Buddy Wyatt on edge.
The Wildcats' Defensive Ends Coach is trying to replace two-time, All-Big 12 edge rusher Wyatt Hubert, and everything has looked promising thus far in fall camp. After all, this is Wyatt's third season on Chris Klieman's staff and he knows the caliber of talent on Kansas State's roster.
Defensive ends Khalid Duke, Kimari Gainous, Felix Anudike and Bronson Massie have all been battling their hearts out throughout camp. Wyatt knows the position requires physicality, stealth, flexibility and a non-stop motor. Duke has really stood out to Wyatt, and rightfully so, considering he racked up 26 tackles, including three for loss off the edge last season.
Wyatt is expecting Duke to be the next aggressor at the position, with that killer instinct Hubert played with. Not to mention the Wildcats' defensive line needs a disruptive pass rusher that's not afraid to get his jersey dirty.
"You've had Wyatt (Hubert) and then Khalid started to make some gains for us, Wyatt said. "Now, people are going to be looking at him more and preparing for him more just because that's who they see on film more."
Last season Kansas State's defense finished third in the Big 12 with 28 sacks. Wyatt understands in order to continue that success the Wildcats have to remain consistent. Regardless, there's potential all across the board and Wyatt has options.
Bronson Massie has the most production under his belt. He made a signal-caller eat grass in two conference games and has 41 career tackles. Anudike got his feet wet as a true freshman and put the quarterback to the turf against Kansas. Gainous came in from the JUCO ranks and contributed immediately, with a sack against Oklahoma and Texas Tech. However, he rehabbed an injury and missed the spring, so Wyatt is trying to get him up to speed.
"Those other guys have just been playing a little bit better than Kirmari," Wyatt said. "I'm not disappointed in Kirmari, he was a little bit behind coming out of spring, and he's still trying to catch up."
Being a former defensive lineman at TCU, Wyatt understands perseverance and how it can make a player more battle-tested. Kansas State finished seventh in the league and 78th in the FBS against the run in 2020. Those are numbers Wyatt believes his defensive ends will can and will improve this fall.
Slowing down the rush, disrupting the pass and keeping consistent penetration in opponents' backfields are going to be vital for the unit in order to accomplish that feat. Practice has been intense and every member of the group has been holding himself accountable.
And that's a bright spot in Wyatt's eyes. The better chemistry his players have with each other in camp, the better they'll perform on gameday, and Wyatt is optimistic on the ceiling of the group's potential.
"It's going to be more by committee, probably, than just one person, but I'm excited," he said. "The guys have been working really hard, they've really improved."