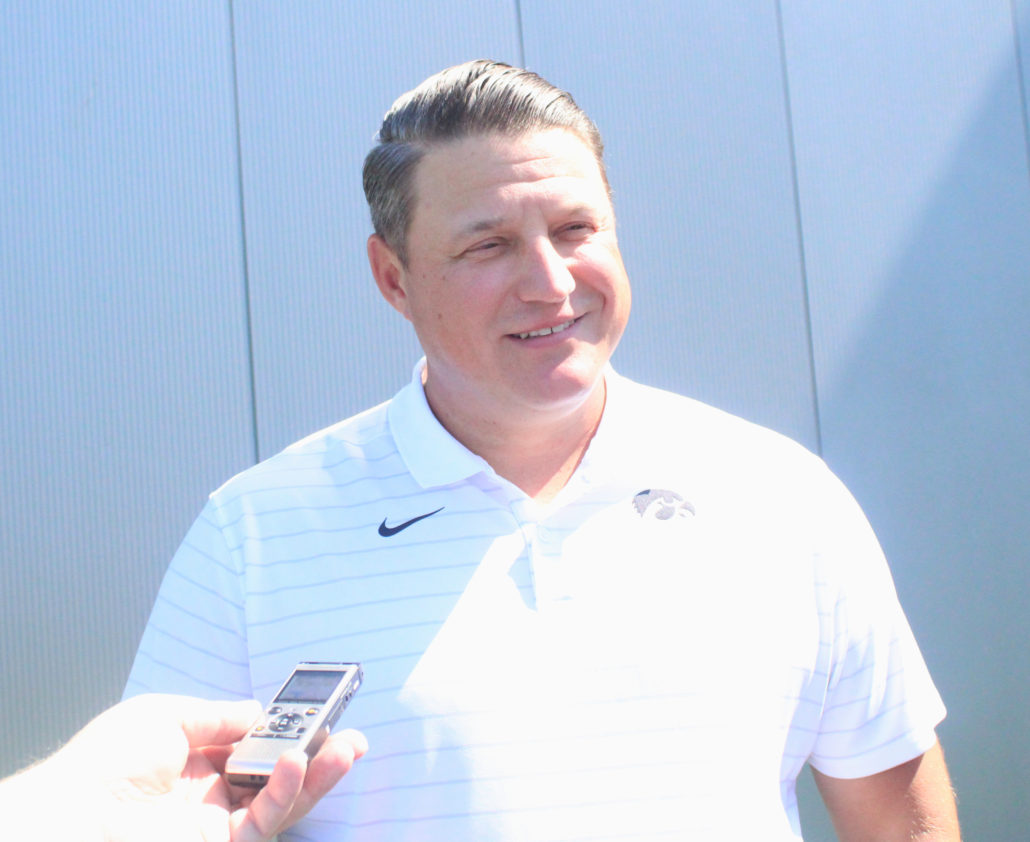 IOWA CITY, Ia. — This Saturday afternoon Kinnick Stadium will be invaded by a top-20 team that has the reigning Big Ten Coach of the Year.
No. 17 Indiana is the highest-ranked opponent Iowa has opened up the season with since 2000. The Hoosiers are loaded on defense, but none of it alarms Brian Ferentz. After all, Iowa's Offensive Coordinator has been preparing his unit throughout the offseason for the matchup. And he's confident they're ready.
Indiana's defense finished 19th in the FBS in points allowed in 2020, and return a stud at every level of the unit. Defensive tackle Demarcus Elliott has 49 tackles over the past two years. Micah McFadden is one of the Big Ten's best linebackers. And cornerback Tiawan Mullen has the skills to blanket an entire side of a field.
So Ferentz is relying on his player's experience to match wits with the Hoosiers.
"The challenge really hasn't changed, I think it's certainly always a better start when you have veteran players coming back, but every year we start from square one," Ferentz said.
There's no denying Iowa's offense is trending up. Quarterback Spencer Petras is entering his second year as the starter. Tyler Goodson is one of the best running backs in the league. Tyler Linderbaum is an All-American offensive lineman. Receivers Tyrone Tracy, Nico Ragaini and tight end Sam LaPorta combined for 59 catches last year.
Which is why Ferentz believes the unit has the potential to be special, but the younger players will need to be ready to step up to the plate also.
"How many situations can we put these guys in, in a limited amount of practice time to try to get them to as close to game ready as possible," the 38-year old said. "Also knowing that no matter how much we practice, they're not going to be game ready the same way as our third-year guys."
The veterans are leading by example and have a lot of responsibility. LaPorta is one of those individuals. He has to deal with the expectations that comes with the territory of playing at 'Tight End U'. There's been a lot of hype surrounding LaPorta, and Hawkeye fans are expecting him to have his best year yet. Ferentz believes LaPorta will deliver like his predecessors. And that brings excitement to the coaching staff. LaPorta's matchup with McFadden will be key.
"I think in some ways he (LaPorta) is not Noah Fant, they have very different skill sets, but if you look at the maturity and the development, it's similar," he said.
Petras is also dealing with the pressure. His coaches and teammates have raved all offseason about his maturation process. Ferentz just wants Petras to orchestrate the offense effectively. Time of possession will be vital for the 18th-ranked Hawkeyes, and their offense is designed for long drives. No quick strikes, but Ferentz still wants the explosive plays.
His main goal is to improve Iowa's third down efficiency. Accomplishing that feat against the Hoosiers, will allow the players to trust each other. In return that'll help the timing and chemistry of the offense. Most importantly, Ferentz feels the Hawkeyes will be up to the task this weekend.
"Quite honestly, you play, coach and compete in football, every game is hard and every game is tough," Ferentz said." "We've won openers and we've lost openers, so it doesn't matter who you're playing."