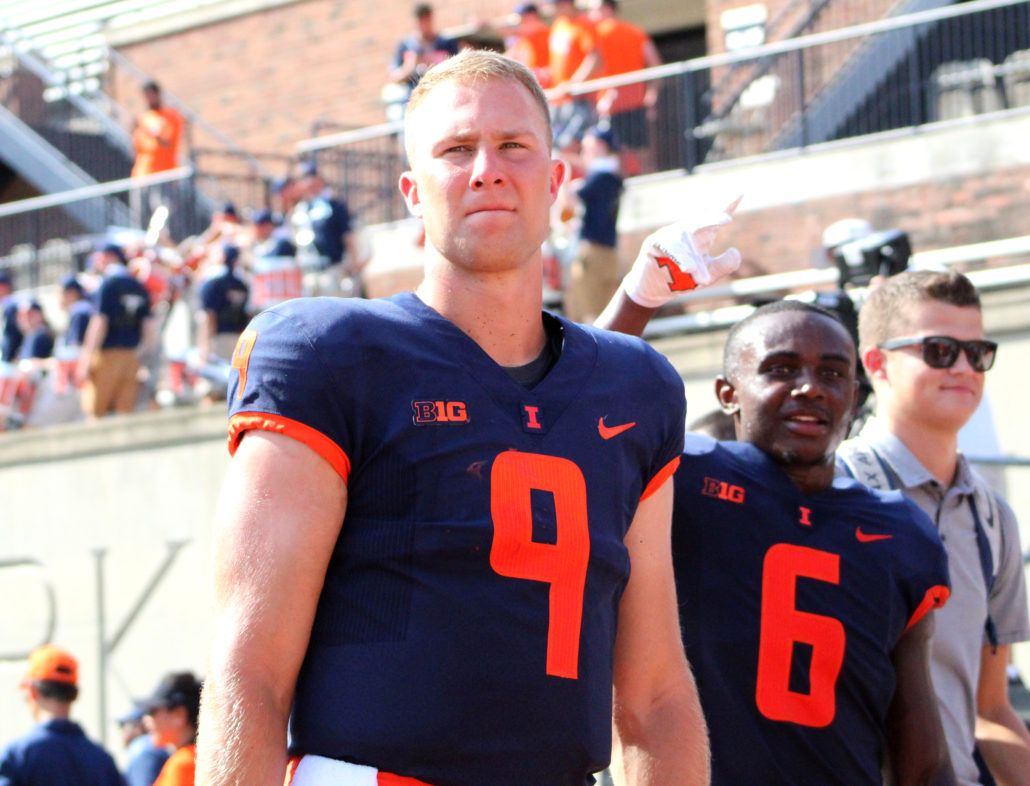 CHAMPAIGN, Ill. — Saturday's victory over Nebraska was the coming out party for the Illinois quarterback.
Artur Sitkowski was more than ready when his number got called and he delivered for the Fighting Illini in the clutch. Although his performance caught the rest of the Big Ten's attention, it didn't come as a surprise to Coach Bret Bielema. He's been watching Sitkowski closely since he arrived on campus and knew the New Jersey native had potential.
After all, Sitkowski's journey has been about perseverance and rising to the occasion. The former three-star prospect paid his dues when he played at Rutgers. As a true freshman with the Scarlet Knights in 2018, he led all Power Five quarterbacks with 18 interceptions.
Sitkowski played behind Johnny Langan and Noah Vedral the following two years, before he transferred to Illinois this past spring. Sitkowski even swallowed his pride when Bielema named Brandon Peters the Fighting Illini's starter against the Huskers.
Despite the fact that his debut came at a cost with Peter's shoulder injury, Sitkowski took advantage of the opportunity.
"He really has a pretty strong presence and awareness, he talks, acts, walks and reacts like a quarterback," Bielema said. "I really didn't have any thoughts on how he was going to handle the moment, but what I didn't know was how were the guys going to react to him."
The rest of Illinois' offense kept rolling along with Sitkowski at the helms. The six-foot-five, 225-pounder showed why good signal-callers make others around them better. Sitkowski had instant chemistry with wide receiver Isaiah Williams and the two connected on two touchdown passes.
The Fighting Illini's offensive line protected Sitkowski thoroughly and gave up one sack. The quarterback displayed toughness when he took a huge hit from a Husker defender. It resulted in a roughing the passer penalty and from that point on the momentum shifted in favor of Illinois.
Not to mention it lit a fire under Sitkowski and he played like a seasoned veteran.
"Anytime your quarterback gets knocked out, that's a big deal, and I thought Art was prepared for the moment," Bielema said. "I give Tony Peterson and our offensive staff a lot of credit, to have him step into that role and not miss a beat."
Sitkowski picked apart Nebraska's secondary and completed 12 of his 15 passes for 124 yards. For his heroics he was named the Big Ten's Offensive Player of the Week. Now Bielema's No. 1 goal is to keep Sitkowski healthy. Illinois (1-0) hosts UTSA this Saturday. The Roadrunners won seven games last season and return a plethora of starters on both sides of the ball.
Regardless of the team's recent shortcomings in non-conference play, the Fighting Illini is new and improved with the addition of Bielema and Sitkowski. With Peters out rehabbing his shoulder, Illinois fans should expect more of the same from Sitkowski. His experience, leadership and poise is starting to pay off.
Bielema is proud to have the quarterback in his arsenal. So look for Sitkowski to carry his momentum into game two. The fans, his teammates and coaching staff have all rallied behind him. And for the first time in a while, Sitkowski is watching his career trend up again.