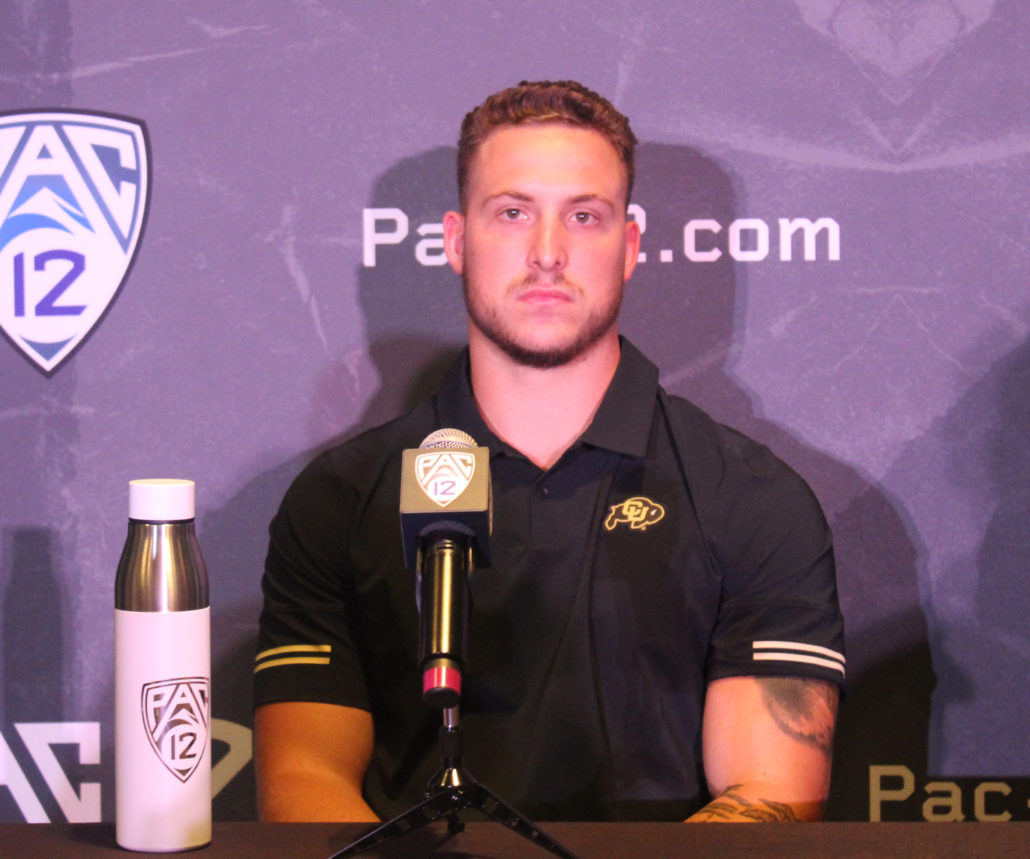 HOLLYWOOD — One of the most feared defenders in the Pac-12 is finally returning to the gridiron.
Nate Landman is that old school-type of linebacker, who's tough as nails and not afraid to get his jersey dirty. Colorado fans have been enjoying his physicality for the past three seasons and they're craving for more.
And rightfully so, considering Landman has been a tackling machine, with 270 total stops, including 32 for loss and 10 sacks during that span. After enduring all of that success, Landman's playing career was suddenly in jeopardy after his achilles ruptured against Utah last season.
The three-time, All-Pac-12 performer missed the Buffaloes' bowl game and the entire spring rehabbing his injury. However, he was able to take advantage of his time on the sidelines and experienced training from a coach's perspective. Landman also connected with his teammates on a level that he never experienced.
"I learned a lot about myself and about the game, being able to take that step back and be surrounded by the coaches all the time," Landman said. "Focusing on the bigger picture rather than just being in there focusing on linebacker, so it kind of took that responsibility off me and put that on some other guys."
During Landman's absence, linebackers like Carson Wells was able to step up to the plate. Coach Karl Dorrell also promoted Chris Wilson to Defensive Coordinator, which has been a huge impact in the linebacker room. In just a short period of time Landman feels Wilson is a great guy, who brings a lot of energy and believes Colorado's defense is going to be versatile this fall.
All of it has been positive momentum with Landman's return as the Buffaloes start fall camp. Dorrell is glad to have the heart and soul of his defense back on the gridiron where he belongs.
"He's a great leader for us, a catalyst, he's a guy that leads by not only what he says, but also what he does," Dorrell said. "He presses the envelope on everything, and he doesn't do anything half speed, he's going to go all out."
Dorrell hit the transfer portal hard during the offseason and was able to patch up some holes on defense. The new pieces will help Landman's transition back into action. Now he won't have to be the guy to make every play and can share the load. There will be enough tackles to go around and Dorrell made sure Landman has a solid supporting cast around him.
Wells led the entire FBS in tackles for loss last season. Landman was impressed with middle linebacker Quinn Perry over the spring and expects him to be a force on the inside. Wilson's scheme is designed to establish depth, which in return comes with the next man up mentality.
In the meantime the Buffaloes are being cautious with Landman's return instead of rushing him back to action too soon. Still, the entire process has been a speedy recovery and a blessing in disguise for all parties involved.
"Nate's health report at this time is close to 100 percent," Dorrell said. "We do anticipate him being 100 percent by the middle of training camp, so he's way ahead of schedule."