Jimmy Lake proud of Pac-12's recent minority hires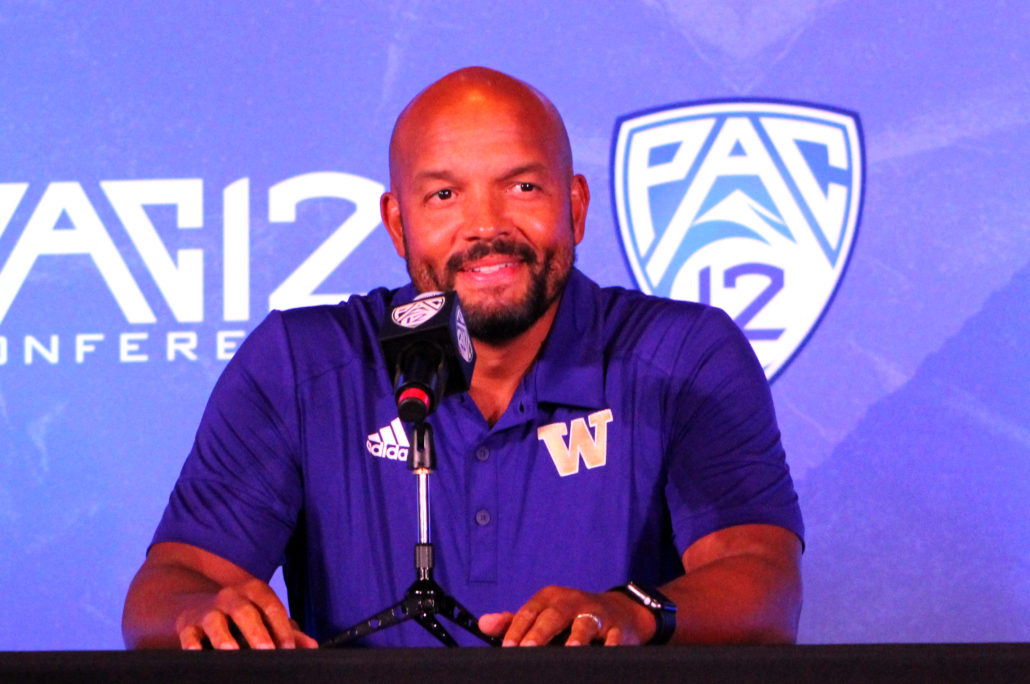 HOLLYWOOD — The Pac-12 leads all Power Five Conferences with four African-American head coaches.
Even after Kevin Sumlin's departure from Arizona last season, Jimmy Lake, Herm Edwards and Karl Dorrell were all hired over the past four years. Not to mention Stanford's David Shaw is one of the longest-tenured coaches in the league.
There are three African-American head coaches in the Big Ten, one in the ACC and Big 12, but none in the SEC. Which is why Lake was grateful when the Washington job fell in his lap and he's glad to be part of a league that's proactive with change.
"It's really special, our states are really at the forefront of being ahead," Lake said. "I think of how in the future hopefully all of our conferences are that way."
Other Power Five programs that have hired African-American coaches over the past decade that are no longer with the team, include Florida State, Texas, Texas A&M, Virginia, Kansas, Purdue, Illinois, Kentucky, Vanderbilt and Oregon. The Pac-12 is constantly adapting to the sport. Hiring New Commissioner George Kliavkoff was just the start for the conference and Lake is admiring what he has seen thus far.
"They are more diverse, I think the Pac-12 has been at the head of that," he said. "But my focus is just being successful and doing this job the best I can so more people that look like me, that have a background like me, can get these opportunities to become a coordinator and to become a head coach."
With Playoff expansion on the horizon, NIL deals for student athletes and future merging of super conferences, the Pac-12 will be at the forefront. That means there'll be several opportunities for African-Americans to land upper echelon coaching gigs.
Lake is proud to be in his position and doesn't take anything for granted. It took an untimely resignation by Chris Petersen to open up the doors for him, but he knows he has paid his dues and worked his way up with the program. With the landscape of the sport constantly changing, Lake just wants to provide some stability behind his hire.
Last season the Pac-12 just got a taste of Lake's potential as a head coach. Washington would've played in the Pac-12 Championship if it wasn't for pandemic complications. With a full slate of games on the schedule this fall and a loaded team on both sides of the ball, the Huskies have a chance to do some damage in the North Division.
Which is why Lake is optimistic as ever about Washington's 2021 campaign.
"I wake up every day thinking about how we can make the University of Washington one of the best teams in the country," said the 44-year old coach. "Then I know the aftereffects of what that will be, so people who look like me will get these opportunities in the future."