Jonathan Smith certain Beavers are closing the gap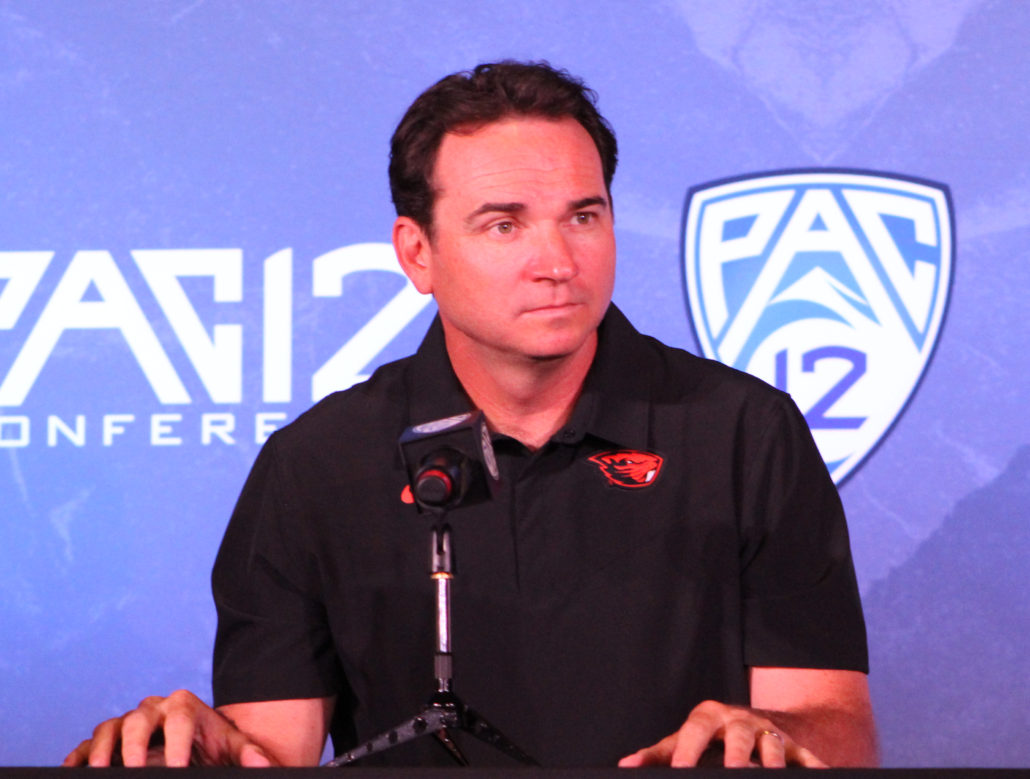 HOLLYWOOD — For a program that hasn't had a winning season since 2013, Oregon State is trending up in the eyes of its' head coach.
Jonathan Smith believes his alma mater is ready to come out of the Pac-12 cellar. History hasn't been kind to the Beavers, but snapping a three-game losing streak to rival Oregon last season was a start. Smith is approaching his fourth year with Oregon State and has compiled a record of 9-22, including a 4-21 mark in Pac-12 play.
However, Smith strongly believes this year's version of the Beavers will be the most talented team he'll be fielding since he's been in Corvallis. It all starts with Oregon State's quarterback room. Smith is heading into fall camp with four healthy signal-callers, including three with starting experience.
Tristan Gebbia, who's a former Nebraska player, is finally returning to practice after recovering from an injury. Smith loves Gebbia's skill set and leadership.  Colorado transfer Sam Noyer, who earned All-Pac-12 honors last season, is on campus. Noyer is more mobile than Gebbia and led the Buffaloes to a bowl game.
Not to mention there's Chance Nolan, who threw for 537 yards, six touchdowns and two interceptions in 2020. Smith felt Nolan made big strides from year one to year two and is excited to see what he'll do in camp.
"In general I think with competition, the cream rises to the top when you have that type of competition in August, but it also adds to our depth as the season goes," Smith said.
Oregon State's defense was one of the worst units against the run last season and allowed 217.6 yards rushing yards per game. Still, Smith feels confident about the Beavers' front seven, especially linebacker Avery Roberts, who's also a former Husker. He led Oregon State in tackles last season and earned first-team, All-Pac-12.
The Beavers have a full slate this fall, which means there'll be more opportunities to put together a winning season. Having to travel to USC and Oregon will be daunting, but the rest of the schedule is manageable. Smith knows games aren't played on paper and it's still any given autumn Saturday in the Pac-12.
"This league is competitive, you dial a play well to win," he said. "We closed the gap quite a bit over the last three years I've been coaching, but at the same time getting over the hump is just not that simple."
Mike Riley was the last coach to get Oregon State to a bowl game. Ironically a couple of his recruits are on the roster and have been playing their best football. The Beavers were in some close games last year, including three one-score losses. Smith thought his teams' performance in those clashes showed promise that they're almost there. Now he's feeling optimistic as ever.
"Every year is new, we know we've made huge strides," the 42-year old coach said. "We're confident in what we got as a program, but we know we got to work to do to be able to get over that hump and win all these games that are really close."