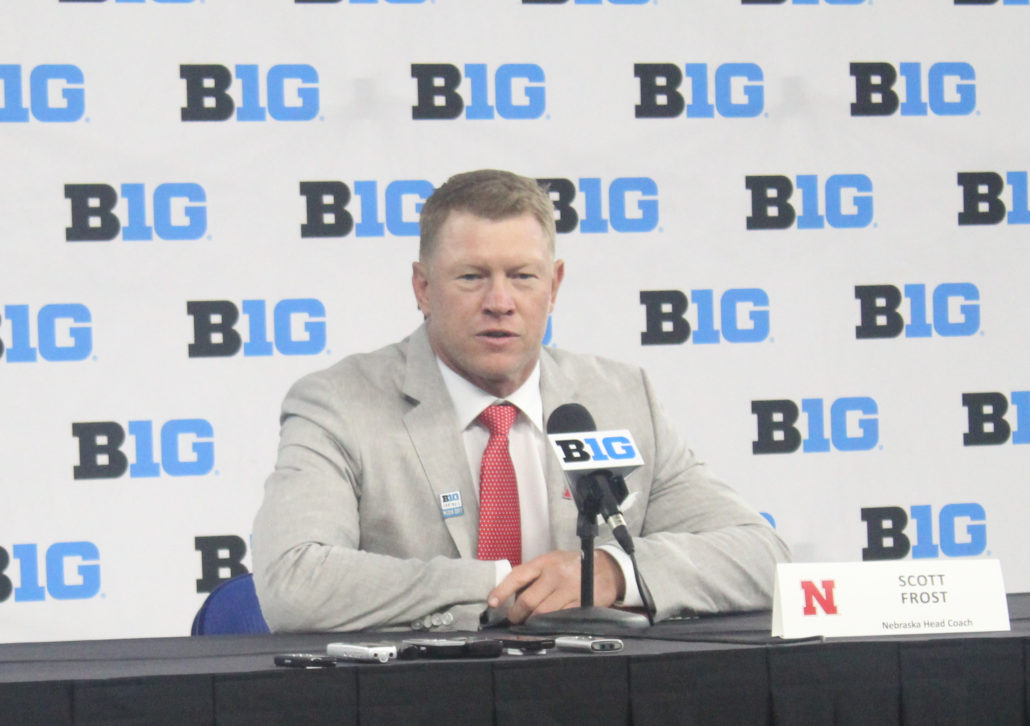 INDIANAPOLIS — Nebraska is coming off one of the worst three-year runs in program history, but the future looks bright in the eyes of its' head coach.
The past 30 days have been a complete whirlwind for Scott Frost. Bill Moos retired as Athletic Director. Legendary Blackshirt Trev Alberts replaced him. Not to mention the NIL finally kicked in for Husker student athletes.
Frost understands the uncertainty the sport is facing. The program is also approaching uncharted waters. Tasks are happening in the athletic department that's out of his hands, but Frost trusts Chancellor Ronnie Green's judgement. The 46-year old coach just wants to focus on the football aspect and control what he can control, which is guiding teenagers into grown men.
Normally when a new Athletic Director comes aboard, the current coach who he didn't hire has to look over his shoulders. However, Frost doesn't see it that way with the presence of Alberts. Instead he views it as a family affair, with them both back at their alma mater.
Although Frost wasn't there for Alberts' introductory press conference, the two have met four times in the past and are very familiar with each other. After all, Frost believes they have similar views and goals for the program. In return, it creates more of a relaxed atmosphere for Frost, knowing they're on the same page.
"I'm glad we got a Nebraska guy in the building, somebody that understands all of the great things about Nebraska and some of the challenges," Frost said.
Things are changing on and off the field for his players also. Quarterback Adrian Martinez linked up with Degree deodorant. Not to mention center Cam Jergens signed endorsement deals with in-state businesses. Still, with the coaches back in the office on Monday and the players reporting to practice on July 30th, Frost just wants everyone focused on football.
Compiling a 12-20 record with the program, including a 9-17 mark in conference play, hasn't generated much off season buzz approaching Frost's fourth year. As a matter of fact the Huskers were projected to finish fifth in the West by the Big Ten media earlier this week.
Despite all of the criticism, the embattled coach doesn't let himself get involved with the outside noise. He understands that the roses always come with the thorns.
"Praise and blame are all the same, both imposters," he said. "When things go well you get a lot of praise, but that's not all true, and the blame game is the same way, so I learned a long time ago not to read anything."
There's no denying last year's shortcomings in a pandemic-plagued season took its' toll on the team. Now Frost is glad everything is back to normal. He has put all of his preparation into getting his players ready for their first game against Illinois. The spotlight will be on the Huskers' road clash because it's in week zero, and Frost plans on taking full advantage.
"A lot of eyes around the country will be on that game and it gives our kids a chance to get to work earlier," Frost said. "It's a big game for us, I think our kids understand that it's our biggest game of the year."
Regardless if his track record with the program hasn't looked promising thus far, Husker fans still have rallied behind one of their own. There's pressure to win this fall, but that's nothing new to Frost because he understands the culture. Husker Nation wants a return on their investment and Frost knows they deserve it.
It's hard to argue against that when the sellout streak at Memorial Stadium is still intact. Husker fans are going to be there for the program through thick and thin. It's just frustrating for some that the thin has lasted this long. No one wants to see Nebraska struggle to hike the ball, commit silly penalties and fail to get third down stops on defense.
It remains to be seen if the time will come again when the Huskers are scoring points at will, and the Blackshirts are dominating in the trenches. With the way the landscape has changed from 25 years ago, there are many College football fanatics that believe the Huskers will never be back, but don't tell that to Frost.
He still believes the program has what it takes to win at a high level like in the 90's. It's all a process, and the recent shortcomings are just bumps along Frost's journey back to glory on the gridiron.
"Nebraska is in a great spot because we're one of the blue bloods of College football, the fan and financial support is really unmatched in my opinion."