Ranking the Pac-12's best quarterbacks of 2021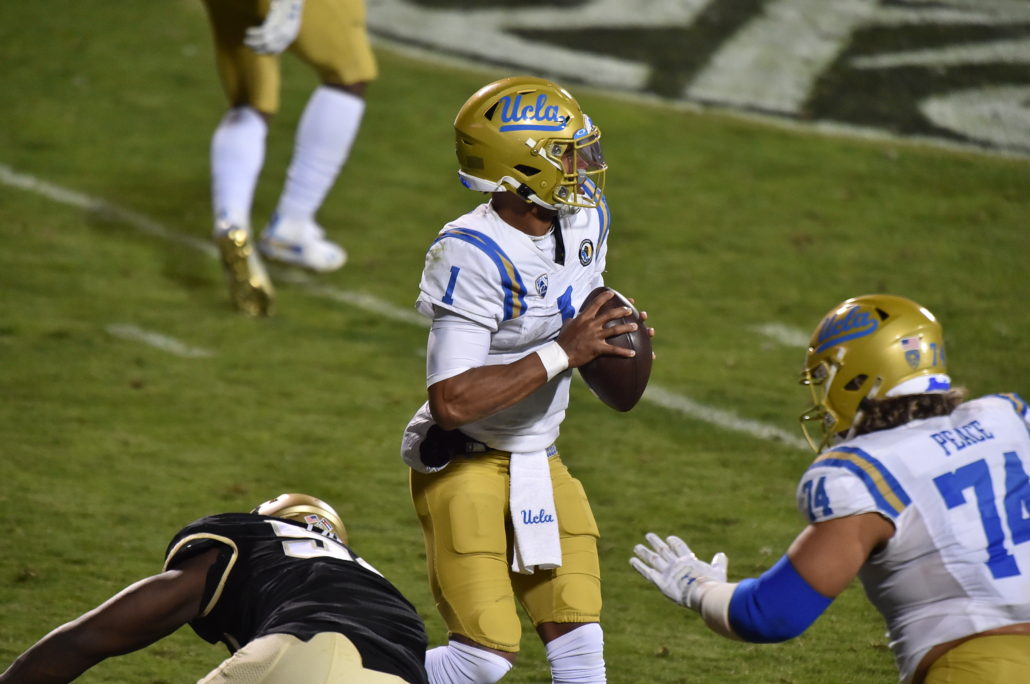 For a conference that has been left out of the Playoffs since 2016, the Pac-12 will boast arguably the best set of quarterbacks in the Power Five.
That's mainly because of effective recruiting, the transfer portal and overall experience. Although UCLA is the lone team from the league that's still going through spring training, once the smoke clears and the dust settles, the Pac-12 will have an opportunity this fall to make a statement to the rest of the country.
And it all starts with great quarterback play. After all, the league is full of parity, and in 2021 several signal-callers are ready to step up to the plate and make themselves a household name across the west coast.
12. Gunner Cruz, Arizona: The Wildcats' quarterback battle is far from over. Both Cruz and Will Plummer had a chance to seize the position over the spring, but failed to do so. South Florida transfer Jordan McCloud, who has more experience than Cruz and Plummer, arrives on campus in June. With Washington State last season, Cruz had a 34-yard touchdown pass against USC. He also completed five of his seven passes, for 110 yards and a touchdown in Arizona's spring game last month. The former three-star prospect displayed better accuracy than Plummer on deep throws. That shouldn't come as a surprise, considering Cruz was originally recruited to play in Mike Leach's 'Air Raid' system.
11. Tanner McKee, Stanford: The former four-star prospect only played 12 snaps last season, which was mostly against Oregon. However, McKee gained separation from senior Jack West as the Cardinal wrapped up their spring game Saturday. Shaw wants the offense to remain balanced, but Stanford's quarterback has to be a natural at changing plays at the line of scrimmage. McKee looked the most comfortable in the red zone, making reads and going through his progressions. Not to mention he threw an 18-yard touchdown pass to Bryson Tremayne. A year of experience in the system has benefited the California native and he displayed an accurate arm throughout the afternoon.
10. Brendon Lewis, Colorado: Coach Karl Dorrell is approaching his second season with the program and has a big decision on his hands, that'll linger into fall camp. The Buffaloes have three quarterbacks capable of leading their offense. Lewis had the strongest spring, while JT Shrout showed promise and Sam Noyer, who was last year's starter, didn't participate in physical team drills. The six-foot-two, 225-pound Lewis rumbled for 73 rushing yards and orchestrated a touchdown drive against Texas. He completed eight of his nine passes in Colorado's spring game. Being an early enrollee, and his experience last year, has benefited Lewis with having the upper hand on the starting position.
9. Tristan Gebbia, Oregon State: The former four-star prospect was originally recruited by Mike Riley during his tenure at Nebraska. Scott Frost took over, named Adrian Martinez his starter and Gebbia transferred to Oregon State. He started the Beavers' first four games last season before he suffered a hamstring injury. Still, Gebbia looked solid when he was at the helms. The California native threw for a season-high, 329 yards and a touchdown in the opener against Washington State. Gebbia also had 263 yards through the air and a touchdown in the win over Oregon. The Beavers are trying to put together a winning season for the first time since 2013. Gebbia returning fully healthy will definitely help.
8. Jayden De Laura, Washington State: The former four-star prospect was the Cougars' top recruit last year. De Laura is currently on suspension because of a DUI arrest this past February. However, he's trying to keep the position on lock from Tennessee transfer Jarrett Guarantano and last year's backup Cammon Cooper. De Laura threw for 227 yards and scored three total touchdowns in the season-opening win over Oregon State. He followed up that performance with 321 passing yards and two touchdown tosses against Oregon. The Honolulu native went through some growing pains, with two interceptions in the loss to USC. Still, in his last performance against Utah, he threw for 204 yards and scored twice.
7. Dylan Morris, Washington: The Washington native showed promise with the Huskies last season and led his team to a 3-0 start. Morris scored at least one touchdown in all four games. He threw for 230 yards and two touchdowns in the win over Arizona. Morris' 272 yards through the air and two touchdown tosses were overshadowed by his three interceptions against Utah. However, Morris wasn't picked off in Washington's three other conference clashes. The six-foot, 210-pound Morris capitalized on the momentum he generated last season in the Huskies' spring game. Morris completed 18 of his 28 passes for 125 yards. Now he's the favorite to be the starter over Sam Huard and Patrick O'Brien.
6. Chase Garbers, California: The former four-star prospect is one of the most experienced quarterbacks in the Pac-12. Garbers has thrown for 4,049 yards, 34 touchdowns and 16 interceptions over the past three seasons with the Golden Bears. He also has 718 yards on the ground and seven rushing scores during that span. The six-foot-two, 225-pound Garbers had a season-high, 315 yards through the air and three touchdown tosses against Oregon State last year. Not to mention he scored four total touchdowns and had no interceptions over the Golden Bears' final two games. Garbers looked poised in the pocket and completed all five of his passes for 71 yards and a touchdown in Cal's spring game.
5. Anthony Brown, Oregon: Although he only played in two games for the Ducks last season, Brown is a very experienced quarterback. His collegiate career dates back to 2016, when he was a three-star Boston College recruit. Brown scored 43 total touchdowns with the Eagles, including 22 in 2019. He transferred to Oregon last season, but couldn't beat out Tyler Shough for the starting job to replace Justin Herbert. Still, Brown threw two touchdowns in the victory over USC for the Pac-12 Championship, and had two rushing scores in the Fiesta Bowl. The New Jersey native also looked solid in Oregon's spring game, and completed 17 of his 26 passes, for 208 yards and a touchdown.
4. Charlie Brewer, Utah: He's one of the most experienced signal-callers in the country. Brewer threw for 9,700 yards and 65 touchdowns in four seasons with Baylor. Not to mention he led the Bears to an 11-win campaign in 2019. Although Brewer's production dwindled under first-year coach Dave Aranda, he's hoping to revive his career with Utah. Jake Bentley started the Utes' final four games last season, but he entered the transfer portal when Brewer enrolled. Brewer looked sharp in Utah's spring game, and completed all 15 of his passes for 151 yards and two touchdowns. Now he's trying to beat out Cameron Rising, who's recovering from a shoulder injury, which he suffered in last year's opener.
3. Jayden Daniels, Arizona State: He's arguably the most dynamic signal-caller in the Pac-12. Daniels scored nine total touchdowns through the Sun Devils' four games, including six over the final two. Although Arizona State lost the season opener at USC, the California native displayed amazing mobility and steamrolled for 111 rushing yards. Not to mention Daniels had three touchdowns apiece in victories over Arizona and Oregon State. The Sun Devils' offense looked unstoppable over the final two games and the team scored 116 total points. Daniels has made a name for himself over the past two seasons, with 3,644 yards through air, 580 on the ground and 29 total touchdowns during that span.
2. Dorian Thompson-Robinson, UCLA: Chip Kelly is approaching his fourth season with the Bruins and will likely be fielding his best team yet. Thompson-Robinson has operated Kelly's system for the past three years and he's a big reason for all the hype. The Las Vegas native has thrown for 5,132 yards, 40 touchdowns and 20 interceptions during Kelly's tenure. Not to mention UCLA scored 34 or more points in five of its' seven games in 2020. He threw for over 300 yards and scored five total touchdowns in the opener at Colorado. Thompson-Robinson had a season-high, 363 yards through the air and four touchdown passes against USC. The former four-star prospect is the most athletic signal-caller in the league and poised for big things this fall. The Bruins are hungry and haven't had a winning season since 2015.
1. Kedon Slovis, USC: If there's any Pac-12 player this fall that has a chance at becoming a Heisman finalist, Slovis is the one. The former three-star prospect has become one of the game's best quarterbacks. He can sling the ball all over the field and puts it through tight windows other signal-callers can't. Slovis is very clutch and has come up big for his team when they need him the most. The season-opening victory over Arizona State is a perfect example of his will to win. The Arizona native led USC to a 5-0 start last season. Not to mention he averaged 320.1 passing yards per game, which ranked first in the conference and sixth in the FBS. Slovis had five touchdown passes apiece in back-to-back games against Washington State and UCLA. Slovis has been so successful, USC fans don't even remember JT Daniels.