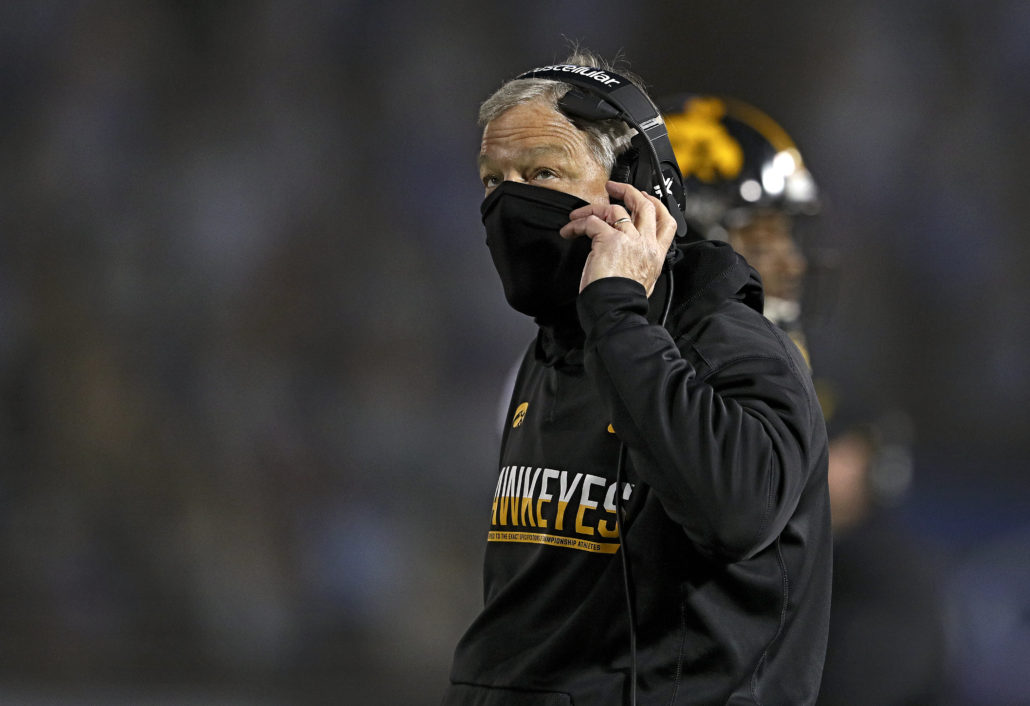 IOWA CITY, Ia. — Saturday's open practice provided Iowa fans a glimpse of the competition in the quarterback room.
All eyes were on incumbent starter Spencer Petras, along with Deuce Hogan, Alex Padilla and Connor Kapisak. The four signal callers displayed different skill sets and played in front of fans at Kinnick Stadium for the first time in nearly 17 months.
However, their performances left Coach Kirk Ferentz and fans with more questions than answers.
"Overall I'm just pleased with the group, I think all four of the guys have made progress from last year," Ferentz said. "Certainly a lot of opportunities for more progress as we move forward."
The longest-tenured coach in the Big Ten feels that No. 2 spot behind Petras is still wide open and way too early to call. He believes Hogan and Padilla are neck to neck, and Kapisak continues to do a great job. In his eyes Ferentz feels competition brings out the best in student athletes and all three can elevate Petra's game.
Still, several Hawkeye fanatics have a different perspective on the quarterback room after the morning scrimmage. In hindsight, it's Petras job to lose, but he has to show more consistency to keep the position on lock. He made some decent completions to his receivers, but did throw an interception.
It's no mystery that Petras still needs work on his accuracy and consistency, but he has a leg up on the competition because he's been battle-tested.
"Spencer has experience and leadership capabilities," Ferentz said. "So it's only fair to assume he's a little bit more confident in those leadership qualities than some of the other guys because he has been out on the field."
Hogan, who was a former four-star prospect from last year's recruiting class, solidified his scrambling abilities Saturday. What frustrated Hawkeye fans with him was his happy feet in the pocket. Often times he looked indecisive and took off running after his first read.
The sophomore Padilla made some nice throws and looked comfortable behind center. Padilla's performance was solid enough for fans to hope the staff gives him more reps with the No. 1 offense.
Ferentz emphasized how the three backups all showed potential and looked promising. Which is why he's not ready to pull the trigger on the depth chart after one glorified spring scrimmage.
"With the other guys it's just getting confident with what they do," he said. "They're a little bit different, all three of them are different players from each other, but that's really a known significance."
Junior wideout Tyrone Tracy Jr. made all of the quarterbacks look good with his soft hands and play-making ability. He easily stood out during the scrimmage as the Hawkeyes' potential go-to receiver for the fall. Regardless, Ferentz is just hoping the quarterbacks will separate themselves by the time the second scrimmage rolls around on May 1.
Above all, he's pleased with the quarterback room and everyone is getting their feet wet. The transfer portal has become the biggest trend in the game. So once the depth chart is finally set, it's going to be difficult for Ferentz to keep all four on the roster and satisfied.
As for now, Ferentz along with Hawkeye fans, are just going to wait and see how everything plays out. The quarterback battle may seem cloudy at the moment, but there's no controversy, and once the smoke clears Ferentz will know who's numero uno.
"Them getting confident, more decisive and being more assertive as players," he said. "I think that's what it really gets down to for a quarterback."