Chris Bergin embracing leadership role for Wildcats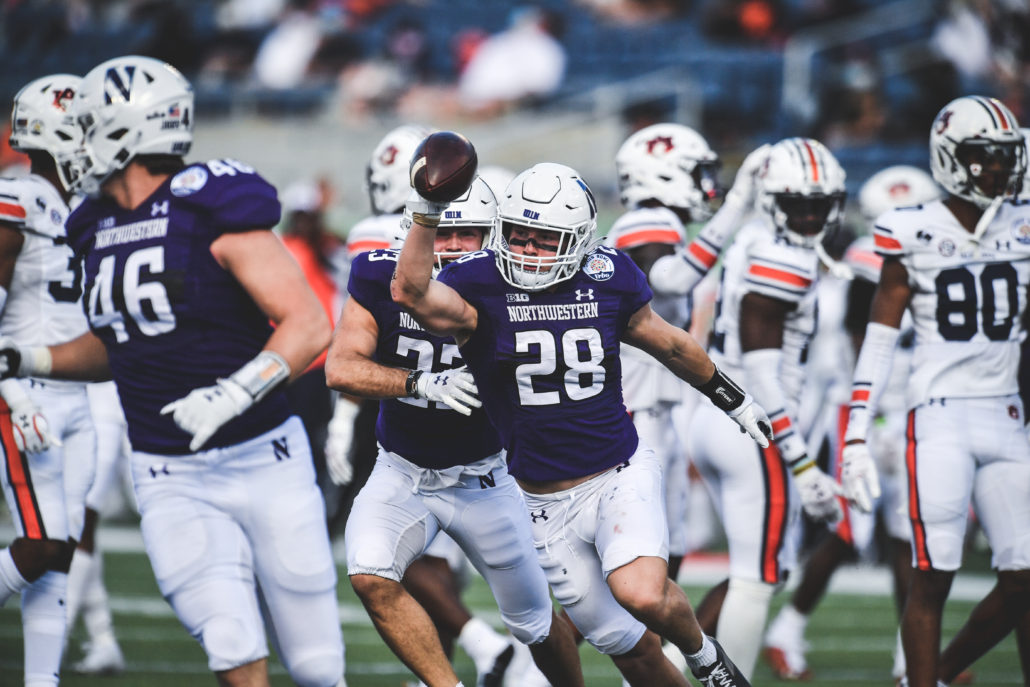 EVANSTON, Ill. — He's the lone returning starter from the Big Ten's best trio of linebackers last season.
Standing 5-foot-11 and weighing 215 pounds, Chris Bergin's frame isn't ideal for his playing position in the Power Five, but what he lacks in size he makes up for with instincts and physicality.
Northwestern had the No. 1 scoring defense in the Power Five in 2020. Not to mention the unit only allowed five touchdowns on the ground, which was second-best in the Big Ten.
Unfortunately, Bergin won't have Blake Gallagher and Paddy Fisher, the Wildcats' top-two leading tacklers from a year ago, by his side this fall. They combined for 173 total stops, two sacks and two interceptions. That's a ton of experience, production and leadership off to the NFL.
However, Bergin is feeling no pressure in filling the void this spring. As a matter of fact, the Michigan native is enjoying the transition.
"From a personal perspective I just got to grow more into this leadership role, obviously being the oldest, most veteran guy on this defense," Bergin said.
Northwestern also replaced longtime Defensive Coordinator Mike Hankwitz with Jim O'Neil. Bergin has no worries in terms of learning a new scheme and he thinks their styles are very similar. Regardless of the matter, Bergin thought Hankwitz was the best in the business.
Despite the offseason changes, the linebacker is navigating through the process and soaking up knowledge along the way.
"It's been really invigorating honestly, getting to learn a new defense," he said. "Coach O'Neil has been so energetic and such a spark, it's been really fun."
O'Neil will rely heavily on Bergin through spring training and the underclassmen will also be watching his every move. Bergin remains a confident player, who wants to build on last year's success. After all, he returned for one goal and his mind state is pretty much Big Ten Title or bust.
"I came back to win the Big Ten and we got the guys, schemes and coaches," Bergin said. "We have every piece in place to win the Big Ten."
Northwestern was two quarters away from accomplishing that goal last season, when it led Ohio State at halftime in the Big Ten Championship Game. Bergin recorded 11 total tackles in that matchup, so there's no mystery as to why he's so hungry this time around.
The graduate student emphasized how the young defenders in practice are learning faster than expected. Bergin is hoping to set a positive example on and off the field. At Northwestern the linebackers are the heart and soul of the defense.
So Bergin wants to continue the great legacy of linebackers with the Wildcats, which is amazing, considering he had no stars behind his name out of high school. Now Bergin is one of the best returning defenders in the league, with 227 career tackles under his belt. He's out to prove that Northwestern still has the best linebackers in the Big Ten.
"We haven't lost a step, and I think a lot of people are going to be excited with what they'll see come September 5."