Wyatt Hubert pleased with his Pro Day performance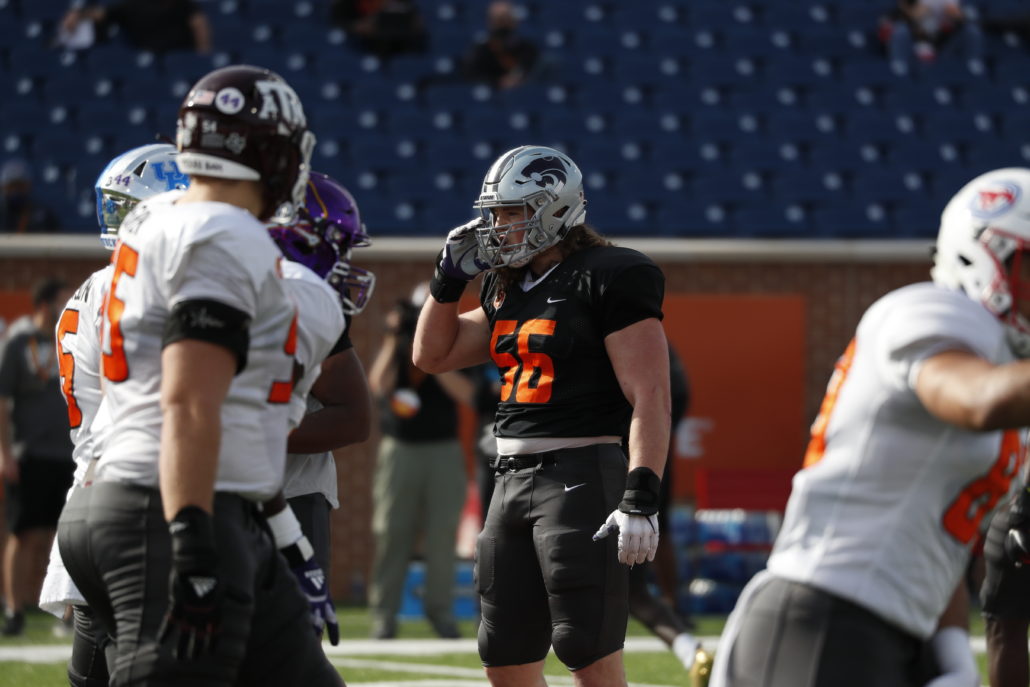 MANHATTAN, Kan. — He's a two-time, first-team All-Big 12 performer, but that didn't stop the butterflies from turning in his belly on the biggest job interview of his life.
With no traditional NFL Scouting Combine this year, Wyatt Hubert knew he had to put it all on the line for his Pro Day Tuesday afternoon. The former Kansas State edge rusher thought he delivered on several drills and strength tests. After all, Hubert was ready for the opportunity to showcase his skills and even participated in the Senior Bowl this past January.
"Personally, I think I tested pretty well," Hubert said. "Some things I think I exceeded my standards, some things I could've done a little bit better, but overall I'm happy with my times and my results."
What's most important is that Hubert understood he doesn't have the ideal size or wingspan of his position at the next level. However, that didn't stop him from carrying out his lifetime goal and he wanted to leave a lasting impression.
"I don't have the length that some guys want out of a defensive end or outside backer, but every single player has their own type of limitation whether it's length, height, or speed," he said. "But I definitely have a lot of things that a lot of other players don't have."
The Kansas native takes pride in his high football IQ, passion and leadership qualities. What really stands out about Hubert is his aggression and mean streak. He loves to hit and be intimidating. That's no surprise, considering Hubert's favorite player growing up was Clay Matthews. Carolina Panthers Coach Matt Rhule, who led the American team at the Senior Bowl, even had to tell Hubert in practice to stop hitting the quarterback.
There's no denying he has a non-stop motor, plus it's hard to turn off the aggression button, but he'll have to be mentally tough and disciplined in the NFL.
Although Hubert felt comfortable in his own environment, with several of his teammates participating in the event, he still knew he had something to prove. The six-foot-two, 265-pounder had a look of determination in his eyes as sweat dripped from his blonde locks.
"Being an edge rusher, the 40 is important you need to be fast," he said. "You need to be fast off the ball, but it's definitely not as important as how laterally quick you are."
Hubert feels playing in the Wildcats defensive scheme has prepared him for the pros. He knows deep down he can excel in the 4-3 and 3-4 schemes. Hubert has received different draft grades and evaluations that range from the second to the fifth round.
Regardless of the matter, Hubert just wants to control what he can and leave it in the hands of the NFL General Managers to make the decision next month.
"Going into this whole draft process and continuing into the next two to three months in getting ready for the draft, I definitely have a chip on my shoulder," Hubert said. "I definitely want to be the best player I can be and exceed myself past the other edge rushers in this draft."
As for now, Hubert plans to remain in Manhattan and work on his strength and conditioning. He's also staying in touch with his agent Mitchell Moore Jr., and will go down to Atlanta for a couple of weeks.