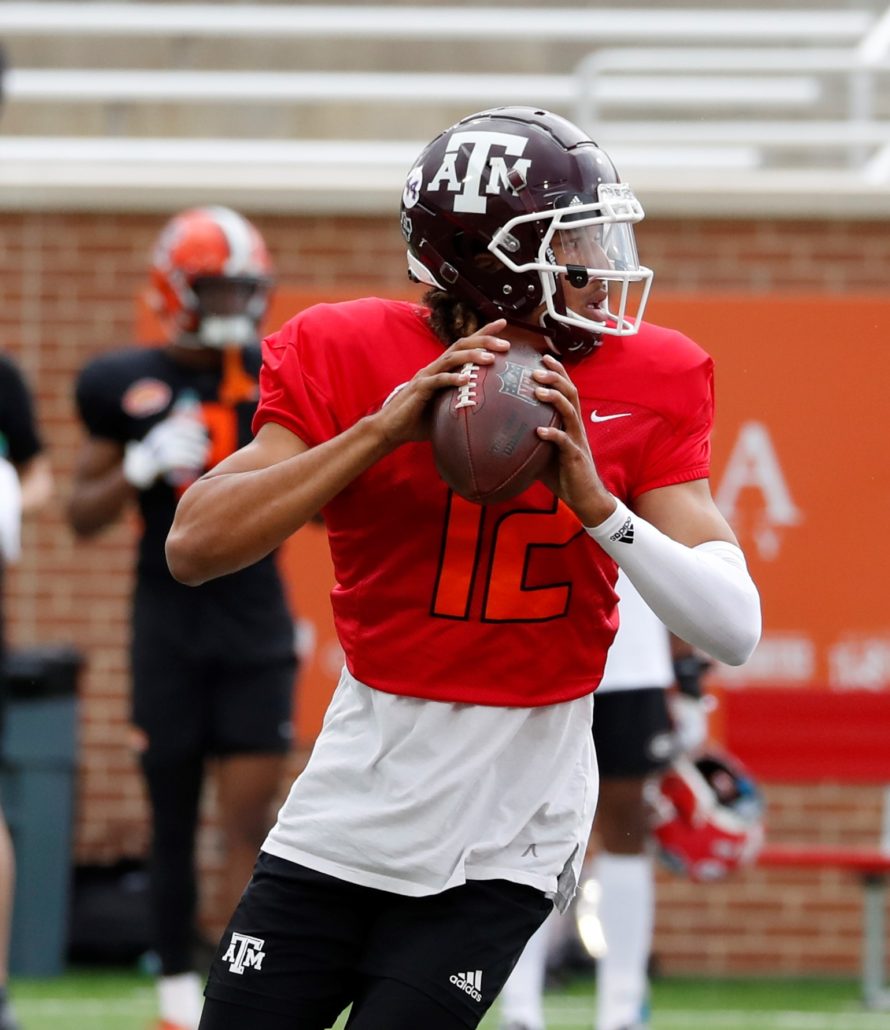 MOBILE, Ala. — The former Texas A&M quarterback made himself some money Saturday afternoon.
With NFL scouts and personnel watching his every move behind center, Kellen Mond took advantage of the spotlight and delivered. Although the National team beat the American 27-24, Mond left a good enough impression to be named MVP of the Senior Bowl.
His performance was the cherry on top and curtain call to an amazing collegiate career. After all, Mond led the Aggies to a New Year's Six Bowl victory and a top-five ranking. He also broke several school and SEC records along the way.
The 21-year old signal-caller knew it wasn't going to be easy adjusting to a new scheme on a short week. Not to mention Mond had to adapt to new coaches, build chemistry with new receivers and operate behind a new offensive line.
Still, he applied what he learned from Coach Jimbo Fisher throughout practice and it paid off on gameday. He was surprised by how familiar he was with the terminology the pro coaches used and felt it benefited him in terms of his transition to the NFL.
Mond didn't find out he was going to start until the team was getting ready to leave the hotel. He felt delighted to take the first snap of the game, but couldn't find a rhythm early on. Mond struggled and only completed four of his first 10 pass attempts by halftime.
However, a light bulb came on in the third quarter.  The San Antonio native completed nine of his final 15 pass attempts for 141 yards and two touchdowns by the end of the third. Mond finished with more pass attempts and completions than all of the other four quarterbacks and didn't get sacked once. That's credit to his mobility, which helps Mond improvise when plays break down.
"It was a great feeling, whether it was a simple drop back or making an insane play, at that time it was in my bag and everything was rolling my way," Mond said. "Obviously, I was kind of shaky at the beginning, but it definitely shows a lot of poise to be able to bounce back."
Mond proved why he's one of the best SEC quarterbacks to come out of this year's NFL Draft class. His balls had some nice zip when he threw touchdowns to Amari Rodgers and Josh Palmer. The six-foot-two, 205-pounder made the right reads, was decisive with his throws and had great pocket awareness.
He thought it was beneficial having more playing time. Which is why Mond tried to make the most out of every opportunity he was given. He believes Fisher has played a huge part in his development as a quarterback and he's thankful for everything his coach taught him along his journey.
"It's been huge, just to kind of understand and look back where I was," he said. "Obviously I was still young, but the type of knowledge, understanding of everything around me, he (Fisher) definitely gets a huge part of the credit."
With no Scouting Combine this year, Mond knows his performance in the Senior Bowl was crucial to his draft stock. All he did was increase it tremendously and plans on riding that wave of momentum through his pro day. He understands he's not high on a lot of people's boards, but realizes everything is starting to fall into place. Mond hasn't made it to the finish line yet and knows there's still a lot of work to do.
"I've dealt with a lot of adversity and I will overcome that, so everything will work itself out."