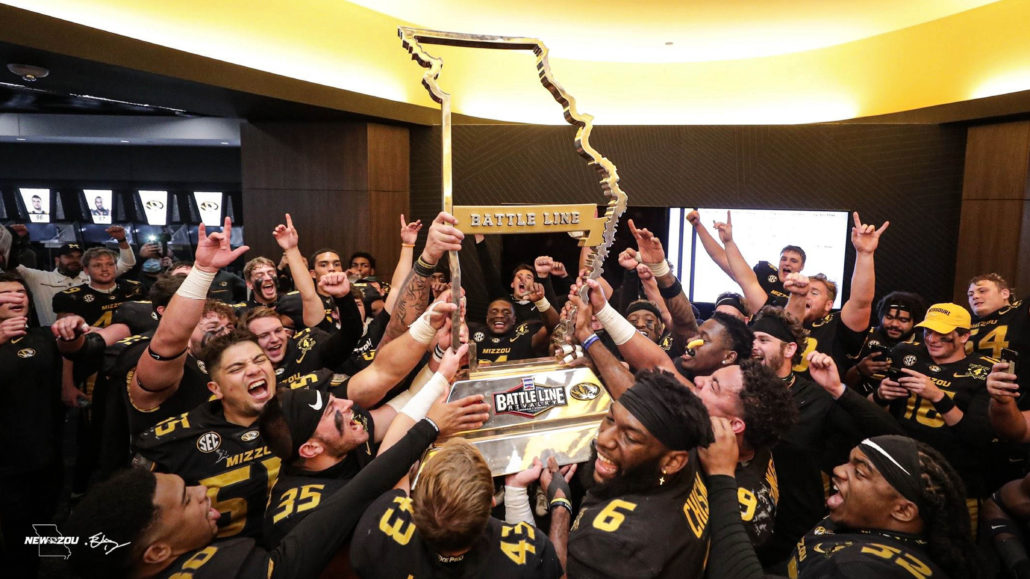 COLUMBIA, Mo. — All the Tigers needed was 43 seconds to prove that they're the most improved team in the SEC this season.
Quarterback Connor Bazelak orchestrated the game-winning drive that ended with a Harrison Mevis 32-yard field goal. The 50-48 shootout win over Arkansas was Missouri's third-straight. Not to mention the Tigers have won four of their last five games overall and five-straight over the Razorbacks.
Coach Eliah Drinkwitz enjoyed every minute of the matchup and no player on his roster has ever lost to Arkansas. The Tigers have turned into one of the hottest teams in the SEC East and they're playing with extreme confidence. After all, Missouri racked up a season-high, 653 total yards and led Arkansas in plays, first downs and time of possession.
Senior running back Larry Roundtree finished with 119 yards on the ground. It was also the fourth time he went over the century mark in rushing this fall. Roundtree and Tyler Badie continue to provide the Tigers' with a dynamic backfield and they combined for five rushing touchdowns.
"Me and Badie compliment each other well coming on and off the field and we talk to each other," Roundtree said. "It just shows that the run game is consistent and that we can rely on it when we need to."
Bazelak has used both rusher's presence on the field to his advantage. He has thrown for 300-plus yards in back-to-back games. Receiver KeKe Chism hauled in six passes for 113 yards and the Tigers' offense is clicking on all cylinders.
Roundtree knows none of the Tigers' success on offense would be possible without the big boys up front. He was amazed by their performance and saw several pancakes.
"When your offensive line is pancaking guys its' no excuse why you shouldn't average seven yards per carry," Roundtree said. "Obviously they're doing their jobs so you got to do your job."
Missouri (5-3) had several players out on defense, but the unit had enough to execute in the clutch. Linebacker Devin Nicholson led the front seven with 13 total tackles and safety Martez Manuel added another 12. The defense was without their leader Nick Bolton and that showed on several of Arkansas' big plays. It made Nicholson cherish and appreciate playing alongside Bolton.
"I definitely think he does a great job with his leadership to help shine it on others and help others to become leaders as well," Nicholson said.
Drinkwitz is proud his players are selfless. The 37-year old coach is having success in his first season in the almighty SEC and has exceeded expectations. However, he's just happy the Tiger fans have something to feel great about and the future of the program looks bright. He doesn't believe in changing the culture, but instead instilling the belief and his players are clearly responding to the foundation.
"I appreciate the administration for believing in me and our staff," Drinkwitz said. "We're going to continue to push forward and I know Missouri Nation is getting excited about what we're doing, recruits are taking notice and we're not done yet."