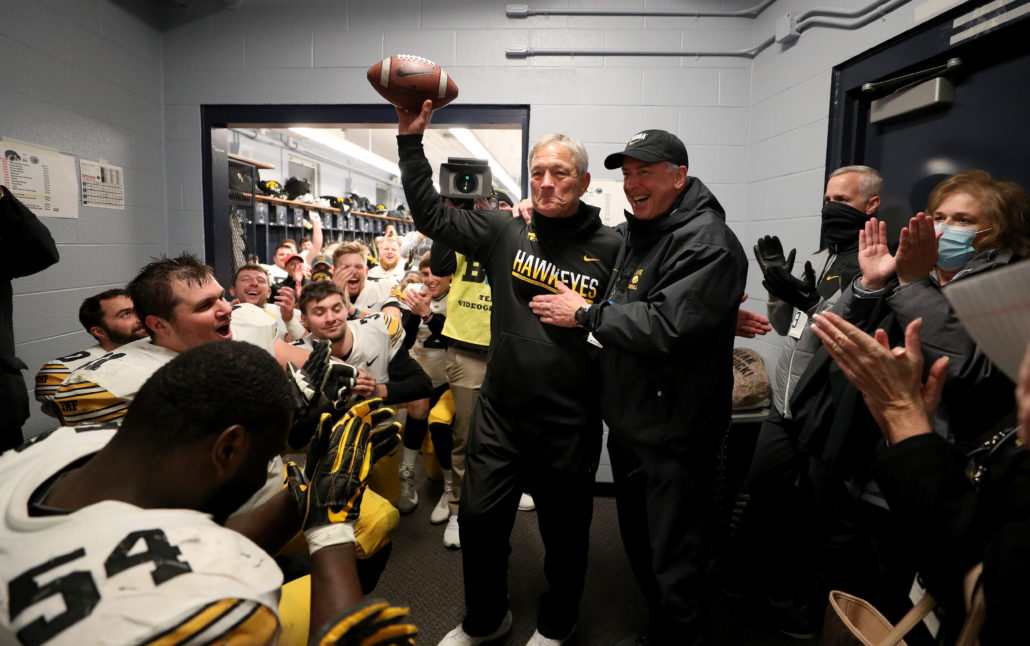 Coaching student athletes always comes with challenges, but there are certain individuals that make it look easy.
Recruiting, building a foundation and establishing leaders on the field and in the classroom is key to having long term success. However, that's just the start. Developing players, adjusting, making the right hires and having everyone buy into the system provides longevity and consistency.
Players who believe in their coach will run through a brick wall for him. There's nothing like having a vision that the entire team can see and orchestrating that into victories. All 10 of these coaches have displayed those types of qualities this season. Now they're all receiving recognition, but some still have unfinished business to take care of.
10. Clay Helton, USC: The Trojans are the only undefeated team remaining in the Pac-12. USC has actually won 12 of its' last 14 conference games over the past two seasons. Helton appears to have the program back on top of the league, which is leaps and bounds from a guy who many considered on the hot seat a couple of years ago. The No. 13 Trojans are trying to capture their first Pac-12 Championship since 2017, and they'll get the opportunity under the Friday night lights against Oregon. True sophomore quarterback Kedon Slovis continues to excel, with multiple come from behind victories and the Trojans are averaging over 35 points per game. Everything has looked promising and there's no denying Helton has the program trending up again. Although the Trojans won't crack the Playoffs this year, Helton deserves recognition because of his team's journey over the past three seasons.
9. Kirk Ferentz, Iowa: He's the longest-tenured coach in the FBS, but his program was put under a microscope during the off season. The Hawkeyes made so many negative headlines that a team distraction seemed unavoidable. Everything looked gloomy. Iowa also got off to a slow start and dropped its' first two games. However, since the start of November the 16th-ranked Hawkeyes have played like one of the best teams in the Big Ten and won six-straight games. As expected, Iowa's defense has been dominant, allowing a mere 16 points per game, which ranks 16th in the country. Ferentz is still having success despite a struggling young quarterback. Surpassing 100 Big Ten wins this fall was a huge landmark for the 65-year old coach and considering what the program had to overcome to get to this point is nothing short of remarkable. Ferentz also lured in a great recruiting class.
8. Jimbo Fisher, Texas A&M: The 55-year old coach is starting to deliver what Aggie fans have been hoping for since he arrived in College Station. A difficult schedule, which led to nine losses in Fisher's first two seasons, overshadowed Texas A&M"s potential. However, all the pieces are coming together in year three and the Aggies are potentially on the verge of clinching their first-ever berth in the Playoffs. Fisher is proving he's worth every penny of his lucrative contract. Not to mention his system allowed quarterback Kellen Mond to break several school records. The defense has been dominant. Although Texas A&M is facing a 3-6 Tennessee team Saturday, it's still the program's biggest game since joining the SEC. Life is brutal in the league, but Texas A&M's only loss is to No. 1 Alabama on the road. He clearly has the fifth-ranked Aggies on a mission, which speaks volumes.
7. Jamey Chadwell, Coastal Carolina: He took the Chanticleers from a 5-7 campaign a year ago to an 11-0 mark this season. Chadwell has made the biggest turnaround of any FBS coach this fall. No. 12 Coastal Carolina still has a Sun Belt Title to win. Beating a ranked BYU team, with a Heisman candidate at quarterback is what put Coastal Carolina on the map and they're this year's Cinderella team. The Chanticleers can finish the season undefeated, but it won't be enough to crash the Playoffs. A New Year's Six Bowl could be in the works. Coastal Carolina is averaging 37.5 points per game, which ranks 19th in the nation and its' defense is top-20 caliber. Coaches that take small-time programs to new heights don't last long at their respective schools because bigger jobs come calling. Regardless, it's astonishing what Chadwell has accomplished in a short period of time.
6. Luke Fickell, Cincinnati: The Bearcats have won 19 games over the past two seasons, including an 8-0 mark this fall. Fickell has been having a ton of success at Cincinnati and even passed on Power Five jobs last year. It's mind-boggling that he went 6-7 at Ohio State as an interim in 2011. It just goes to show that the 47-year old coach continues to mature year by year on the sidelines and now powerhouse programs are going to be asking for Fickell's services. Although the Bearcats are currently No. 9 in the latest Playoff rankings, they're that low because they haven't played a game in nearly a month. Beating a ranked Tulsa team in the AAC Championship won't be enough to propel Cincinnati to that No. 4 spot, but the victory will have enough impact to clinch a New Year's Six slot. That'll be a statement in itself.
5. Nick Saban, Alabama: His name is synonymous with College football because of the success he's had in the SEC. The Crimson Tide is No. 1 and no team has come close to touching them this fall. Alabama has handed Texas A&M its' only loss, dismantled a top-10 Georgia team and snatched the red carpet from under LSU. The Crimson Tide's offense has been fun to watch throughout the season, with a jaw-dropping, three Heisman candidates on the unit. Alabama is putting up video game numbers, making everything look easy and averaging nearly 50 points per game. Not to mention Saban has an opportunity to win his seventh SEC Title with the program when Alabama squares off against Florida this weekend. After luring in the nation's No. 1 recruiting class Wednesday, it remains to be seen if there's anything Saban can't do. The future Hall of Famer continues to impress.
4. Brian Kelly, Notre Dame: Joining the ACC this season has been beneficial for the Fighting Irish and they're taking full advantage. Notre Dame snapped Clemson's amazing conference winning streak and are primed for its' first-ever ACC Championship Game appearance. Although the Fighting Irish are going to have to beat the Tigers twice to reach the promised land, they're still holding on firm to their the No. 2 ranking approaching the rematch. Quarterback Ian Book's leadership, experience and production has helped Notre Dame down the stretch and Kyren Williams already surpassed a 1,000 rushing yards on the season. Naysayers claim Notre Dame's first win over Clemson was a fluke, so it's a no-brainer that Kelly has been using that to motivate his players. A win Saturday will put the Fighting Irish in the Playoffs for the second time in three years. That's more than enough to get Kelly recognition.
3. Matt Campbell, Iowa State: Since he arrived on campus he emphasized to Cyclone Nation to trust in the process. Everything is coming to fruition in year five and Iowa State is playing in its' first-ever Big 12 Championship Game. This is unfamiliar territory for the program, but the Cyclones aren't taking anything for granted. Led by one of the best quarterbacks and running backs in the country in Brock Purdy and Breece Hall, Iowa State has been impressive. No one outside of Ames ever imagined the team would have this much success in 2020. Iowa State defeated both Oklahoma and Texas in the same season for the first time ever. Campbell's team has come a long way since dropping their season-opener to Louisiana. That turned out to be a great loss, because Louisiana is currently ranked in the top-20. The sixth-ranked Cyclones have a chance at making the Playoffs.
2. Tom Allen, Indiana: His players already labeled him as the best coach in America. Indiana is having a magnificent season and its' only loss was by seven points on the road to No. 4 Ohio State. Indiana is ranked No. 7 in the AP Poll, its' highest since 1967, which speaks volumes of the job Allen is doing in Bloomington. Everyone must remember that Indiana is a basketball school first and foremost, so the success Allen's having with his team is jaw-dropping. Not even the loss of All-Big Ten quarterback Michael Penix Jr. could stop the Hoosiers. The players believe in Allen and his connection with them on the sidelines has been like none other. He has already been named the Big Ten Coach of the Year. Other blue blood programs like Michigan and Penn State in the Big Ten East have both took a backseat to Indiana's rise.
1. Pat Fitzgerald, Northwestern: The Wildcats only won three games last season. Not to mention Northwestern finished with one of the worst offenses in the Big Ten. However, fast forward a year later and Fitzgerald's team has been making a ton of noise in the league. Quarterback Peyton Ramsey has been the big difference and his leadership has helped the Wildcats down in the clutch. Fitzgerald's buch embraces physicality and that continues to work to their advantage. The Wildcats have arguably the best defense in the Big Ten and that has kept them in every game. Northwestern is playing in its' second Big Ten Championship Game in the past three years, but this time around it has a legitimate chance at winning Saturday's matchup. Fitzgerald's buch remains fundamentally sound and disciplined. It's all a reflection of the 45-year old coach and Northwestern has a chance to play this year's spoiler.