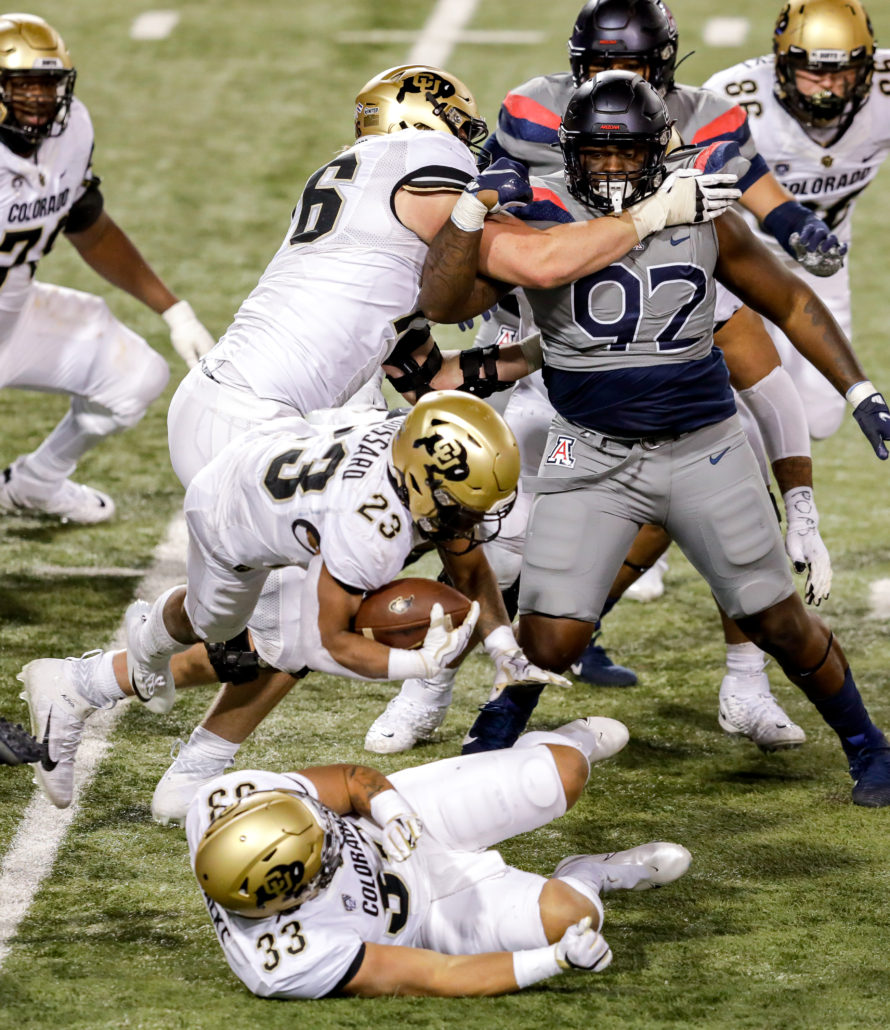 TUCSON, Ariz. — The running back's breathtaking performance Saturday night made him a household name in the Pac-12.
With a brace on his left knee Jarek Broussard rumbled for a career-high, 301 yards as Colorado outlasted Arizona 24-13. It was Broussard's fourth-straight game of 100-plus yards on the ground and the most by a Colorado running back since 2002. Now the Buffaloes are one of two remaining undefeated teams in the league at 4-0.
Coach Karl Dorrell is proud of the sophomore's success this season and will continue to give him touches. Broussard only stands five-foot-nine and weighs 185 pounds. However, he's a workhorse, with 115 carries over Colorado's last four games.
"I'm so excited about what that kid does for us offensively," Dorrell said. "He's such a spark plug for us and I was encouraged with a lot of things."
The Buffaloes found themselves down by 13 in the first half, but Broussard had a 75-yard run and another for 59 that put the offense in the red zone. Quarterback Sam Noyer struggled throughout the game and threw two interceptions. It led to a verbal altercation with Dorrell on the sidelines.
"I'm going to have heated discussions on everybody that makes a mistake, that's the nature of what I am and he knows that," Dorrell said. "It's a bad mistake, the things that I'm teaching him about being down in the in the red zone is you have to be more cautious with the football."
Still, Broussard along with a stifling defense kept the pressure off Noyer and he didn't have to lead Colorado to the finish line. The Buffaloes' defense controlled the trenches in the second half and tallied five sacks. Linebackers Nate Landman and Carson Wells combined for 19 solo tackles and the Wildcats converted just three third downs.
"We played well, I don't think they scored in the second half and I kept telling the guys to play hard no matter what the score was," Wells said. "We just kept playing hard for each other."
The Wildcats had more first downs than the Buffaloes, but Dorrell's offense averaged two more yards per play. Colorado steamrolled Arizona's defense for a season-high, 407 yards and Broussard contributed to a lot of it. The Dallas native has raised some eyebrows with his consistency and in hindsight it seems like he's just getting started.
"What guys have been seeing when he's in the game is what he's been doing in training camp," Dorrell said. "He's been that kind of player for us, so I don't think any of us is surprised by his production."
Broussard has 733 rushing yards this fall and is averaging 183 a game on the ground.  Dorrell believes he's a dynamite athlete and finds himself saying the same positive things about him week after week. After all, Broussard has come a long way from being a three-star prospect out of high school.
Injuries and rehab got his collegiate career off to a slow start, which is why he's proud of himself and not taking anything for granted. Broussard remains humble because he remembers all of those cold nights in the hospital nursing injuries. He knew he was ready once opportunity presented itself and hasn't looked back.
"We play with a next man up mentality," Broussard said. "As you can see nobody knew who I was before the season and when I finally got my shot I just made the most of it."
Next up for Colorado is Utah under the Friday night lights. If The Buffaloes beat the Utes on Senior Day it'll be the first time they've finished the regular season unscathed since 1989.