Wildcats suffer their worst loss of Chris Klieman era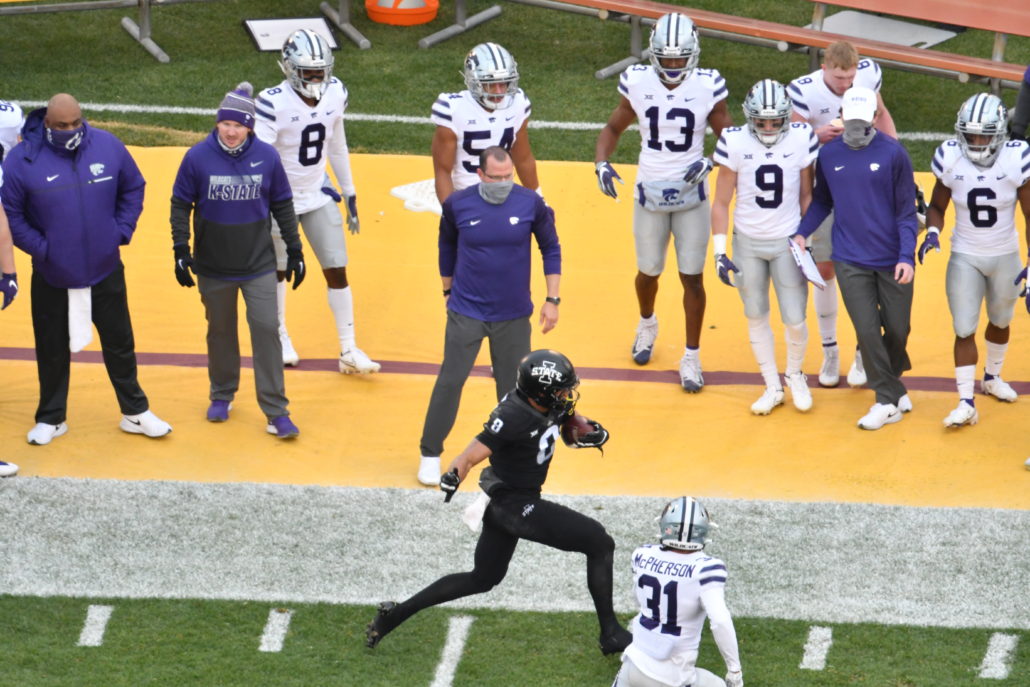 AMES, Ia. — Kansas State is on its' first three-game losing streak under Chris Klieman, but Saturday's loss was demoralizing enough for fans to question the direction of the program.
The 45-0 massacre at Jack Trice Stadium Saturday night was the first time the Wildcats got shutout since 2015. Klieman's team turned the ball over three times and the offense finished with a season-low, 149 total yards. Not to mention Kansas State's defense allowed a season-high, 539 yards to Iowa State and surrendered 26 first downs.
It was the Wildcats' most embarrassing performance this fall and they've been outscored 102-28 in their last three games.
"It was frustrating in all phases, I talked about that to the guys that we needed to improve and get better," Klieman said. "We've been hammered with COVID the last two weeks and we can't worry about that."
Klieman emphasized to his players early in the week the uncertainty of individuals who may be unavailable to play. Regardless of the matter it's the players responsibility to be the next man up. Despite having a low number of bodies available, they still have to carry out their duties on the field.
Quarterback Will Howard couldn't find any consistency in the first half and was benched for Nick Ast in the second. Both signal-callers struggled throwing the ball and completed only nine of their 19 passes for no touchdowns and an interception.
The rushing attack was abysmal and the Wildcats finished with a mere 73 yards on the ground. The Cyclones' defense held Deuce Vaughn in check and never allowed him to get into a rhythm. No Kansas State rusher had more than seven carries, which Iowa State used to its' advantage by putting more pressure on the quarterbacks.
Now Klieman will find out the mental toughness of his squad. Kansas State must find effective ways to deal with adversity. Adjustments will be vital for the remainder of the season. Players and assistants have to hold themselves accountable in order to rebound, but it won't be easy.
Klieman knows the three-straight losses have been disappointing, but he's expecting his team to bounce back because they have great resolve. That's why the coach is calling out leaders to take ownership.
"It should sting, it hurts, it has to," he said. "We have to move on and get ready to go on Monday because we got another tough road trip."
There's no denying the Wildcats need to pick up the pieces, but as of now they're left with more questions than answers. Baylor and Texas will be the final two games for Kansas State. The team has a chance to reach six wins on the year and finish with a second-straight winning season. However, that's easier said than done when a coach has to convince a bunch of 18 and 19-year olds that they're not playing up to their potential.