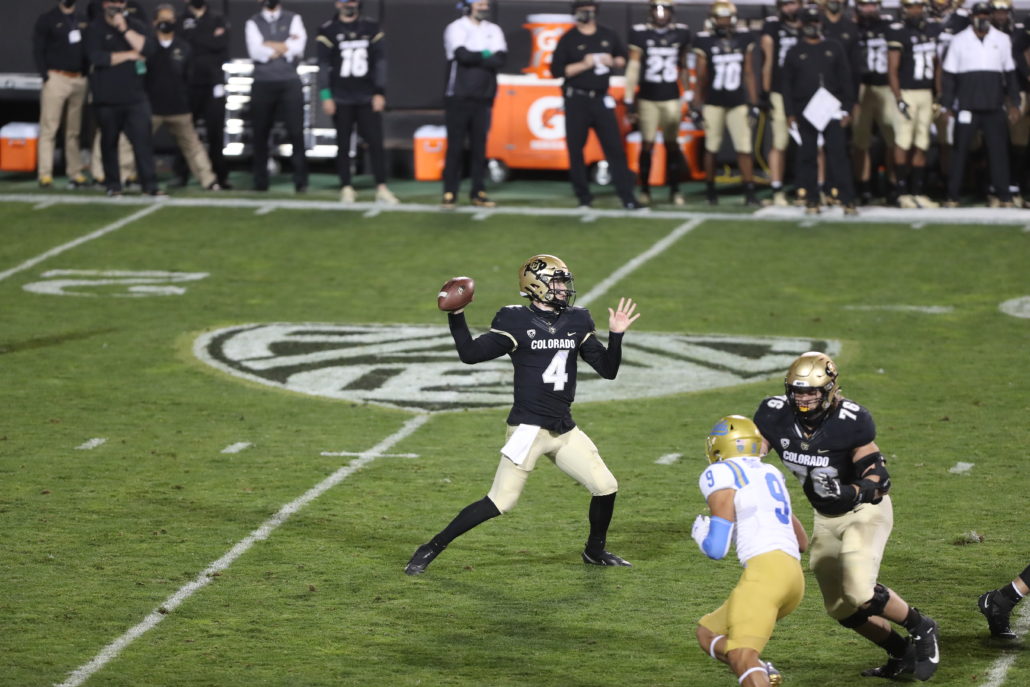 BOULDER, Co. — When Karl Dorrell accepted the Colorado job this past February his first priority was keeping Sam Nowyer with the program.
After all, the Mel Tucker regime played the quarterback at safety last season. Noyer was on the verge of seeking opportunities elsewhere. However, that all changed once Dorrell put the Oregon native back behind center. Noyer knew he had big shoes to fill replacing three-year starter Steven Montez, but that only added more fuel to his fire.
After he racked up 321 total yards and two touchdowns in the season-opening win over UCLA, Dorrell realized how high Noyer's ceiling could reach. He looked like a natural with an accurate arm, made all the right reads and extended plays with his mobility. Dorrell was pleased with his field general and how he orchestrated the offense.
"I thought offensively we had a pretty good performance for our first one," Dorrell said. "Sam played well, Jarek Broussard played well, so we're hoping to continue to improve."
The Buffaloes' 48 points last Saturday were the most of any Pac-12 team during the first week of play. Plus Colorado stockpiled 525 yards of total offense. Noyer connected with several receivers, which showed he has options.
Colorado was successful with a balanced attack because of Broussard's 183 yards on the ground and three rushing scores. Broussard's presence in return kept the Bruins' defense from keying in on Noyer. Not to mention the big boys up front dominated in the trenches.
"We take a pretty systematic approach in meaning that we're not trying to get the ball to one particular person in the throwing game," Dorrell said. "We want to continue to improve in all those areas and try to create some openings for Sam to seize it with rhythm and he gets a chance to make some good execution plays."
Although Dorrell was pleased with Colorado in game one, he wants more balance on offense. Which is why the unit been focusing on fixing their issues throughout this week of practice. Now the Buffaloes are taking their show on the road and everything will be more challenging.
Colorado travels to Stanford this weekend and Dorrell has his team prepared to follow California ordinances. Dorrell just wants his team to stay healthy as they navigate through a schedule of uncertainty. He even educated his players about the seriousness of the ordeal and Wisconsin's Covid-19 situation.
"Covid is ruling everything that we do moving forward," he said. "Now that we're going into a road game that'll present another set of issues we haven't experienced yet."
As for now the Buffaloes are rolling with the punches day by day. In hindsight the offense appears to be in great hands with Noyer at the helms. His maturation process has made others around him better. Not to mention Noyer still doesn't have all of his weapons in the lineup. Regardless, Dorrell wants his signal caller to take advantage of mismatches out on the edge and utilize his tight ends.
"Our systematic approach offensively is for Sam to throw it to the open guy, we just want him to continue to play well."