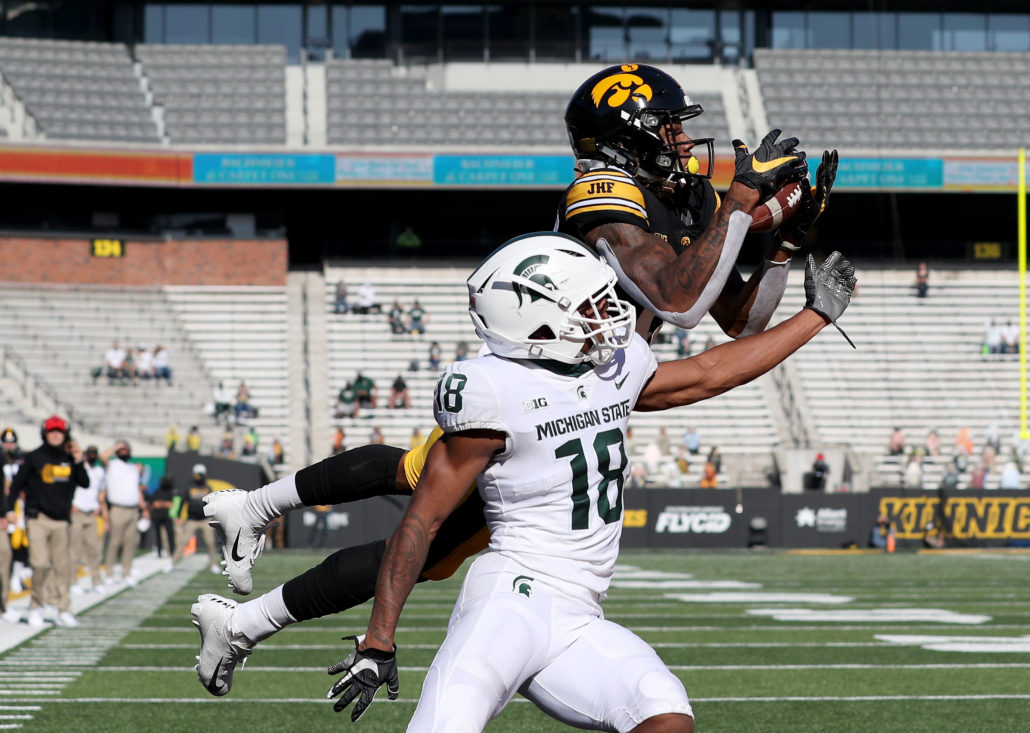 IOWA CITY, Ia. — Everyone loves a comeback story, especially in College football.
Iowa's senior wide receiver Brandon Smith knows about that more than most people. After all, he finally put the lower leg injury he suffered last year in the rearview mirror. It was mind-boggling how Smith went from having a career day against Purdue, then walked off the field in crutches and missed several games.
Fast forward a year later and Smith is leading the Hawkeyes in catches and touchdown receptions. The Mississippi native gained his confidence back and scored a touchdown in each of the past two games. He's proud of his performance in the blowout win over Michigan State and feels it gave Iowa a boost.
The Hawkeyes are a completely different team now from their first two games. It was also the first time this year Smith had to lead the receivers without Ihmir Smith-Marsette in the lineup, who served a one-game suspension for an OWI arrest. Still, Smith stands behind his teammate and knows it's all going to make them stronger as a unit.
"Honestly everybody make mistakes and all we have to do is get back on the train and get ready to compete again," Smith said. "We've learned from it, put it behind us and we're just going to keep the train rolling."
Now the six-foot-two, 215-pounder is ready to take on Minnesota and keep the momentum going. He has never lost to the Golden Gophers during his career and hopes to keep Floyd Rosedale in Iowa City. It's perfect timing for Iowa, because sophomore quarterback Spencer Petras has come along through three games and Smith has been impressed with his maturation process.
He believes the two have developed a rhythm together, which also benefits the Hawkeyes' offense overall. The faster Petras can control the huddle, the faster Iowa will operate.
"We always emphasize getting in and out of the huddle and lining up with urgency," he said.  "Just to keep the defense on their toes and to play as a fast, solid offense."
Iowa is putting everything together on a short week, with the Battle of Floyd Rosedale on Friday. However, Smith feels that has benefited the offense because the unit is taking advantage of every rep in practice. Smith continues to give it his all on the field and lead by example off of it. It all has developed him into a dominant receiver and every game he feels more comfortable. He doesn't take anything for granted and is all business on the gridiron.
"This is my fourth year out here and I'm honestly confident enough to say that I feel like I'm a dangerous receiver in onon-on-one matchups," Smith said. "More times than not I'm going to come down the ball."
Smith believes he's becoming more of a valued asset in the Hawkeyes' passing game. Now he's recognizing the mismatches in one-on-one matchups and trusts he'll be successful out in coverage. HIs athletic physique allows him to make acrobatic catches that raises fans eyebrows and he wants to build on last week's performance.
"I'm just letting people know that I haven't missed a step, even though I missed half of those games last year," he said. "I feel like I came back faster, stronger and still able to make plays I was making last year."