Chris Klieman delighted with defenses' intensity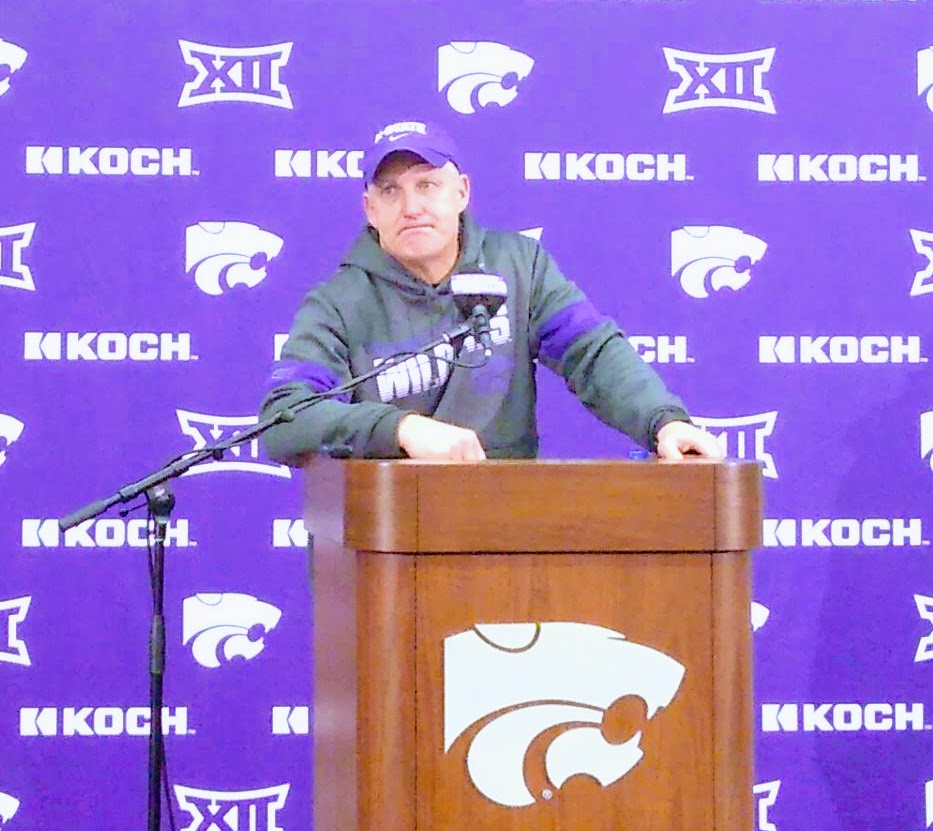 MANHATTAN, Kan. — Kansas State is one of a few Big 12 teams that actually plays solid defense.
After last Saturday's 21-14 road win over TCU, Kansas State's defense has improved each conference game and allowed fewer touchdowns. Chris Klieman believes the Wildcats have hit the reset button since their season-opening loss.
The 53-year old coach  thought his staff had a phenomenal game plan against Texas Tech and the Wildcats' defense executed everything almost to perfection.
"I know they were disappointed in the last touchdown about the four or five minute mark, but they played relentless, did a great job rushing the passer and covering guys," Klieman said.
Kansas State's front seven been getting after the quarterback more often and the secondary been breaking on balls. Everyone is looking fluid and tackling better. Klieman played a ton of guys in the secondary, especially at corner because of the hot weather in Fort Worth. It's all about having depth and getting his defenders reps is something Klieman hopes will benefit down the road.
"It's fun to be able to have that many guys contribute and make impact plays," he said. "We didn't pressure very much, we played zone and kept the ball in front of us."
The Big 12 is all about high-flying offenses and playing efficient defense is optional. TCU scored 37 points on Iowa State, 31 on Texas, but only 14 on Kansas State. Klieman made it a priority for his defense to be relentless against Horned Frogs' quarterback Max Duggan. The Wildcats' defense contained his mobility for the most part and limited the explosive plays.
"I thought we really ran through contact well and I'm sure that the quarterback is going to be sore because we hit him an awful lot," Klieman said. "I couldn't be happier with the resolve of a bunch of guys that came in here when nobody expected us to be successful except for those guys in our locker room."
Klieman credits the Wildcats' leaders and his assistants on getting it done. He believes anytime you hold an offense to under 25 points in the Big 12 you're playing great defense. Kansas State finally received some recognition after their third win and surfaced at No. 22 in the AP Poll for the first time this season.
It's the first time the team has been ranked since November of 2018. The fact that the Wildcats been getting it done with a backup quarterback is even more impressive. After all, a great defense compliments an offense and pressure has been minimal on Will Howard. Instead of putting the team on his back and carrying them to finish line, all the true freshman signal-caller has to be is a game manager.
Regardless of the matter, the Wildcats are currently one of the hottest teams in the league and if they keep it up at this pace, Klieman will be a candidate for Big 12 Coach of the Year.
Now Kansas State has the week off for resuming conference play against in-state rival Kansas. Klieman's team has won 11-straight in the Sunflower Showdown and the team will come into the matchup with extreme confidence.
"I told our guys after we beat Texas Tech that we're going to grind some wins out and we're going to grind some games out," Klieman said. "There's not a group of guys that I'd rather grind with than the group in our locker room."