Kansas State prepared for the unexpected Saturday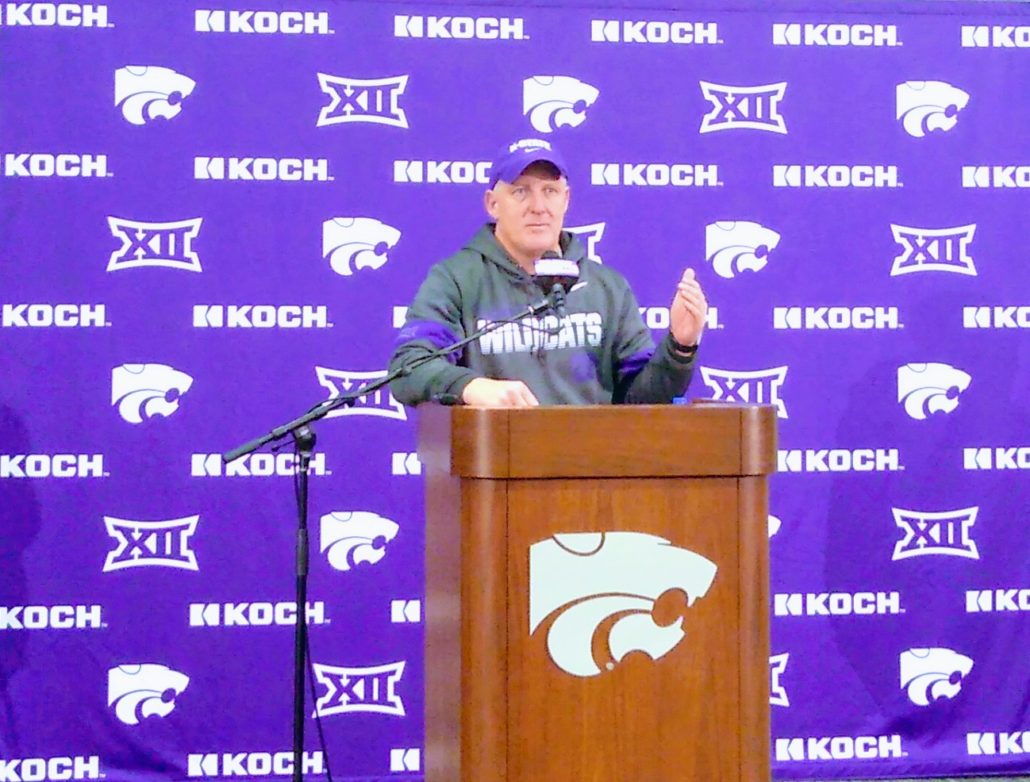 MANHATTAN, Kan. — Like most of the Big 12 teams last week, Kansas State had a bye and the timing couldn't have been better.
Chris Klieman's squad needed to regroup after their shocking home loss to Arkansas State. Not to mention starting quarterback Skylar Thompson got banged up in the opener. The players have been dealing with all of the COVID-19 protocols, while preparing to take on the No. 3 team in the country this weekend.
On top of that the Wildcats have to travel to a stadium that they haven't won in since 2014. The entire process has been frustrating for Klieman. After all, he knows Kansas State hasn't won in Norman since 2014.
"Everyday it's a different animal on that because you don't know from one day to the next who's going to be out of practice," Klieman said. "We know it's going to be a tremendous challenge down in Norman and we're hopeful we can continue to get some guys back that could potentially help us."
The Wildcats are getting tested twice a week for the virus. In the meantime Klieman is preparing for the worst and hoping for the best. That's why the 52-year old coach wants his players to learn how to play multiple positions. Anything to help them be ready when the unexpected happens.
Safeties are being moved to corners and wide receivers been taking reps with defensive backs, especially with the younger players. Klieman had to get back to the basics and guide his players through the fundamentals and techniques. So much so that he hasn't had much time to scout Oklahoma.
Still, Kansas State was able to advantage of that time off and got in four good days of practice. Everyone got back healthy, sharpened their routines and even Thompson has looked better day by day.
"He didn't do anything last week other than rehabbing things, but he did practice yesterday," Klieman said. "I thought he felt really good, so I'm confident that with a week of practice he'll be in full strength for Saturday."
Kansas State was able to upset Oklahoma last year with a balanced attack on offense. Unfortunately against the Red Wolves, the Wildcats couldn't run the ball consistently, were forced to pass more often and they got out of their game plan.
More production will be expected out of the running game this Saturday and receivers can't be dropping easy passes. Considering the Sooners' defense was No. 1 in the Big 12 against the run last season, they're going to put pressure on Thompson to throw accurately.
Klieman remains optimistic that his Wildcats will be at full strength on Saturday. However, nothing is promised and underclassmen have to be ready to step up for Klieman in the time of need. Regardless of if that happens because of a positive COViD test or an injury.
"The guys that are out there we have to keep rolling, you maybe a backup, but the backup knows he's one day away from being the starter," Klieman said. "It's stressful, it's anxiety, but everybody is dealing with it."