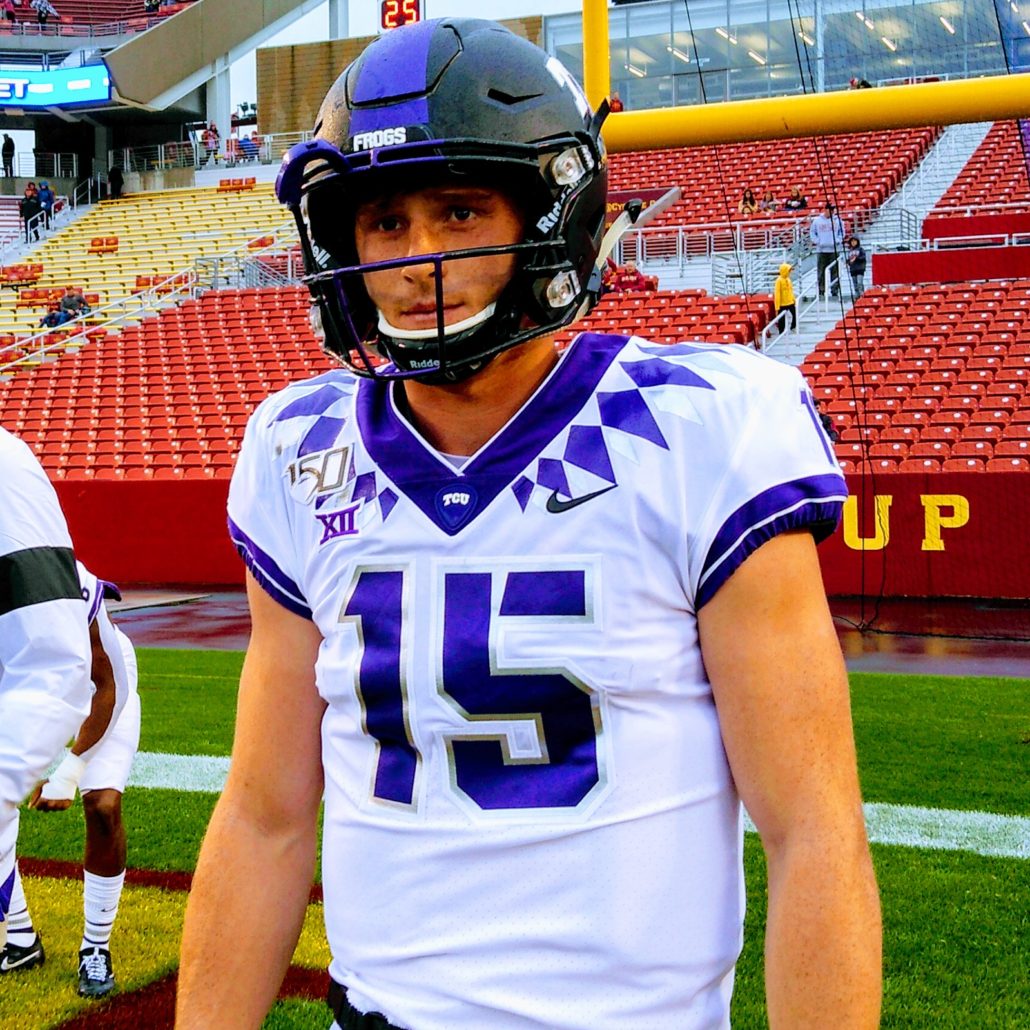 We all had a chance to see what most of the ACC and the Big 12 were working with over the past two weeks.
Now the almighty SEC takes center stage and will join in on the action. Several quarterbacks will be taking their first snap of the season this Saturday, hoping to make a big impression on the College football world. All eyes will be on some, while others are flying under the radar.
However, all will be looking to capitalize on the moment, show that they belong and start their own legacies.
10. Max Duggan, TCU: It hurt the Horned Frogs when their first game got postponed. Gary Patterson's quarterback situation is still a mystery. Duggan was last year's starter, scored 21 touchdowns as a true freshman and returned to practice this week. However, he has been sidelined most of training camp dealing with a longtime heart issue. Backup quarterback Matthew Downing has been getting most of the snaps with the first-team and third-stringer Stephen Brown has some designed plays. Patterson has yet to name a starter against Iowa State and he might play all three. The Horned Frogs hope to snap a two-game losing streak and get revenge after a 25-point beat down by the Cyclones last season. Patterson is defensive-minded, but TCU's offense must take a step forward to be competitive in the high-flying Big 12. The passing game needs consistency and more big plays. The Horned Frogs were held under 25 points in five of their six losses last season. Iowa State allowed 31 points to Louisiana, so TCU' offense has a chance to shine.
9. Terry Wilson, Kentucky: After he scored 15 touchdowns in 2018, his career looked promising with the Wildcats. Wilson was supposed to take the reigns of Kentucky's offense last season, but instead he watched Lynn Bowden Jr. steal the show. Now Wilson has the position all to himself again approaching game one. Kentucky is going to need all of Wilson's experience, production and leadership in order to upset No. 8 Auburn on the Plains. It's a daunting task, but also the perfect opportunity for the 23rd-ranked Wildcats to show they are legit. Under Mark Stoops Kentucky has been successful at running the ball and playing solid defense. The quarterback might be considered a game manager in Kentucky's offense because they aren't asked to throw the ball much. However, Wilson's mobility, along with the offense's rushing attack, helps the Wildcats be effective with the play-action pass. Ironically, Saturday's game will be Stoops first-ever trip to Auburn as a head coach and Kentucky's first since 2009, which was a win.
8. Hendon Hooker, Virginia Tech: The junior quarterback gained valuable experience last season when he started eight games and scored 18 touchdowns for the Hokies. Coach Justin Fuente is facing a crucial fifth season and needs more consistency out of his quarterbacks. Hooker will get the nod over Braxton Burmeister to start Saturday's home game against NC State. Burmeister is still expected to get his reps in and the 23rd-ranked Hokies are looking to snap a two-game losing streak. NC State is coming off a thrilling victory over Wake Forest last week and have momentum. NC State also racked up 463 yards of total offense, which was 87 more than Clemson put on Wake Forest. If Virginia Tech's defense gets leaky Saturday night, Hooker needs to be prepared for a shootout. Lane Stadium is one of the ACC's toughest venues to play in for visiting teams, especially under the lights. Hooker needs to feed off the energy of playing at home and apply that to success on the field. Anything for the Hokies to solidify their ranking in the polls.
7. Bo Nix, Auburn: He had a promising 2019 campaign, which included the program's first-ever victory over Alabama by a true freshman quarterback. Not to mention Auburn finished the season in the top-15. Now Nix is comfortable in Gus Malzhan's offense and the Tigers are the eighth best team in the country entering game one. Auburn's opener against No. 23 Kentucky will be the SEC's only battle of ranked teams Saturday and the perfect opportunity for Nix to take advantage of the spotlight. Although the Wildcats won their last trip to Jordan Hare, it was in 2009 and that should add more motivation for the Tiger's offense. The unit hasn't been elite since Nick Marshall left the building, but has been effective with solid defense and the ground game. It's perfect timing for Nix to strike gold, especially with all of the new faces around the SEC West. Despite Kentucky not being a pushover, Nix beat a top-10 Oregon team during his first start in last season's opener. The true sophomore needs to prove last season was no fluke and build on the momentum.
6. K.J. Costello, Mississippi State: Mike Leach's introduction to the SEC will steal all of the headlines, but his infamous 'Air Raid' attack starts with the quarterback. Leach got to see Costello up close and personal during his last three years at Washington State. Now that valuable Pac-12 experience is about to pay off for the Stanford transfer. Leach will likely give Costello the starting nod in the opener at LSU. That's a big responsibility, considering Costello's first game of SEC action will be against the reigning National Champs. Although it will only be at limited capacity Saturday, Tiger Stadium is arguably the toughest place to play in the country. Leach is hoping for a smooth transition into the league with his veteran signal-caller. What helps Costello's cause is most of LSU's star players from last year are either in the NFL or have opted out of the season. Not to mention the Bayou Bengals will be operating under a new Defensive Coordinator in Bo Pelini. The matchup with LSU's secondary will be the ultimate measuring stick for Leach's Air Raid and Costello.
5. Kellen Mond, Texas A&M: It's time to strike while the skillet is hot for the senior quarterback who has 34 career starts. Which is why Mond is poised to break numerous school records this fall. After all, he's the most experienced signal-caller in the SEC, and the West division is full of new faces at the position. Mond has an opportunity to get a jump start on the competition and pad the stats when Texas A&M hosts Vanderbilt. The Commodores only return a handful of starters on defense and the unit finished 13th in the league in total yards allowed last season. Mond will likely be licking his chops. The Aggies already have momentum and are riding a four-game win streak heading into Saturday's clash. Year three will also be a big one for Jimbo Fisher to put his stamp on the league. When you're one of the highest-paid coaches in the country, fans expect you to make a run at the SEC Title. Although wide receiver Jhamon Ausbon opted out of the season, Texas A&M still has plenty of pass catchers for Mond to spread the ball around to.
4. Charlie Brewer, Baylor: The Bears are the only Big 12 team to have their first two games postponed due to pandemic issues. Brewer is one of the most experienced quarterbacks in the country and his highly-anticipated senior season will finally be getting underway. Despite the games against Louisiana Tech and Houston being up in the air, Brewer still has a chance to break a couple of Robert Griffin III's records this fall. He couldn't have asked for a better opportunity to get off to a fast start with Kansas on deck. The Jayhawks allowed 38 points in their first game and it was to a Group of Five team. New Coach Dave Aranda will rely heavily on Brewer's experience as the Bears navigate through the Big 12 meat grinder. Offensive Coordinator Larry Fedora is all about throwing the ball all over the field, which in return should help Brewer's numbers. The Bears have gone 9-2 in their last 11 games against Big 12 competition. Now Baylor is expected to take a step back because of the coaching change, but having a quarterback like Brewer eases the transition.
3. Mac Jones, Alabama: The Tua Tagovailoa era is over in Tuscaloosa, but the Crimson Tide appear to be in good hands with his successor. Jones gained valuable experience last season when he started against Arkansas, Western Carolina and Michigan. In all three of those games Jones had three touchdown passes apiece, no interceptions and led Alabama to a victory. Nick Saban's team is expected to not miss a beat with Jones at the helms full time. After all, Jones will be handing the ball off to Najee Harris, who's arguably the best running back in the SEC. DeVonta Smith and Jaylen Waddle form the best wide receiver duo in the league. Not to mention Jones will be operating behind star-studded offensive line. Missouri has a new coach and a new quarterback, but a solid defense, especially against the pass. The Tigers' secondary will be a great litmus test for Jones and he'll be on the road. Alabama scored over 40 points in 10 different games last season, so there'll be some pressure on Jones to deliver the same results Saturday.
2. Kyle Trask, Florida: There hasn't been this much buzz about a Florida quarterback since Tim Tebow was lined up behind center. Last season Trask went from being a walk-on, to finishing 8-2 as the Gators' starter and has one of the highest ceilings of any SEC signal-caller. Dan Mullen is a quarterback guru, which should improve Trask's production. Playing on the road to open SEC play is never easy, especially for game one. However, Ole Miss' secondary was flat-out awful a year ago and finished dead last in the league against the pass. Meanwhile Florida was one of the best passing teams in the SEC, finished 16th nationally through the air and Trask had 25 touchdowns tosses. Plus Trask has arguably the nation's best tight end in Kyle Pitts to throw the ball to. Saturday's matchup will be very challenging for the Rebels right off the bat and Trask needs to make a statement to the rest of the SEC. The Gators are ranked in the top-five for the first time since 2012 and it's time to show College football world they are the real deal.
1. Myles Brennan, LSU: Having to replace a Heisman Trophy winner is some huge shoes to fill and almost impossible. Brennan won't have the luxury of passing the ball to Ja'Marr Chase or take play calls from Joe Brady. However, talented receivers grow on trees down in Baton Rouge and this time around will be no different. Despite the fact that half of last year's team is now the NFL, the Bayou Bengals are still ranked sixth in the country. Many are expecting Ed Orgeron's team to take a big step back. Which is why Brennan needs to show the College football world that he's going to keep the wheels rolling. Brennan will get the comfort of playing at home in Death Valley and Mississippi State is breaking in a new coach. The Bulldogs had one of the worst pass defenses in the SEC last season and don't have a ton of experience returning on that side of the ball. Picking apart Mississippi State's inferior secondary will be expected. Orgeron already said Brennan has a stronger arm than Joe Burrow and the junior quarterback will be scrutinized on every snap he takes.