Brian Kelly wary of South Florida's defense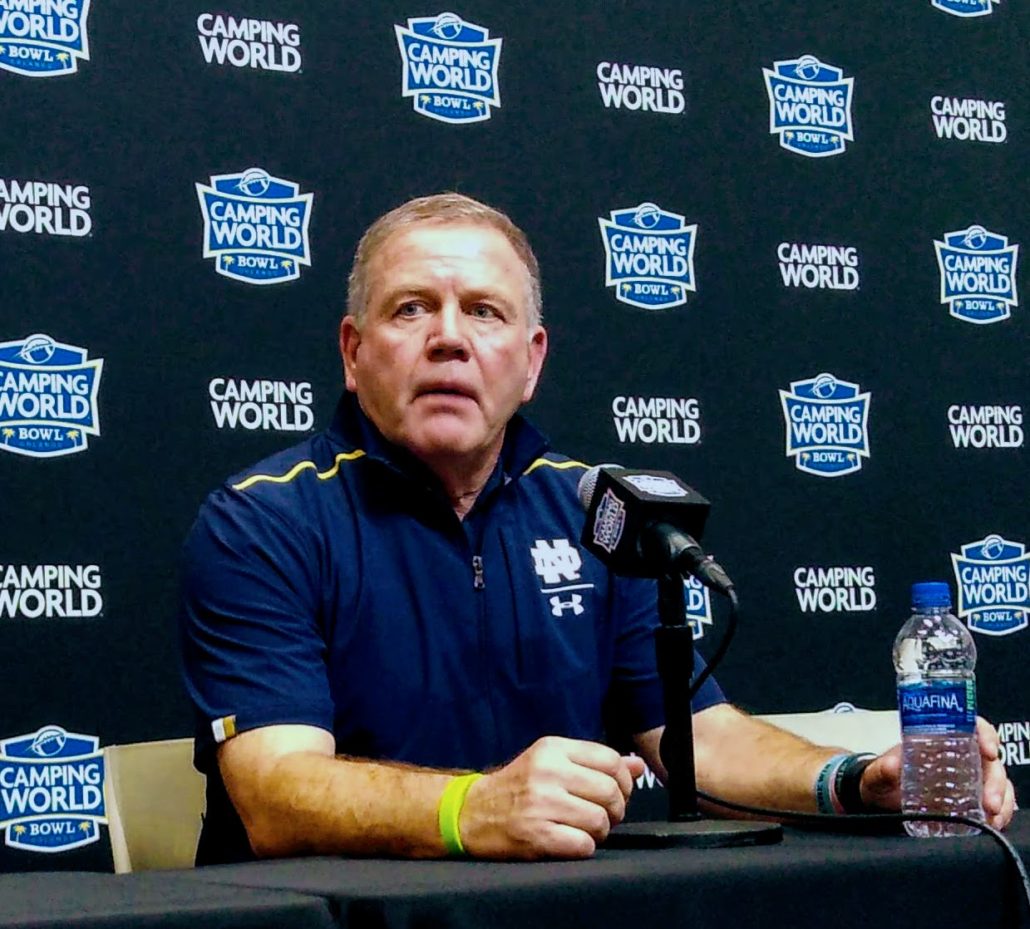 Notre Dame is riding a wave of momentum after coming off its' seventh-straight victory.
The 14-point win over Duke was also Notre Dame's first as a Power Five member and Kelly's team moved up three spots to No. 7 in the AP Poll. Still, the higher the Fighting Irish rise in the rankings the bigger the targets will become on their backs. Games are played on the field, not on paper and last week's upsets proved that to the College football world.
Which is why Kelly wants his players focused for Saturday's game against South Florida. The 58-year old coach remembers the Bulls handing the Fighting Irish a three-point loss at home in 2011's season opener. He's also excited to see some familiar faces like South Florida's Offensive Coordinator Charlie Weis Jr. return to South Bend.
He believes Weis is a young bright star in this profession and has accomplished a lot thus far. First-year South Florida Coach Jeff Scott has been on Kelly's radar ever since Notre scheduled a three-game series with the Group of Five program last month.
"We've got to get ready for South Florida, obviously Scott has a great resume from his time and the success that he's had as a coach and now he gets to run his program," Kelly said. "He's certainly going to have a group of young men that are excited about this opportunity to play us at Notre Dame."
Kelly's biggest concern is the great athletes the Bulls have on defense. South Florida is coming off a 21-point victory over The Citadel. Not to mention the seven points the Bull's defense allowed was lowest by the unit since October of 2017. Kelly credits that amazing feat to South Florida's Defensive Coordinator.
"A guy that I respect a lot is Glenn Spencer, who has been in this business a long time and been very, very successful," he said. "They'll have a great scheme defensively, they've always played hard for Glenn and he'll have his group ready."
The Golden Domers are coming off a dominant defensive performance of their own. Kelly's squad held Duke scoreless in the fourth quarter and caused two turnovers. Notre Dame hasn't lost to a Group of Five team since Navy in November of 2016 and Kelly wants to keep it that way. Bottom line, the Bulls have the Fighting Irish's full attention and they won't be taking them lightly. Especially after last week's game against Duke was closer than expected.
Kelly wants his team to have a complete type of game, without his players making fundamental mistakes. South Florida steamrolled for 302 yards on the ground against The Citadel, while Notre Dame held Duke to just 73. Which means Saturday's matchup will also be a litmus test on both sides of the ball for the Fighting Irish.
Regardless of the matter, Notre Dame's last six wins have all come by double-digits. Another comfortable victory this Saturday should help the Fighting Irish's cause and keep them in the top-10, especially with the SEC starting next week. Kelly could care less if the Bulls last victory over an ACC team happened two years ago, because he knows the Fighting Irish will be getting their best effort.
"I'm sure they'll be up for the challenge here at Notre Dame," Kelly said. "So we've got to work on the things that'll make us a better football team this week and get us ready for South Florida."