Ranking the SEC's canceled non-conference games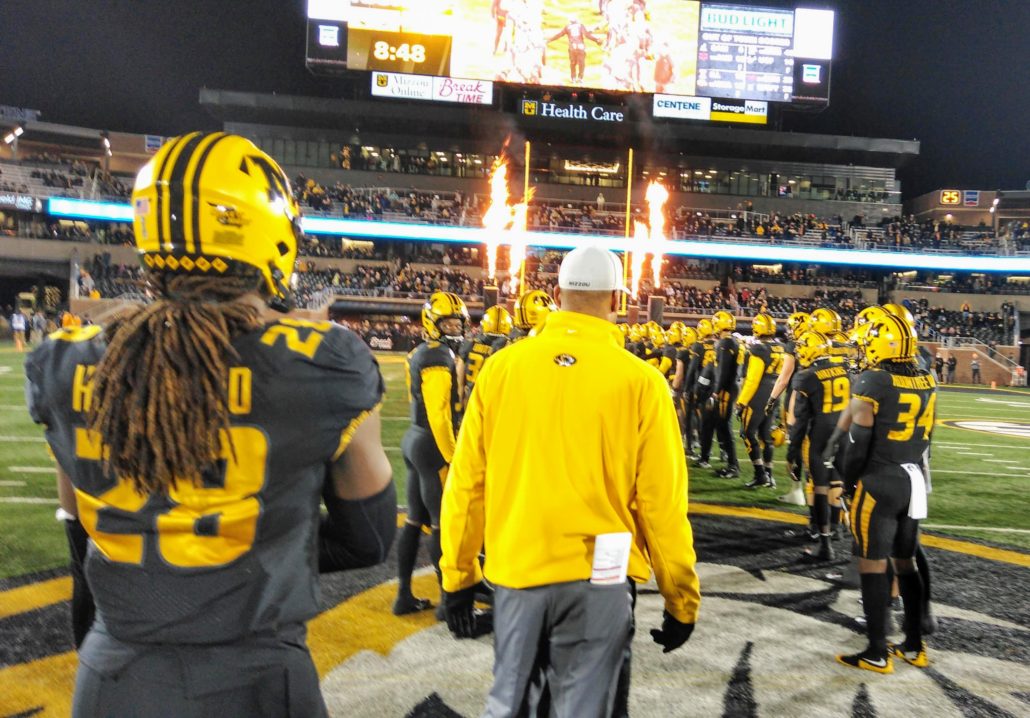 So much for anticipation, tradition, playoff implications and bragging rights.
The Big Ten initiated the unprecedented conference-only format last month and all the Power Five conferences are adopting similar schedules for the fall. There's no denying how significant non-conference games are in terms of recruiting, strength of schedule and bowl alignment.
Several key games and storied rivalries were thrown out the window after the announcements. The news took a lot of luster out of what has already been an uncertain season.
After all, every conference wants to see how it measures up to the almighty SEC. Non-conference battles we all had marked on our calendars for 2020 are no longer being played. Here's a countdown of those cancelled games involving SEC teams, from under the radar matchups to the most meaningful.
15) Vanderbilt at Kansas State: This was one of four scheduled Big 12 battles against the SEC that's off the books now. The Commodores won the only two meetings between these two programs, including a low-scoring affair in Nashville in 2017. Vanderbilt was supposed to be Kansas State's third SEC opponent in the non-conference slate over the last three seasons and game three of the year for both teams.
14) Mississippi State at NC State: The last time these two teams clashed was back in the 1995 Peach Bowl. This home-and-home series for 2020 and 2021 was originally scheduled back in 2014. As a matter of fact the Bulldogs were supposed to be making their first trip to Raleigh since 1940. It would've been an intriguing matchup in week two for both the ACC and SEC, but instead will have to resume next year.
13) Colorado at Texas A&M: The clash between the two former Big 12 members was five years in the making. This home-and-home series was originally announced back in 2015. It was also one of two Pac-12 matchups against the SEC this fall. The Buffaloes last trip to College Station was in 2008 and they won their last game against the Aggies. Colorado is a downgrade from playing Clemson, but a more winnable game for Texas A&M. Now this reunion will remain on hiatus until 2021.
12) Ole Miss vs. Baylor: Both teams are breaking in new coaches, but also coming off different seasons. Baylor won 11 games for the first time since 2014 last year and Ole Miss suffered its' fourth-straight non-winning season. Dave Aranda and Lane Kiffin even matched wits during their time at LSU and Alabama in 2016. That would've made this non-conference battle intriguing, but instead both teams won't get the opportunity to take advantage of this measuring stick game.
11) Georgia Tech at Georgia: Clean Ol' Fashioned Hate is a storied in-state rivalry and been annually played since 1925. The Bulldogs have dominated the Yellow Jackets over the past two decades, winning 16 of the last 20 meetings. Still, it's a big event in the peach state and bragging rights are always a big deal. However, Georgia would've had everything to lose in this game playing a rebuilding ACC team. Meanwhile Georgia Tech would've had everything to gain in this rivalry by playing one of the best teams in the SEC.
10) Missouri at BYU: The Cougars' season is really in jeopardy after the Big Ten, Pac-12 and SEC adopted a conference-only schedule format for the fall. Unlike Notre Dame, BYU doesn't have the legendary brand in College football as an independent. Which is unfortunate because the Cougars gained notoriety over the years for upsetting Power Five opponents. The Tigers on the other hand are starting over from scratch with Eliah Drinkwitz and avoids this landmine game that was sandwiched in between Tennessee and Georgia.
9) Kentucky at Louisville: Besides the Kentucky Derby, the Governor's Cup is one of the biggest events in the bluegrass state. One of the noteworthy ACC against SEC games and this cross town rivalry is always intense. Both teams are on the rise with their underrated coaches and vastly improved from a year ago. The Wildcats have won three of the past four meetings over the Cardinals and outscored them 159-105 during that span. Which means the SEC probably did Louisville a favor by cancelling this game.
8) South Carolina at Clemson: Although the Palmetto series has been completely dominated by the Tigers in recent years, this is still one of the oldest rivalries in the south and been played annually since 1909. Both teams have been going opposite directions for quite some time. Dabo Swinney owns the ACC and has been one of the most successful coaches in today's game. Meanwhile Will Muschamp's job security continues to be a topic season after season. However, both coaches continue to recruit at a high level and field NFL talent, which is why this rivalry will be missed.
7) Arkansas at Notre Dame: Anytime the Fighting Irish get a chance to play against the SEC it's always a big deal. Arkansas was supposed to be the fourth SEC opponent Notre Dame played over the past four years during the regular season. The Razorbacks are on their third coach in the past four years, need stability and playing the Fighting Irish on the road would've been a great measuring stick. Brian Kelly has Notre Dame poised for a National Championship run this fall. So not being able to play a rebuilding SEC team isn't a huge blow when the Golden Domers have bigger fish to fry.
6) Auburn vs. North Carolina: This game was supposed to feature two of the best true sophomore quarterbacks in the Power Five. Not to mention both teams were going to be ranked in the top-20 entering the season. Gus Malzahn has a roster full of four and five-star talent. Mack Brown showed he hasn't lost a step after leading the Tar Heels to seven wins in first year back on the sidelines in Chapel Hill. North Carolina squaring off with Auburn in week two would've been for conference bragging rights and a big event for the city of Atlanta. The winner of this matchup would've catapulted into the top-10 for week three.
5) Georgia vs. Virginia: Bronco Mendenhall clearly has the Cavaliers on the rise and Kirby Smart has built the Bulldogs into a monster in the SEC. That alone was going to make this season-opener a game under the lights for College football fanatics. After all, Georgia is a legit top-five team entering the season and Mendenhall pulled off several upsets over powerhouse programs during his tenure with BYU. This was going to be one of those games that looked like a victory on paper, but a dogfight on the field. Mendenhall may had an opportunity to pull off another upset. However, Smart's boys would've flexed their muscles on another inferior opponent for the world to see.
4) Florida at Florida State: The Sunshine Showdown gained national notoriety during the 90s and these two fan bases can't stand each other. Every year since 1958 these in-state rivals battle it out on the field. The Gators and the Seminoles target the best recruits the speed state has to offer. Bragging rights are a big deal and College football tradition is drenched in this series. The game is always circled on each teams' calendar and the records mean nothing when Florida and Florida State clash. Although it's not the premiere rivalry it once was, cancelling the Sunshine Showdown was a deflation to the season.
3) Tennessee at Oklahoma: Whenever two legendary programs collide it's going to create that special buzz. Oklahoma and Tennessee packs that allure and power, plus both teams have huge fan bases. The Sooners have accomplished everything under the sun except win a National Title, while the Volunteers remain a sleeping giant. Tennessee's last trip to Norman was a 24-point beatdown. The Sooners come from behind victory at Neyland the following year was arguably the best thriller of the past decade. Oklahoma always comes to play when it's against an SEC opponent, but Tennessee will miss out on an opportunity to show the upper echelon that it belongs.
2) Alabama vs. USC: Non-conference games don't get much bigger than these two blue blood programs colliding in Jerry's World on season-opening weekend. Anticipation was going to be through the roof. The Crimson Tide remains that 800-pound gorilla in today's game. Meanwhile USC is still trying to become relevant again in the Pac-12. Alabama dropped 52 points on USC in 2016 and looked like men among boys. Although Nick Saban has yet to lose a season-opener with Alabama, this could've been a golden opportunity for Clay Helton and the Trojans to make a statement. This game would've let the College football world know if the Trojans are improved and how they fared against the SEC elite.
1) Texas at LSU: This not only was supposed to be the biggest game of week two, but the entire non-conference. The reginging National Champs squaring off against a legendary blue blood for a second-straight year. This time around it was going to be inside Tiger Stadium, where non-conference Power Five teams go to die. Last year's game between these two was a shootout, but this time around Texas was catching LSU at the right time. It would've been a big stage for Longhorn senior quarterback Sam Ehlinger to score some extra Heisman consideration with a great performance. The Bayou Bengals could've lost this game and still be in the Playoff hunt. While Texas would've been on the outside looking in with a loss. Plus both programs hammer the Houston area for recruits and this would've been great exposure.