Matt Campbell: cementing a winning legacy with Iowa State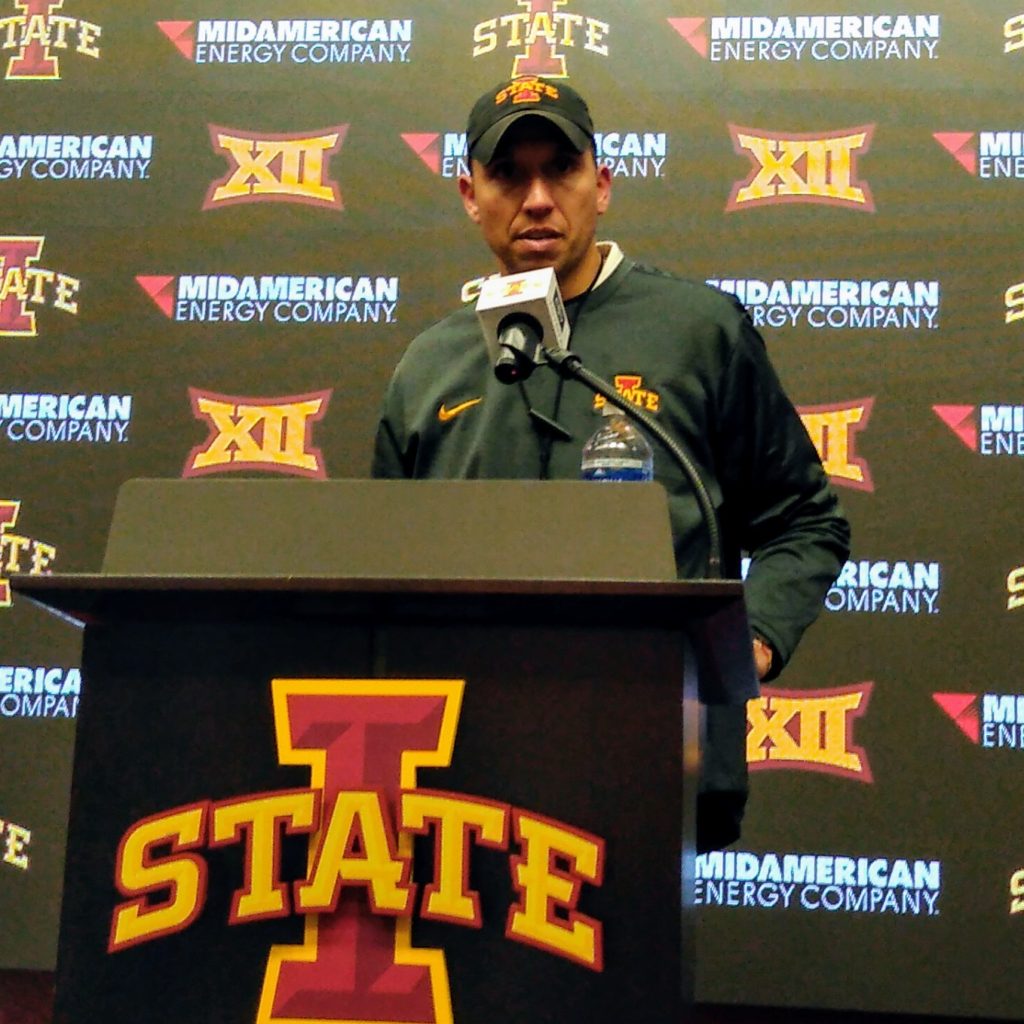 AMES, Ia. — The Cyclones are one victory away from securing a third-straight eight-win season under Matt Campbell and the future of the program looks as bright as ever.
A winning culture has been established at Iowa State, which is something Campbell's predecessors Paul Rhoads and Gene Chizik failed to do on a consistent basis. Before Campbell's arrival the Cyclones hadn't finished with a winning record in conference play since 2000.
However, over the last three seasons Iowa State has compiled a 16-11 record in Big 12 action and school administrators took notice. After celebrating his 40th birthday, Campbell was rewarded a one-year contract extension and his staff received a $1 million dollar salary bump.
It was all perfect timing for Iowa State, considering Campbell had been rumored as a candidate for several Power Five coaching vacancies. He's a beloved individual in Ames and Cyclone fans are grateful to have him. Iowa State has an identity, which is physicality and the team plays with passion on both sides of the ball.
"I'm really happy for our kids, they continue to fight when I think everybody has written us off at times," Campbell said. "Our kids just keep playing and that's the thing that's really fun about coaching."
Campbell continues to be a great game day motivator and is poised to be the longest-tenured coach at Iowa State since Dan McCarney. The Ohio native has laid down the foundation for what it takes to be successful at the Power Five level. Not to mention the chemistry he has with his players is second to none.
The Cyclones always perform with that never say die attitude and most of their games have been thrillers. Opponents expect a dogfight when they play Campbell's squad and it's hard to find another group of young men with such resiliency.
"It's an honor to coach these group of kids because of who they are and what they stand for," he said. "Sooner or later that will be our foundation of who we are and what we do."
The early signing period is approaching in a few weeks and it helps that Iowa State will be playing traditional powerhouse Notre Dame in the Camping World Bowl. It's a great opportunity for the nation to see how far Campbell has come with the program.
Iowa State has gone from being the laughing stock of the Big 12 for decades to a perennial top-25 team with Campbell patrolling the sidelines. With star players like quarterback Brock Purdy returning next season the best is yet to come for the team. Still, Campbell emphasizes that it's not just about the wins or x's and o's, but the people that makes the program stand out over others when it comes to a national perception.
"I think the enjoyable part is that you see a lot of young guys buy into this and their growth has been exceptional," Campbell said. "I tell every recruit in the country if you want to find out about us come hang out with us in the off season and come see what our kids and coaches are like."
After another winning season everyone is waiting to see what Campbell can do for an encore against the Fighting Irish. The Cyclones are fully invested in Campbell and he won't be going anywhere anytime soon. With other Power Five programs struggling to rebuild it just goes to show that patience is a virtue and having coaching stability is the key to long term success.