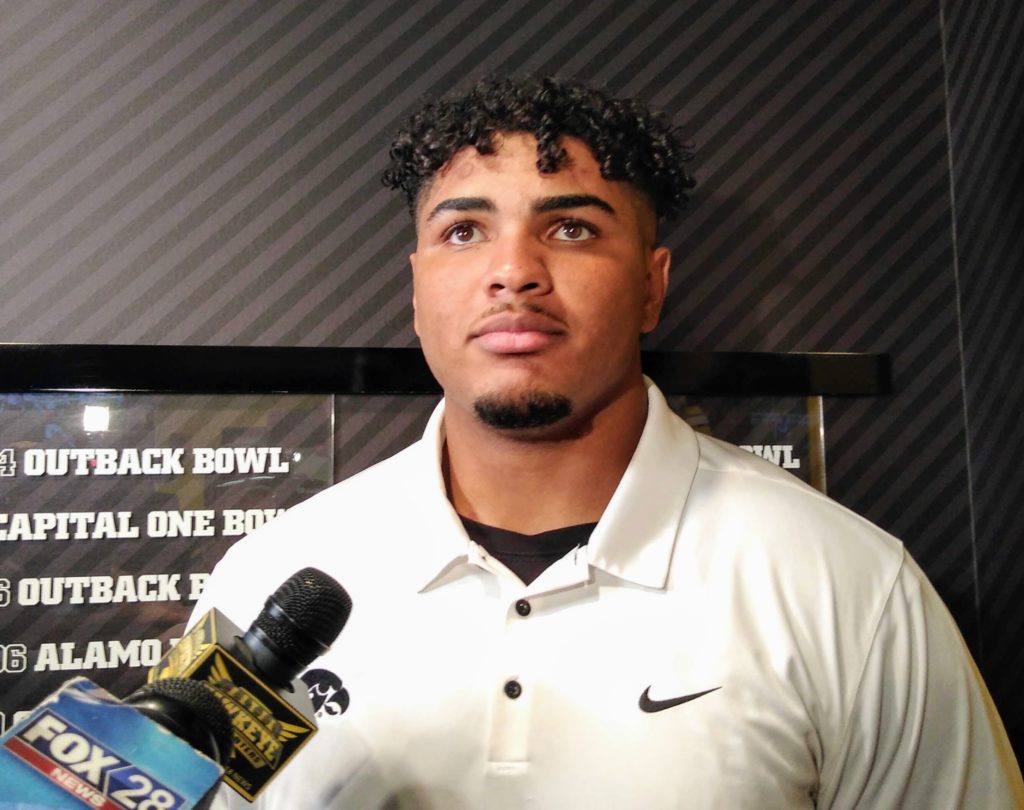 IOWA CITY, Ia. — Iowa's offensive line has endured a fair share of criticism for the team's lack of touchdowns.
The big boys up front have been hit by the injury bug, patched up and reshuffled throughout the season. Finding the end zone has been hard to come by for the unit, especially away from home. The Hawkeyes are scoring 23.5 points per game, which ranks 11th in the Big Ten, but only 12.5 on the road.
Now Iowa has to travel to Lincoln this Friday to play a desperate Nebraska team inside the Sea of Red. Effective blocking is always vital on the road in hostile environments and Iowa must establish physicality in the trenches.
Junior offensive guard Tristan Wirfs has been the mainstay and most consistent individual out of the bunch. He's encouraged by what he has seen from the group and believes the unit's best football is still ahead of them. After all, the Hawkeyes have momentum after winning their past two games and want to keep the momentum going on the road for the regular-season finale in the Heroes Rivalry.
"We're all fairly happy right now, we know there's a lot of things we can still do better, but getting a win and knowing we can still keep improving is really good," Wirfs said. "It's kind of just game plan stuff, we're playing hard, it wasn't a morale thing, we don't need a morale boost."
Iowa's offense has often times relied on kicker Keith Duncan to put points on the board and he lead the nation in field goals made. Wirfs is grateful to have Duncan on the team, but understands if the offense completes the job, there wouldn't be a need for special teams in clutch moments.
"We're playing hard, but we got to finish drives in the end zone though," he said. "Sixes instead of threes."
Iowa leads the Big Ten in red zone scores through 11 games, but a lot of those points have come from Duncan's field goals. Iowas hasn't scored over 26 points in the its' last six games. The Hawkeyes' been winning games with great defense  and special teams play.
However, at some point the offense will be asked to step up and make a game-changing play for the team. Wirfs emphasized that the offense tries not to let turnovers or simple mistakes effect them mentally. The team prides themselves on discipline.
Iowa has won eight or more games for the fifth-straight year and could make it back-to-back seasons of nine or more with a win at Nebraska. A New Year's Six Bowl could potentially still be in the works for the Hawkeyes if they win out. Regardless of what's at stake Iowa offense is gaining confidence and Wirfs just want to keep the good vibes going.
"I think for us, being able to get back on the win train the past two weeks was definitely a morale boost," he said. "Just keep pushing forward, keep pushing ahead and take it week by week."