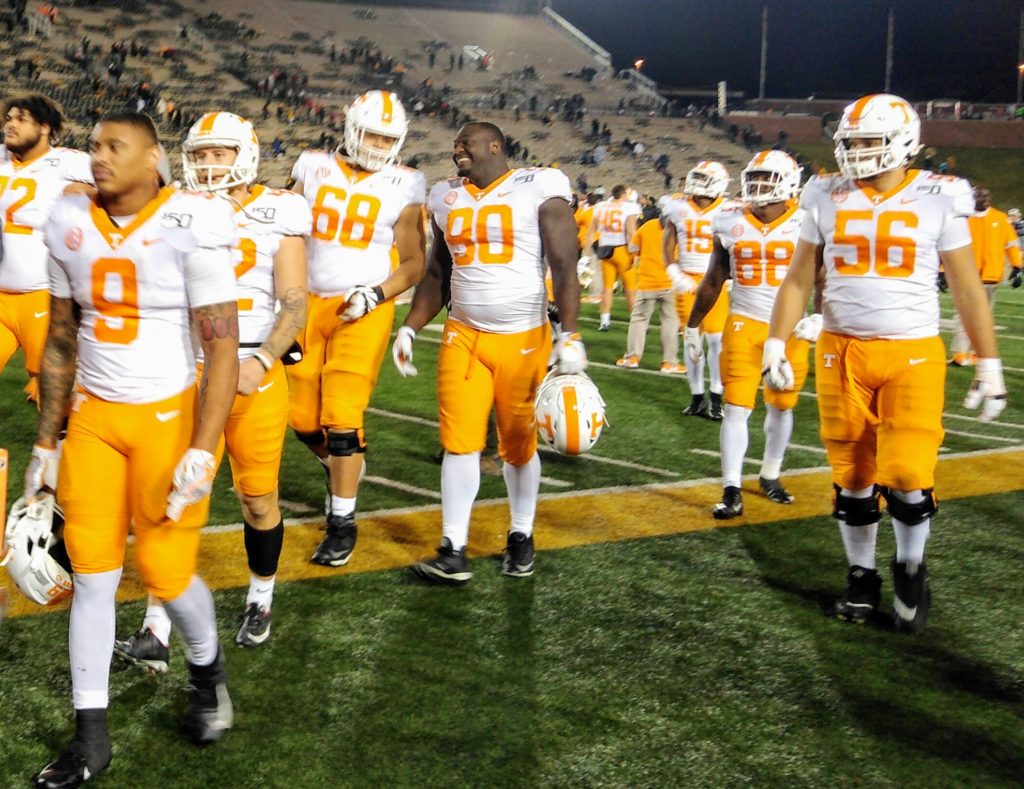 COLUMBIA, Mo. — Tennessee clinched its' sixth win of the season with a 24-20 road victory at Missouri to become bowl eligible for the first time since 2016.
The Volunteers are now riding high on a four-game winning streak, including back-to-back victories on the road in conference play. The team went from being the laughing stock of the SEC East after a disastrous 1-4 start, to one of the hottest teams in the league, winning five of their past six games.
Jeremy Pruitt is looking like the best hire out of all the Power Five programs from two years ago and his teams' best football is still ahead of them.
"Really the leadership on our team, the seniors, these guys have been through a lot," Pruitt said. "This season didn't start out the way we anticipated, but with their leadership and the leadership of our assistant coaches helped this team grow."
Tennessee racked up 526 yards of total offense, including 415 through the air by quarterback Jarrett Guarantano. The junior scorched the Tigers' secondary all game long and played pitch and catch with his wide receivers. Marquez Callaway, Josh Palmer and Jauan Jennings all went over the century mark in receiving and combined for 17 catches, 349 yards and two touchdowns.
Missouri's defense played man to man coverage throughout the game, but couldn't do anything to stop the bleeding and drew multiple pass interference calls.
"Let me tell you they made some tough catches, Missouri did a nice job guarding them back there," Pruitt said. "I think all three of them know that they been in a physical game, they caught balls across the middle and made all the catches tonight."
The Volunteers' offense ran seven more plays, but nearly doubled the Tigers in yardage and held onto the ball for over three minutes longer in time of possession. However, the unit did lose a fumble, but other than that played a pretty clean game.
Pruitt thought Tennessee's defense played sporadic, gave up a couple explosive plays and didn't force any turnovers. Still, the unit still limited the Tigers to just 280 total yards and kept them out of the endzone in the fourth quarter.
"One thing I see with our defense as they gain confidence and get excited they have to control their emotions and still execute at a high level," he said. "We made some mistakes that we know better."
Senior linebacker Daniel Bituli was flying over the field and had a game-high, 12 total tackles and a sack. Senior safety Nigel Warrior added six total stops, including a tackle for loss. Special teams was an issue with Missouri blocking two of Tennessee's field goals.
Pruitt knows he still has a young team, but feels his players are setting the tone for the near future. With an eight-loss Vanderbilt team next on the horizon Tennessee has a chance to close out the regular season on a five-game win streak for the first time since 2015.
"It's a huge win for our players, coaches and everybody in our program taking the next step," Pruitt said. "We're excited about it, we're fired up about it, we know we have a very important game next week and we'll enjoy this game until we get home then start working on Vanderbilt."