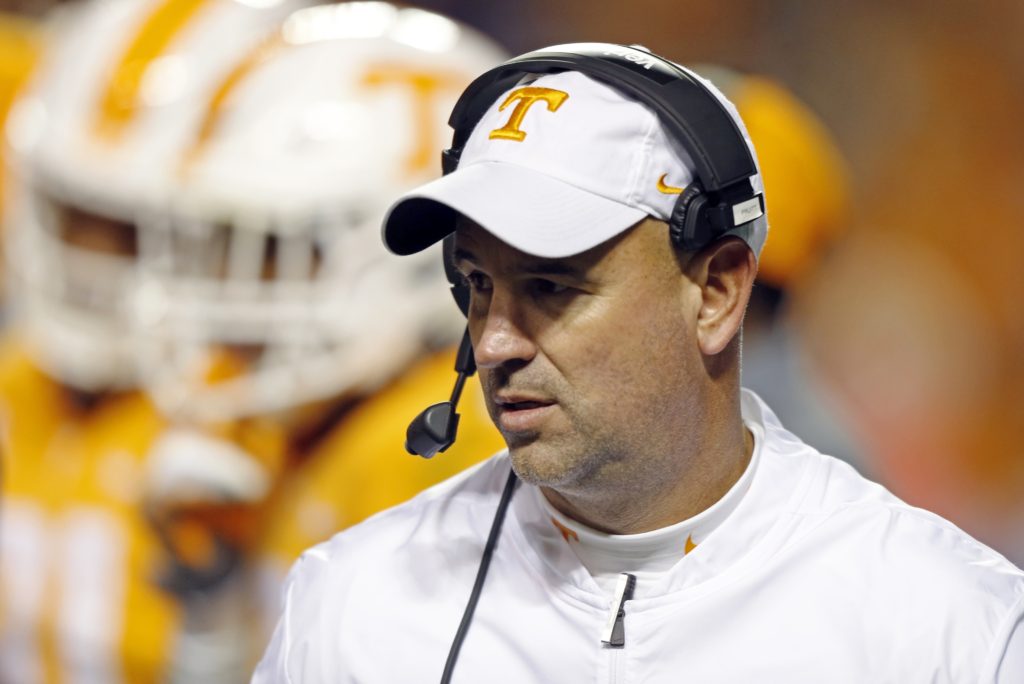 For a team that started out the season 1-4, the Volunteers have made a remarkable turnaround and are poised to reach the post season for the first time since 2016.
Tennessee has won four of its' past five games and riding high on a three-game winning streak, a feat that hasn't been accomplished during the regular season in three years. Phillip Fulmer is starting to look like a genius. Out of all the big-name Power Five hires two years ago, Jeremy Pruitt is showing the most promise thus far.
Pruitt's team averaged 23.6 points per game and allowed 29 through the first five contests. However, Tennessee reversed that trend and averaged 24.2 points per game and allowed 17.2 through the past five contests.
Quarterback Jarrett Guarantano has been playing smart with the football during the three-game win streak, passing for 491 yards, five touchdowns and one interception. His go-to target Jauan Jennings has went over the century mark in receiving yards three times this season and has seven touchdown catches.
The significant change for the team has been on defense and the unit has become come stronger as the season progresses. Not to mention the Volunteers showed their potential with a shutout in game three.
Tennessee is coming off a bye-week and travel to play a Missouri team on the road that has lost four-straight games. The Tigers offense has been abysmal during that span, averaging a mere 6.7 points per game. The Volunteers' defense could potentially be licking their chops.
Saturday night's game is going to come down to which team wants it more. It's going to be Missouri's Senior Day, but the team is ineligible for the post season whether they win or not. Tennessee on the other hand has momentum, been playing with confidence and Pruitt is trying to make a splash in year two.
Reaching a sixth win of the season will solidify Pruitt has the program headed in the right direction. After all, there were some who were questioning his job security after the Volunteers got off to a rough start. Now Tennessee has the opportunity to prove its' the third-best team in the SEC East with a road win Saturday under the lights.
Some might question the Volunteers success this season, considering their only wins over teams with winning records came against Group of Five UAB and FCS Chattanooga.  Still, there's no denying Pruitt's revival of the once-proud blue-blood program. Pruitt also has a top-20 recruiting class on the way for the early signing period.
Everyone knows Tennessee is a sleeping giant and if you keep poking it's going to eventually wake up.