Iowa State snaps losing streak to become bowl eligible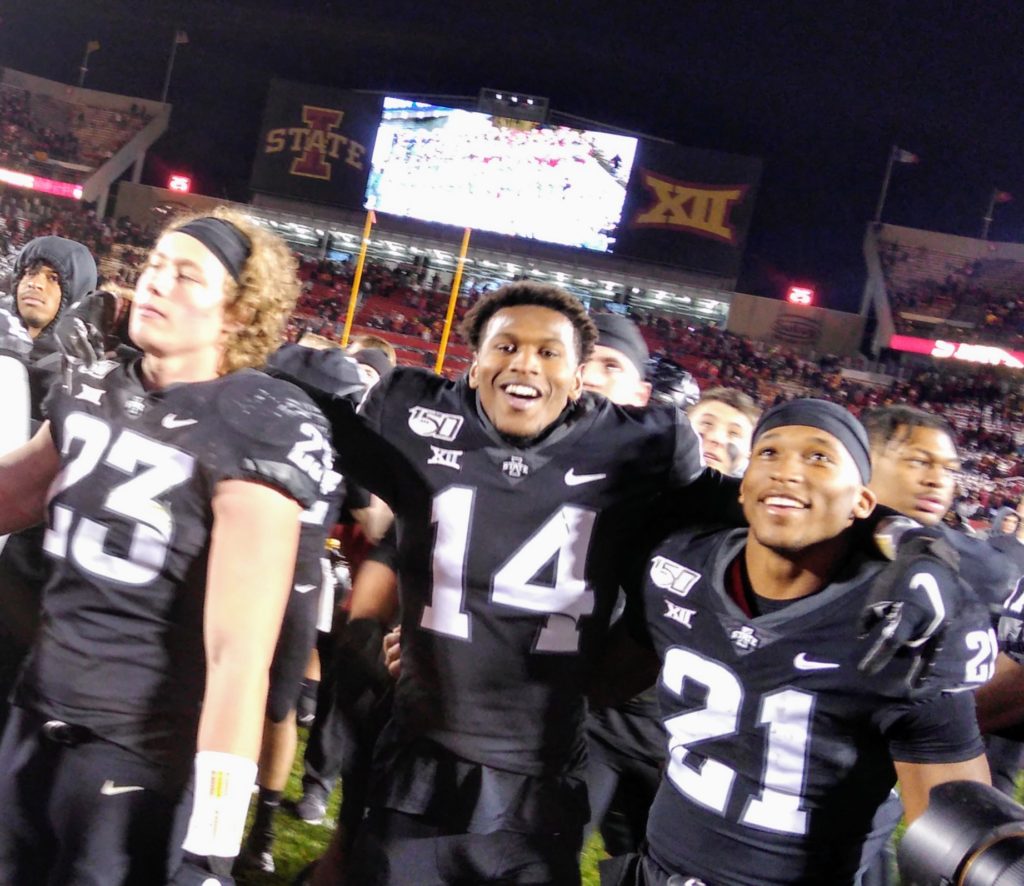 AMES, Ia. — After back-to-back losses Iowa State kept its' post season hopes alive with a last second field goal over a ranked Texas team Saturday night at Jack Trice Stadium.
The 23-21 victory was another thriller for Matt Campbell and his team, but the Cyclones came up huge in the clutch and have momentum for their remaining two games of the regular season. The black uniforms seem to provide good luck, considering Iowa State has beat both TCU and Texas at home when wearing them.
Still, the Cyclones came out and played inspired on both sides of the ball. Iowa State's offense scored on the initial possession of the first and second half while the defense held Texas' offense to three and outs. It was a clear sign that Campell's team wanted it more and a crowd of 58,946 watched the Cyclones maintain control most of the game.
"I'm really grateful for our great fans, they been loyal to us since we got here and they were really special tonight," Campbell said. "Obviously hats off to Texas, they got a great football team, program and we got a lot of respect for them, but I couldn't be more proud of our kids."
True sophomore quarterback Brock Purdy had himself another monster game and passed for 354 yards, two touchdowns and an interception. He improvised, extended plays with his legs and made some NFL-type throws to his targets.
Receivers La'Micahel Pettway and Deshaunte Jones combined for 15 receptions, 244 yards and a touchdown reception. Tight end Charlie Kolar continued to show he's money in the red zone, snagging his seventh touchdown pass of the season. Not to mention running back Breece Hall surpassed the century mark in rushing for the fourth time this year.
"We lived here in these moments all year long, it was great to make the ball bounce our way tonight a little bit," Campbell said. "From that standpoint I'm really happy for our kids, they continued to fight when I think everybody has written us off at times and our kids just keep playing."
Iowa State racked up 466 yards of total offense compared to Texas' 327, held onto the ball for five minutes longer and ran 13 more plays. Accomplishing that feat was vital on the Cyclones' game-winning drive. Considering the drive was extended because of an encroachment penalty committed by Texas.
Iowa State's defense didn't force any turnovers and allowed Texas quarterback Sam Ehlinger to pass for 273 yards and three touchdowns. However, the unit held the Longhorns' offense scoreless in the first and third quarter and limited their running game to just 54 yards on the ground.
The Cyclones' secondary was active all game long, led by junior safety Lawrence White, who had a game-high, 10 total tackles and a sack. Anthony Johnson and Braxton Lewis also combined for 14 total stops. Nonetheless Campbell was exuberant with how his defense performed down the stretch, despite giving up 14 fourth quarter points.
"I think we've done a really good job handling the end of football games, whether we won or lost we've done a really good job of handling the details in putting us in the best position to win the game," he said. "We talk a lot right now about taking the next step in this program and part of that is being present, which I think is really hard to do in our sport."
As for now Campbell is going to enjoy his first career win over Texas and sixth win of the season. Iowa State is bowl-eligible for the third-straight year and wants to keep the good vibes going with looming games against Kansas and Kansas State.