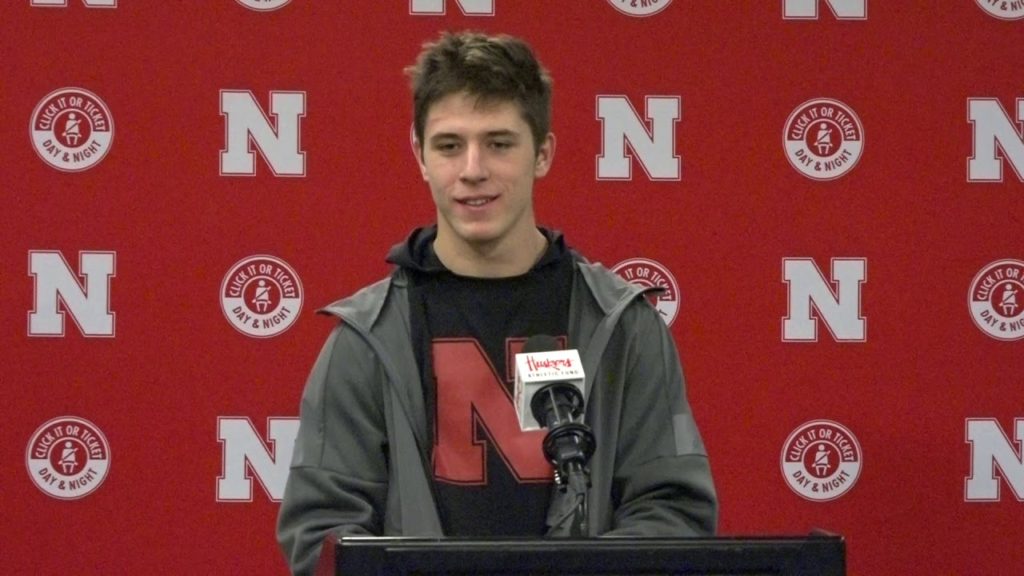 LINCOLN — The true freshman quarterback is eligible to play in two more games for Nebraska and still utilize his redshirt season.
Luke McCaffrey didn't travel with the team when Nebraska lost at Purdue. Adrian Martinez was sluggish returning back from injury and it was evident the Huskers' offense needed a spark. However, Scott Frost has had the week off to think about how he'll use McCaffrey's talents, if at all for Nebraska's three remaining games.
Regardless of the matter, McCaffrey is ready to step up to the plate if his number is called and not afraid of the spotlight.
"There's a lot of excitement each week, though we should always prepare to play," McCaffrey said. "If you stay ready, you never have to get ready, nothing changes too much from any of our parts."
After all, the Colorado native comes from a family pedigree of football players, including three brothers that play at both the Collegiate and Pro ranks. So it 's no surprise that McCaffrey has confidence in himself and a competitive spirit.
Frost is trying to find any way to salvage his second season leading the program and the Huskers need to win two of their last three games to become bowl eligible.
McCaffrey last played in the home loss against Indiana, when he took some meaningful snaps and threw his first career touchdown. Not to mention he completed five of his six passes to go along with 76 yards on the ground. He was happy with his performance, but know there's more work to be done.
"It was a solid game offensively, but we got to find a way to win and finish," he said. "That's the next step as a program is not to talk about it,  not to think about it, just go out there and do it, find any way we can to win."
Nebraska hasn't had a victory in over a month and riding a three-game losing streak. McCaffrey believes in order to get back to a winning culture it has to start with the young players. He believes players like him and Wan'Dale Robinson are the future of the program and want to be the cornerstone of that transition.
Wisconsin has had Nebraska's number since joining the Big Ten, winning seven of the past eight meetings. Still, the Huskers are trying get back to the post season for the first time since 2016 and McCaffrey knows he's only one snap away from the entering game.
The six-foot-two, 200-pounder has been handling it well going from high school to Power Five competition. Even when McCaffrey took the first snap of his career against Northwestern, he knew he wanted to conquer the moment.
"There's a little jitters at first, but after the play it's back to playing the same game we've been playing since the first or second grade."
Playing the Badgers won't be like in elementary and if the Huskers hope to pull off the upset it's going to take a good game plan filled with lots of surprises. McCaffrey plans to still redshirt, but wouldn't mind being one of those surprises this Saturday afternoon.