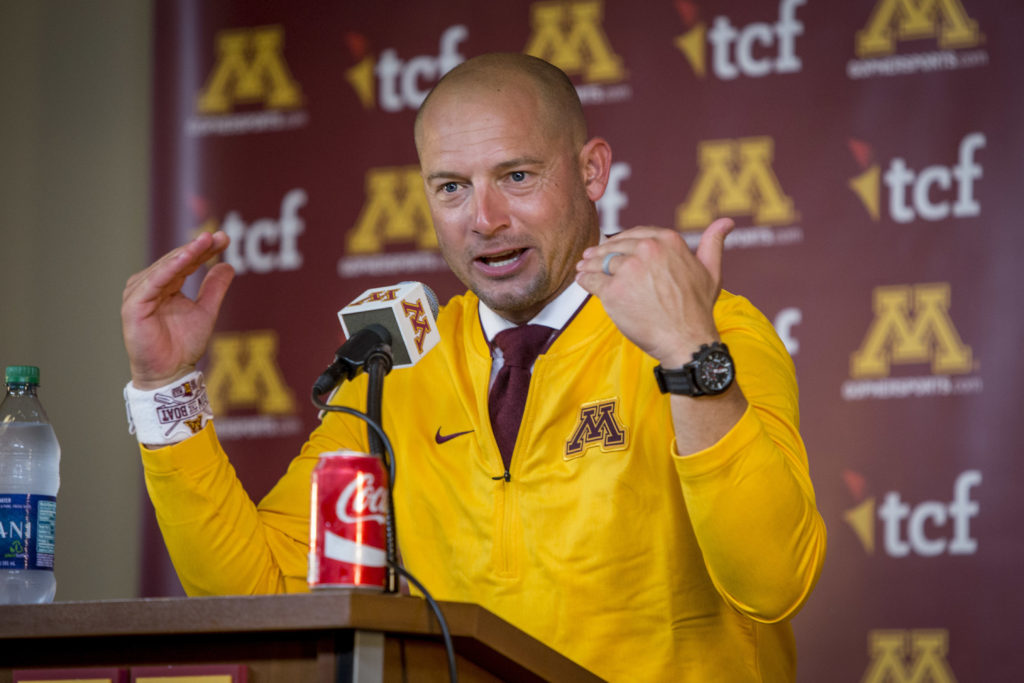 Minnesota is the only undefeated Power Five team that's not ranked AP Poll.
To make matters worse there are four Group of Five teams ranked, including a Cincinnati team that's not even undefeated. It's almost a smack in the face to the Golden Gophers' football program and the Big Ten.
Minnesota has improved every year under P.J. Fleck and is one of the two remaining undefeated teams out of the West Division.
He may rub some people the wrong way with his antics and 'Row the Boat' motto, but there's no denying Fleck can motivate and coach young men. Fleck has Minnesota 5-0 for the first time sine 2004.
The perception of the team thus far this season is that the Golden Gophers haven't played anyone with a pulse. Not to mention Minnesota has played down to its' competition and struggled to put away inferior teams. Still, at the end of the day a win is a win, especially in Big Ten play.
Fleck is doing a magnificent coaching job, considering his starting quarterback went down with an injury right before the season started. Signal-caller Tanner Morgan has stepped up to the plate. He has 1,250 yards through the air, 13 touchdowns and just three interceptions. Not to mention the Golden Gophers' are averaging 35.8 points per game.
As a matter of fact Minnesota has won its' last four games over Power Five competition and outscored its' opponents 150-73 during that span. Fleck's offense has a backfield of riches, with three different 1,000-yard rushers and all are capable of carrying the load.
Senior Tyler Johnson is one of the best receivers in the Big Ten and sophomore Rashod Bateman has been just as productive this season. The duo has combined for 51 receptions, 887 receiving yards and nine touchdown catches. Now Minnesota hosts a Nebraska team that'll possibly be without its' quarterback.
Fleck no doubt will use the disrespect in the rankings as fuel to motivate his team. Expect the Golden Gophers to play with a chip on their shoulder in order to gain some respect. Minnesota might even try to run up the score and win big just to make a statement.
Minnesota has a fairly favorable October and don't play any elite conference teams until November. It all starts this Saturday when the Golden Gophers host the Huskers. Whether we see Fleck finally row his boat over a cliff or another Frost melt the game will decide the West pecking order with the loser on the outside looking in.