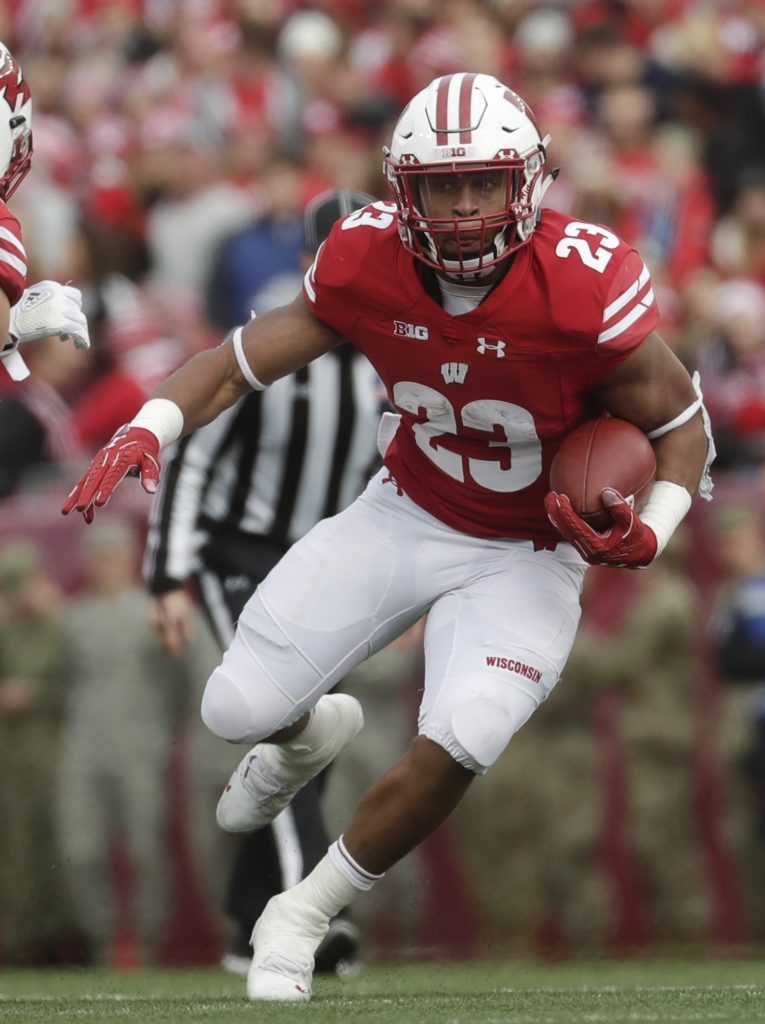 Jonathan Taylor has set the College Football world on fire ever since he threw on the cardinal and white jersey.
Wisconsin has arguably been dubbed 'Running Back U' for its' consistency at the the position. The program has had very productive players like Ron Dayne, Melvin Gordon, Monte Ball and the list goes on. However, Taylor is a special, once in a generation type of back, with that rare blend of speed and power.
There's something special about those talented running backs from New Jersey. Nebraska's Mike Rozier and Penn State's Saquan Barkley are both proof of that. Taylor's at a steak and potatoes-type of program that keeps the offensive scheme old school, run it down your throat with a colossal offensive line and a bruising back.
Taylor's talents and skill set fits the Badger's offense perfectly and the junior has been one of the most productive Power Five back the last two seasons. He already has a 2,000-yard season under his belt and a Doak Walker Award.
His 4,916 career yards on the ground in just two and a half years is more than Darren McFadden's 4,590 and Adrian Peterson's 4,041 after three full seasons. Taylor continues to steamroll opposing defenses, with multiple 100-yard and 200-yard games.
He makes everything look easy and you have to wonder if the kid is getting bored with College ball. Still, Taylor has everything to play for, including a Big Ten Title, in which Wisconsin hasn't won since 2012. Not to mention the Heisman Trophy hasn't been won by a non-Alabama running back since USC's Reggie Bush in 2005.
The prestigious trophy is supposed to be awarded to the player that means the most to his team. Taylor is the reason Wisconsin's quarterback transition from Alex Hornibrook to Jack Coan has gone better than expected. The Badgers' offense has Taylor more involved in the passing game also.
In hindsight it looks as if Taylor is trying to show the NFL that he's an all-around back, who can block, catch out of the backfield, bulldoze linebackers and out run defensive backs. He'll be eligible for next year's NFL Draft and really has nothing left to prove at the Collegiate ranks after the season concludes.
He's a workhorse-type of back and players at his position have a shelf life before they become damaged goods at the next level. Which means this will likely be Taylor's last year in Madison. Wisconsin has been the best team in the West Division if not the entire Big Ten thus far.
The Badgers have approached the meat grinder of their conference schedule and Taylor is about to see some of the best defenses in the nation. No. 23 is going to have a target on his back the size of the Grand Canyon. It's no secret that defenses are going to key in on Taylor and make Coan beat them with his arm.
The Badgers are the No. 8 team in the nation and if they'll have to win out to clinch a berth in the Playoffs. Although the Heisman Trophy has become a quarterback beauty contest, there's no reason why Taylor shouldn't get an invite, if not win the hardware if the Badgers conquer the Big Ten.
As for now Taylor will take the season game by game. Coach Paul Chryst wants him to be productive as possible but wants to keep Taylor healthy. College Football is slowly turning into a game of wide open offenses, but Wisconsin keeps everything blue collar.
Taylor could potentially be on pace to surpass the 2,000-yard mark for the second time in his career. Accomplishing that feat alone in today's game should put him on the College Football's Mount Rushmore of running backs.