Charlie Kolar remaining focused as Iowa State opens Big 12 play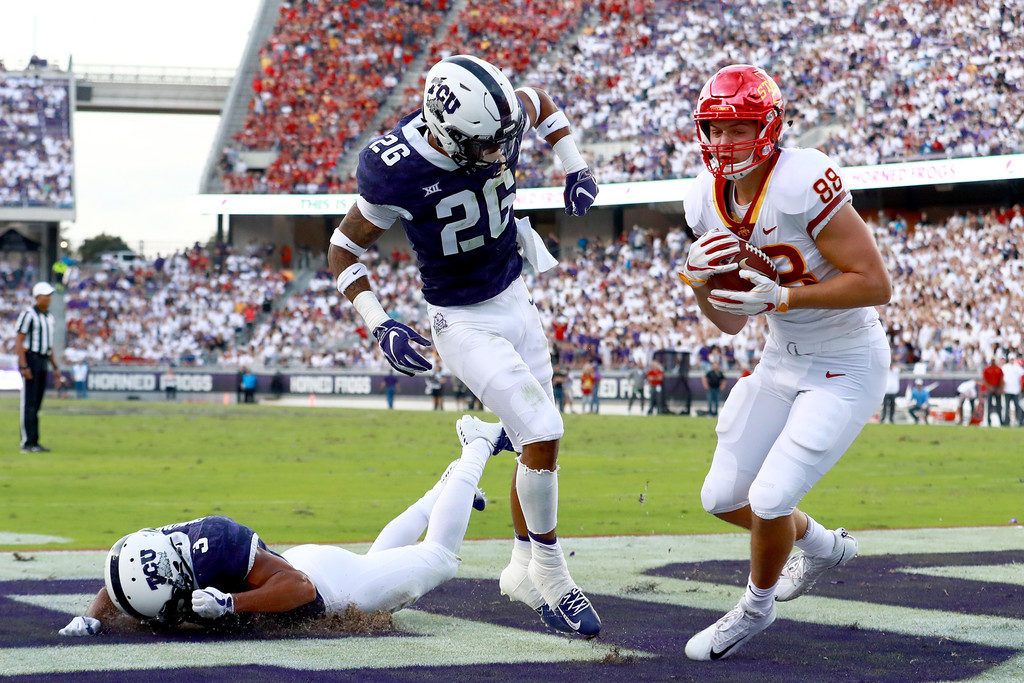 AMES, Ia. — He earned All-Big 12 honors last season and been a nightmare for opposing defenses to cover, with 14 catches through three games.
Although Charlie Kolar landed on the Mackey Award Watch List he could care less about the recognition or the outside perspective. Instead he goes about his business on the field, competes and it's the same approach with this teammates.
"We don't really think about individual expectations, we just trying to get better as a team," Kolar said. "So whatever I can do to help the team is what I'll do."
The six-foot-six, 252-pounder has been impossible to cover one on one and can provides a safety blanket for quarterback Brock Purdy to get the ball to. Kolar can snag balls out of the air that are tough catches, but he makes it look easy and he's clutch on third downs for Iowa State's offense.
After big-play receiver Hakeem Butler left a year early for the NFL, Kolar knew he had to step up to the plate and be one of the play makers from the tight end group. However, replacing Butler's experience, production and leadership isn't easy.
"We know it's tough to replace a guy like Hakeem, his unique talent, he was a leader," he said. "Numbers wise it's a lot of targets that got to take over."
Being that possession receiver and moving the chains on third downs is what Kolar thrives to be. He's from Norman, Oklahoma, which is Sooner country and he understands how to carry himself on and off the field the Iowa State way. Everyday Kolar looks for ways to improve his game.
"I try to focus on improving one step at a time with getting bigger, stronger and faster," he said. "From a technical standpoint I keep refining things, route running, first step off blocking, just the little things here and there to try to get better at."
Kolar considers himself a decent football player. He never idolized any NFL tight ends growing up, but he watches film on certain players just to learn some of their techniques. Kolar likes Travis Kelce's wiggle and how he makes defenders blow off their lines. He thinks Zach Ertz is similar at running really good top routes and the way Rob Gronkowski finishes plays.
Most importantly Kolar is grateful to have Purdy throwing the ball to him and is confident in his signal-caller. After all, Purdy was just named the Big 12 Player of the Week after his six-touchdown performance in Iowa State's win over Louisiana-Monroe last Saturday. Kolar is awed by Purdy's success and maturation process.
"A lot of it is just him getting more comfortable and more than just being a quarterback, but being a leader," Kolar said. "Just being more commanding, being more comfortable with himself and I think he's grown a lot in only his second season."
The Cyclones were one of two Power Five teams to score 70-plus points in week four. The team may have took out some frustration from the loss to Iowa and used the Warhawks for target practice, but it was an impressive performance none the less.
Now Iowa State will jump on the road for the first time this season and travel to Waco to play Baylor in the Big 12 opener this Saturday.