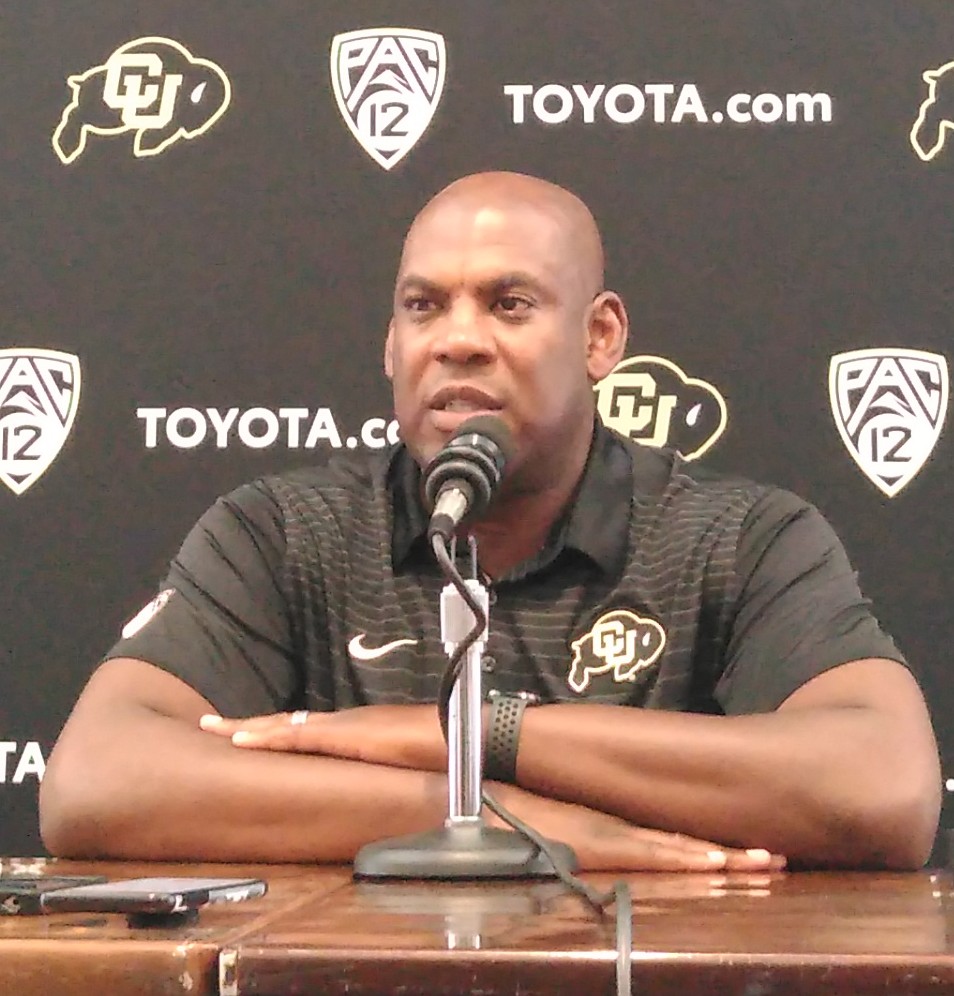 BOULDER, Co. — He pushed his team hard all summer long so they could enter fall camp in the best shape possible.
Mel Tucker's No. 1 goal when he took the Colorado job was to put the Buffalo players in the best condition, which is part of the foundation he's trying to establish in Boulder. The 47-year old coach believes his team had a very productive summer in terms of strength and conditioning and feels the excitement with what his team is doing.
Playing physical starts in the weight room and Tucker wants big and strong conditioned players with the same mentality.
"I see that our guys are able to play harder for longer, we're able to be more consistent in practice in terms of the effort we give on every single play," Tucker said. "We don't see the lows in practice when we're up one minute and then down the next, we're able to sustain and get better."
The Colorado players are beginning to rest better towards the end of practice than in the beginning, which are signs to Tucker that everything is starting to take shape. Although Tucker wants his team to embrace the physicality in practice he also demands safety from them.
The Buffaloes have been in full pads going at it in fall camp, but the last thing Tucker wants to happen is an injury to one of his players. So he showed his team NFL practice tape and how the pro players were able to be physical, run, hit, execute the plays and get the work done, but they stayed off the ground.
Tucker emphasized how in the NFL no one takes shots at Tom Brady in practice or tackle Julio Jones to the ground and how that keeps everyone healthy. The Colorado players have adapted a rugby-style approach to tackling and keeps their heads out of the contact by leading with their shoulders.  So far Tucker thinks it has worked well.
"We do a lot of contact drills, but unless we're at the line of scrimmage we don't take guys to the ground and that's really the key to having a safe practice," he said. "Guys staying on their feet, using their eyes, hands, playing with a good base and taking care of each other."
With three-straight rivalry games to open up the season Colorado must be ready to answer the bell from the start. The team is looking to rebound after finishing 2018 on a seven-game losing streak. It's no secret that Tucker came to establish mental and physical toughness in order for the team to avoid another last season debacle.
For the most part everything is going according to schedule. The Buffaloes are four days away from opening the season and team has established some momentum.
"I feel like we're a better conditioned football team, the players know more of what to expect from the coaching staff and everyone has bought in," Tucker said. "We're going to be more efficient, we're going to be more productive."