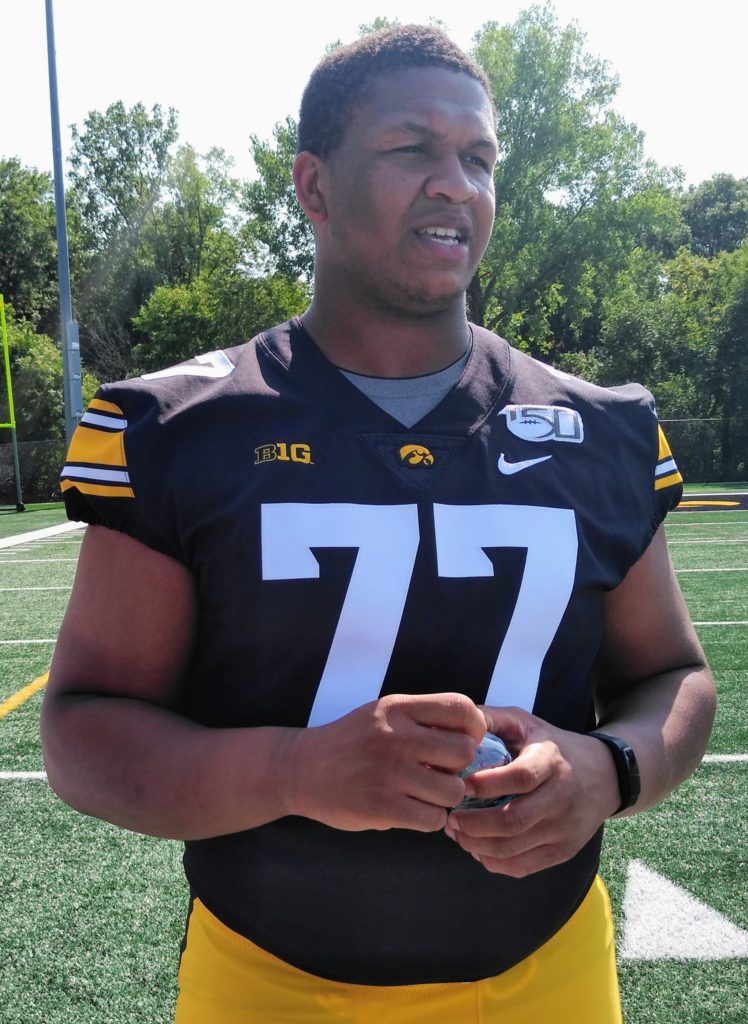 IOWA CITY, Ia. — He started every game he played in for Iowa last season and earned All-Big Ten honors.
Now Alaric Jackson is approaching his junior year as one of the leaders along the Hawkeyes' offensive line and he's feeling healthier, thanks to more rest. On the field or in the weight room, the offensive tackle feels sleep plays a big factor in his performance.
Offensive lineman don't show up on stat sheets, but they are the unit that holds down the trenches and have to play disciplined in order for the team to have success. Playing the position requires durability and a great memory. Jackson knows it's harder than it looks.
Just because offensive guards and tackles don't touch the pigskin, they are just as much involved in the play as the ball carrier and determines if it succeeds or fails. Regardless of the matter, it's always a challenge on every offensive snap.
"It's all mental to me to be honest," Jackson said. "Physical-wise it's not that hard I would say, but mentally it's pretty straining to me."
Jackson along with fellow starting offensive tackle Tristan Wirfs form one of the best duos in the Big Ten. Iowa's offensive line allowed only 13 sacks last season, which tied for the fewest in the conference. They will be a veteran group this fall and will face some talented defensive lineman on the schedule.
The chemistry the unit has is no secret to opposing defenders, but Jackson downplays everyone gunning for them this season.
"I don't see it as a target, I just see it as an opportunity to get better everyday pretty much," he said. "Football is a great game, so it's an opportunity to get better."
That's exactly what the six-foot-six, 320-pounder been doing throughout the entire off season as he prepares for this fall. Improving every aspect of his game and soaking up knowledge like a sponge is a day-to-day process for Jackson.
"Everyday things you know, passing and run-blocking, just being with Tristan and learning his techniques that he has down as a great player," he said. "Keeping my weight down, just the small details."
The Michigan native has also been named to the preseason Outland Trophy Watch List. He loves being a dominant force and anchoring the big boys up front. Hawkeye quarterback Nate Stanley will be operating behind a concrete wall for his senior season.
Iowa's offense finished third in the Big Ten in third down conversions and time of possession last year and the team has the potential to improve on those numbers. Jackson and his fellow offensive linemen always practice hard and been pushing each other throughout fall camp.
Jackson believes every little detail helps and considers the group a brotherhood. After all, they hang, eat and go to the pool together off the field.
"We be on group chat, always talking and making jokes, having fun, it's pretty tight-knit and I love it a lot," he said.
Iowa comes into the 2019 season ranked No. 20 in the AP Poll and it's a well-deserved honor to be one of seven Big Ten teams. However, Jackson blocks out all the outside noise knowing his team has to remain focused on the task at hand.
"It's not really a goal of ours to be ranked in the top-25," he said. "We just want to win enough games, win the Big Ten West and win the Big Ten Title."
The Hawkeyes haven't won an outright Big Ten Title since 1985, but it's a feat Jackson definitely feels is overdue and that his team can accomplish. This Saturday Iowa will begin that mission.