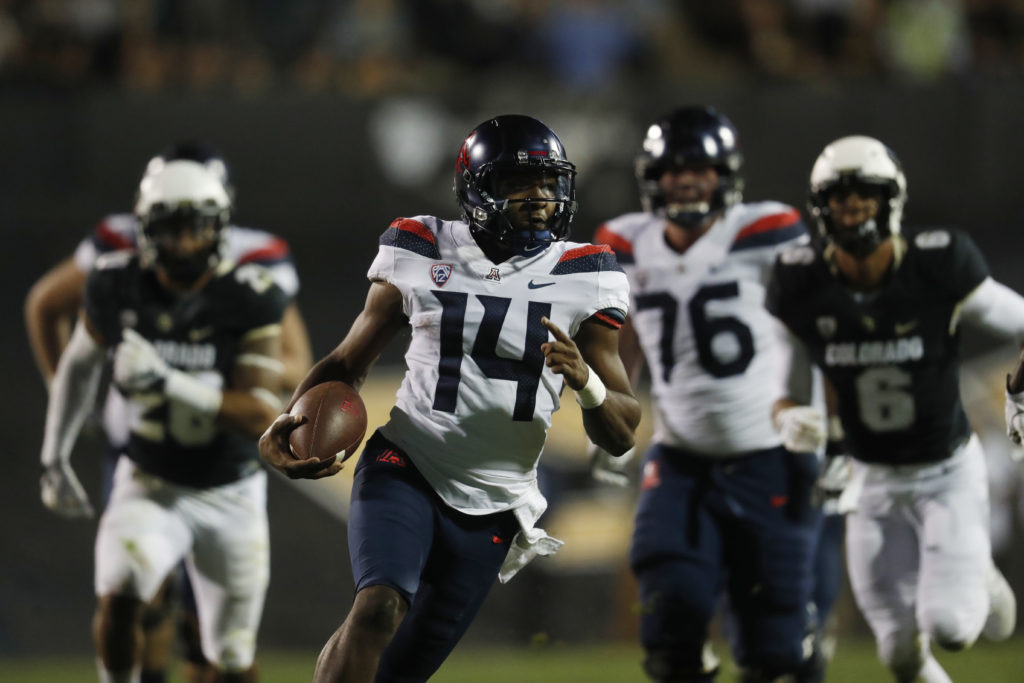 Kevin Sumlin's first season with the Wildcats was a roller coaster ride.
Arizona lost its' first two games of the year for the first time since 1981, went 1-3 on the road in Pac-12 play and ended the season with a one-point loss to rival Arizona State. It was just the second losing season of Sumlin's 11-year career.
He found out quickly that the Pac-12 is a different animal than the SEC. Despite the Wildcats' struggles, the team showed it has the potential to do something special in year two in Sumlin's system. Arizona has one of the best backfields in the league with quarterback Khalil Tate and running back J.J. Taylor.
Tate is one of the best dual-threat signal-callers in the country, who improved as a passer under Sumlin. He has the mobility to surpass a 1,000 yards on the ground by mid-season if Sumlin unleashes him. Taylor averaged 119 yards per game on the ground last season and earned first team All-Pac-12 honors. The five-foot-six back is elusive and had 100-yard games against UCLA, Colorado and Arizona State. Not to mention he steamrolled Oregon and Oregon State for over 200 yards.
The dynamic duo provides the Wildcats' offense with enough firepower to light up the scoreboards throughout 2019. After all, the Wildcats showed their offense was lethal after scoring 40 or more points in three of the teams' last four games last season.
It's the defense that must improve in order for Sumlin's squad to take a leap forward this fall. The unit was awful last season and finished 121st nationally against the pass and 92nd in total defense. Junior linebacker Colin Schooler might be the Pac-12's best kept secret and is arguably one of the best defenders in the conference. He finished fifth in the league with 119 total stops, second in tackles for loss and picked off two passes.
He'll set the tone for the defensive front seven and Arizona will have a great group of linebackers. Scottie Young Jr. and Lorenzo Burns are the ballhawks in the secondary. Young had three interceptions last season and Burns broke up 11 passes. They'll be needed to fix the worst pass defense in the Pac-12 last year.
Opening up against Hawaii on the road is easier than starting out the season against BYU and Arizona plays the following three games at home. With a favorable schedule, the Wildcats have a great opportunity at entering October undefeated.
That will give the team the momentum needed to navigate through the Pac-12 gauntlet and from that point forward there's no telling how high their ceiling could potentially get.