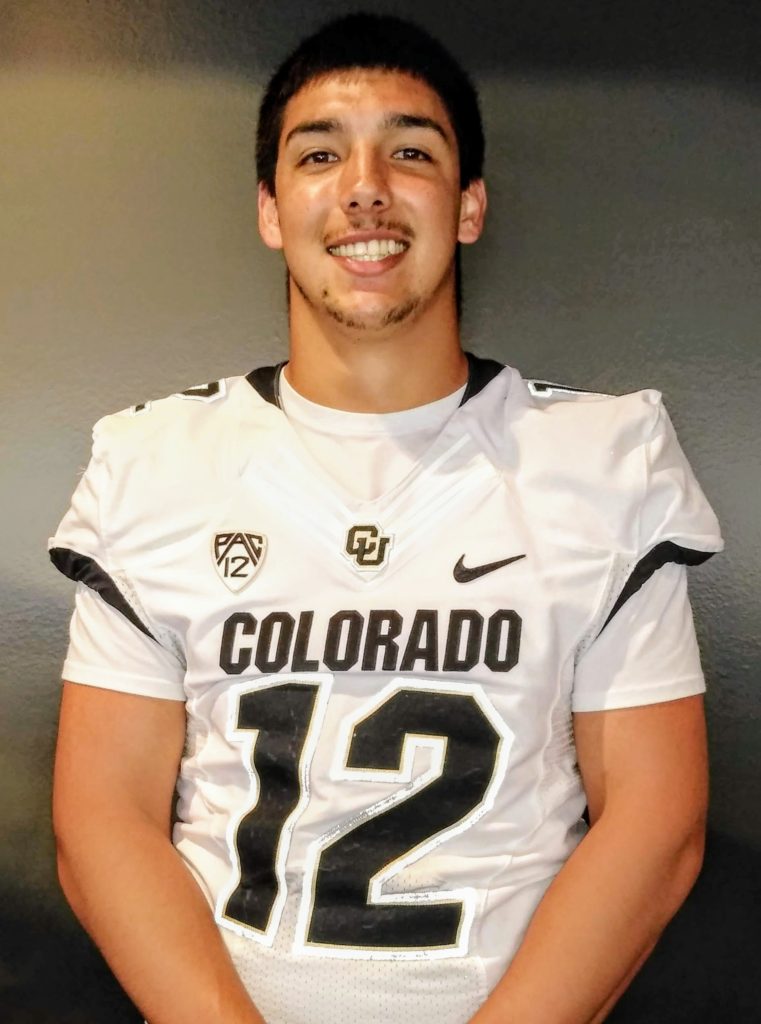 BOULDER, Co. — He took the podium at Colorado's Media Day earlier this month with sadness in his voice and fear in his eyes.
Steven Monez had just found out about the mass shooting that took place in El Paso, Texas that left 22 people dead and injured 24 others. The massacre definitely hit close to home for the Buffaloes' quarterback and he opened the press conference with a major concern.
"I'm sending thoughts and prayers out to the people of El Paso and to the families who lost loved ones at the Walmart in Cielo Vista," Monetz said. "It's very scary times."
After all, Montez is a local native of the area, all of his family is from there and it's the place where he first found his love for the game of football.
"To me El Paso represents the Hispanic culture in general, its like 95 percent Hispanic," he said. "It's all about putting out for my people and putting out for the people who supported me back when I had no offers, back when I was just starting to play high school football and nobody even knew my name."
The 22-year old Colorado signal-caller wants to turn the tragedy into something positive for his senior season and for all the victims back home. Montez has been working hard the entire off season and feels he has improved on several aspects of his game.
"My footwork has been a big place that I really wanted to focus on and not so much just exiting the pocket before I need to or when I actually get pressured, so I've been getting my drop every single time I step back to throw," he said. "Just being sloppy with my footwork in the past has been a real problem for me and it has effected my accuracy."
In his three-year collegiate career with Colorado Montez has seen the program's highs and lows. He was a big contributor on the Buffaloes' 2016 team that played in the Pac-12 Championship. He also been apart of a team that's coming off back-to-back 5-7 campaigns, including a seven-game losing streak to end the 2018 season.
"That happening last year I think has been a huge learning experience for us because obviously none of us want to endure that pain ever again, it was absolutely horrible those last seven games," Montez said. "Being hungry and wanting to go win games, we started out hot so there's no reason we can't do that again this year and keep it going."
Montez is excited about his new coach Mel Tucker and loves what he brings to the table. He definitely can see the difference between Tucker and his predecessor Mike MacIntyre.
"I think he's a lot more intense and I think he relates to his players very well," he said. All 110 players in that locker room can relate to  Coach Tuck in some shape or another and I think he genuinely cares about us as human beings and individuals."
The six-foot-five, 230-pounder enter this season No. 3 on Colorado's all-time list in total offense and passing touchdowns. Montez has thrown for 6,902 yards, 46 touchdowns and 23 interceptions in three seasons. He has a plethora of pass catchers to get the ball to this year, including All-American wideout Laviska Shenault and is enjoying practice throughout fall camp.
"We got so many weapons and it almost makes it easy on me because you can throw it to any one of those guys and they all can catch it and take it to the house," Montez said.
Montez has been receiving all the preseason accolades. He has been named to the Walter Camp, Maxwell and Davey O'Brien Award Watch List for this year.
Montez can't deny his competitive spirit and believes it stems from his parents, who both played sports at the Collegiate level and are his heroes. However, Montez's work ethic comes from his younger brother Raymond, who's a wrestler and keeps him motivated everyday with the way he conditions.
The 2019 season will be the most important for Montez and he knows that other players who've been apart of the program the past few seasons feel the same way.
"I think we have a ton of motivation, I think we have to prove a lot of people wrong as we do every year," he said. "I think that chip on our shoulder has gotten bigger since last year, we're starving to get out there on that field August 30th and we can't wait to play some football."
For the first time ever, Colorado will open up the season with three-straight games against rivals Colorado State, Nebraska and Air Force. It's something the team doesn't need a pep talk about because they are already pumped up for it, but Montez continues to downplay the excitement.
"At the end of the day they are rivalry games and nobody can deny that, but we go into practice and we go into those weeks with the same preparation that we're going to go into for the rest of the season," Montez said. "So as long as we stay focused, keep that chip on our shoulder and stay working hard I think it'll all take care of itself."
The Pac-12 South Division is wide open this fall and the Colorado players' goal is to get back to the Championship Game and win it all this time around. As for now, Montez will continue being a leader on the team and pushing the players to stay focused on the task at hand, which is to win football games. He hopes the teams' success this season can provide some comfort for everyone back home.