Meet Braxton Lewis: former walk-on, turned Iowa State star safety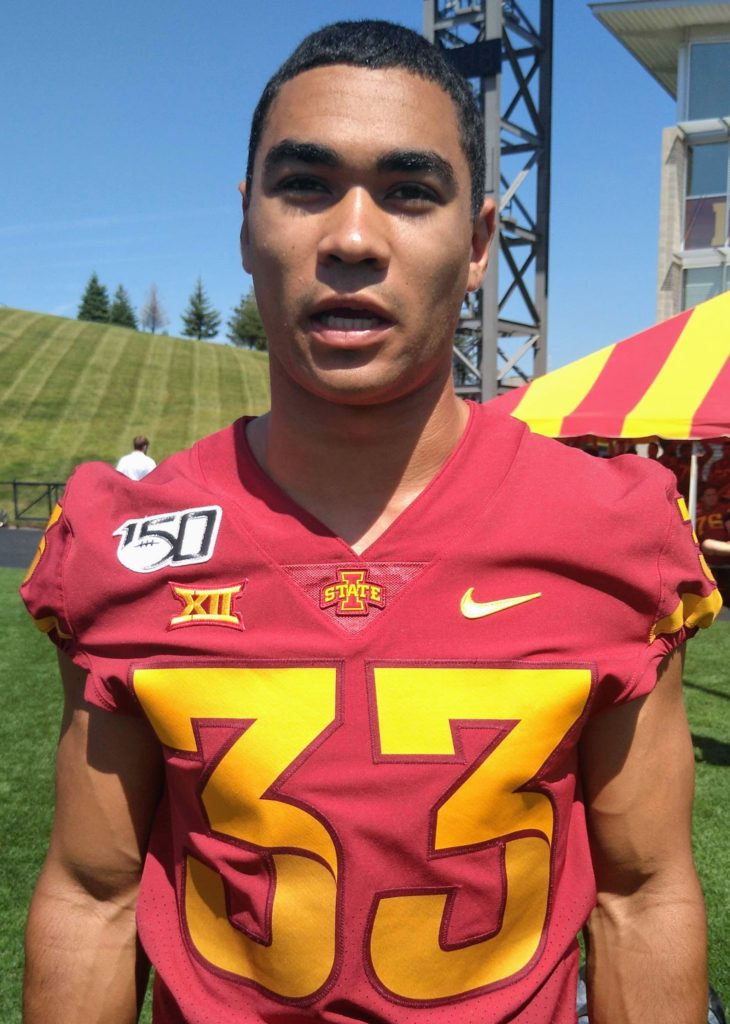 AMES, Ia. — With the transfer rule being a trendy aspect in today's game of College Football, it's becoming rare to find a player who can persevere when the going gets tough.
The traditional way of student-athletes working their way up to the top is no longer the norm. Patience is not a virtue when it comes to luring in recruits. Underclassmen are hungry to see the field immediately and competition among teammates always fuel the fire.
However, imagine not being a highly-touted freshman or transfer, but arriving on campus as a walk-on. No scholarship, no star ratings next to your name, just starting off from the bottom with a dream. That's how Braxton Lewis entered the collegiate level.
He redshirted his entire first season with the Cyclones in 2015, when the team was coached by Paul Rhoads. Lewis got his opportunity after Matt Campbell replaced Rhoads and remembers a tough transition.
"It's a long road, so I started out with the old coaching staff and when the new one came in a lot of guys ventured out," Lewis said. "Early on that got me an opportunity to do a few reps on special teams and as a backup and I was able to utilize that and slowly work my way up."
The Kansas native did just that and tallied 31 tackles over his first two seasons of playing action with Iowa State. That experience and production catapulted Lewis to a breakout junior year last season. He had 70 total stops, finished fourth on the team in tackles and led Iowa State in interceptions. The five-foot-11, 190-pounder was a ball-hawk and picked off a pass in three-straight games against Akron, TCU, and Oklahoma State.
Now Lewis is in fall camp approaching his senior season and has soaked up four years of experience. He's never complacent and continues to improve on different parts of his game.
"Just the little stuff, always working on footwork, working on catching still, a lot of its's mental though too," he said. "That's what a lot of people don't understand and realize, so I work on the mental aspect of my game as well."
Lewis feels his strengths are his pre-play recognition, knowing formations with what's going to come, situational awareness and route recognition. He also thinks it'll help him increase on his four career interceptions.
Iowa State's defense has been one of the top, if not the best unit in the Big 12 for the past two seasons. Campbell has a great system set in place, with great players at every level of the defense for this fall. Lewis is the veteran of the secondary, embraces his leadership role and always sets the tone for the group.
"Coming out with high energy, coming out with a good mentality and hoping these young guys do the same thing," Lewis said. "Getting those young guys in the film room and making sure they are on their p's and q's, because we're only as good as them at the end of the day."
With four seasons under his belt Lewis can safely say the Cyclones' defense this year is the best he has seen since he arrived on campus. There's leaders, young talent, depth and boat loads of experience with all the returning starters on that side of the ball.
Iowa State's dominating defense is a big reason why the team is projected to be one of top contenders in the Big 12 this year and ranked No. 24 in the preseason Coaches Poll. Still, Lewis and his teammates block out all the outside noise and stay focused on the task at hand.
"It's the same mentality, just show up everyday, work and get it," he said. "You got to earn it, nothing is given."
He preaches that to the younger defensive backs all the time in practice. Lewis loves what he's seeing in fall camp from the the Cyclones' secondary. The chemistry is there and everyone is having fun doing it.
"We're a really tight group," he said. "None of us live with one another, but almost everyday we're at each others' houses, messing around and doing stuff on the weekends."
Lewis knows if he sends his teammates a text to come gather at the weight room or to watch film they'll be right there in a heartbeat. He's excited for the entire team this fall and believe Iowa State has arrived as a program.
As for himself, Lewis just needs a little dose of Kanye West's song 'Power' before every game and he's good to go out on the field and pick off another pass.