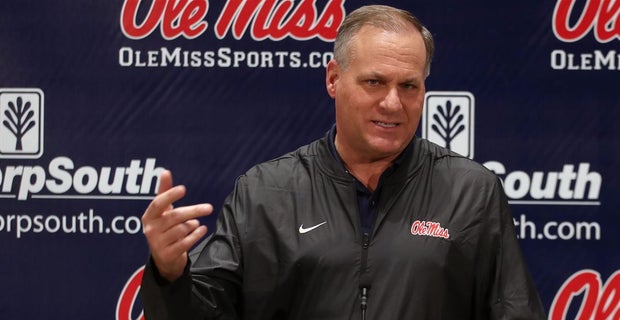 The game of College Football is constantly changing, with coaches moving onto better opportunities and players transferring to other programs and leaving early for the NFL. Consistency has become an issue in today's game. However, certain individuals come along board to make swift changes to a team's offense or defense, with hopes of having a positive effect and smooth transition. Here are some notable assistant coaches of Power Five programs who'll try to accomplish these feats this fall.
Dave Patenauck, Offensive Coordinator, Georgia Tech: For the first time in 11 seasons the Yellow Jackets' offense will not be operating under a triple-option attack. The Geoff Collins era has begun at Georgia Tech and he brought Patenauck along with him from Temple. Last season the Owls averaged nearly 35 points per game, went 7-1 in conference play and finished No. 4 in the AAC in pass attempts. Patenauck is hoping he can successfully install the same scheme at Georgia Tech with players that were recruited by Paul Johnson to run the triple-option. It will be a challenge for everyone on the roster to learn a completely different system, adjust to the new coaches and be ready by the time Georgia Tech travels to Death Valley to face Clemson in the season-opener. Sophomore quarterback Tobias Oliver has significant experience and production with 100-yard rushing performances in victories over Bowling Green, Louisville and North Carolina last season. Not to mention he rumbled over Virginia Tech for 215 yards, threw for a touchdown against Clemson and finished the year with 12 rushing scores. Oliver has only seven career completions, but Patenauck will utilize his skill set. The Yellow Jackets' should still be successful with their ground attack, but will put the ball in the air more often this fall. Patenauck will need his signal-caller to be effective at throwing the ball on key possessions and third downs.
Scottie Hazelton, Defensive Coordinator, Kansas State: He fielded one of the best defenses in the Mountain West over the past two seasons at Wyoming. The Cowboys finished in the Top 25 nationally in total defense and new Kansas State Coach Chris Klieman is hoping Hazelton will bring that same success to Manhattan. Kansas State had one of the better defenses in the Big 12 last season, but struggled in the secondary and finished 91st nationally against the pass. However, Bill Snyder didn't leave the cupboard bare and there's plenty of talented players with experience and production for Hazelton to operate with. It all starts up front where the Wildcats must improve drastically at getting to the quarterback after generating a league-low, 18 sacks last season. Senior defensive end Reggie Walker is one of the best edge rushers in the Big 12, who had 12.5 tackles behind the line of scrimmage and 7.5 sacks last year. He'll be the anchor along the line for Hazelton's front seven and a key piece to build his scheme around. Kansas State's schedule sets up nicely for Hazelton to get his defense adjusted and up to speed, with the first two games at home against Nicholls and Bowling Green. In hindsight having Hazelton on board should make the transition easier for the Wildcats' defense while the team forms a new identity under Klieman.
Dwayne Ledford, Offensive Coordinator, Louisville: Bobby Petrino is known as one of the game's brightest offensive minds, but the Cardinals' offense was abysmal last season and it cost him his job. New Louisville Coach Scott Satterfield is trying to right the ship quickly and made a smart move by bringing in Ledford. After all, Ledford knows the conference well after spending the last three seasons at NC State coaching the Wolfpack's offensive line. NC State's offense was one of the ACC's best last year and Ledford's unit was solid at protecting the quarterback. The Wolfpack allowed only 11 sacks, which ranked No. 2 in the league. Tyler Jones was a first team All-ACC performer and Garrett Bradbury won the Remington Award as the nation's best center. However, Ledford has a daunting task ahead of him with repairing Louisville's offense, which finished dead last in the ACC in scoring and total yards per game. Protecting the quarterback will be vital after the Cardinals allowed a league-high, 43 sacks last season and return just two starters along the offensive line. Jawon Pass will also have to do a better job with protecting the football after throwing eight touchdowns and 12 interceptions. Louisville's offense can't possibly get any worse and has nowhere to go but up. It will likely be tough sledding against Notre Dame in the season-opener. However, Ledford should be able to get some wrinkles ironed out against Eastern and Western Kentucky in game two and three.
Kendal Briles, Offensive Coordinator, Florida State: Florida State's offense was the laughing stock of the ACC last season. The Seminoles finished 113th nationally in points per game and 103rd in total yards per game. The Seminoles couldn't run the ball or protect their quarterback. Walt Bell took a ton of criticism for Florida State's mediocrity, but eventually landed the head coaching job at UMass. Willie Taggart is facing a crucial year two and needed to bring along an individual who had experience and success against Power Five defenses. Enter in Briles, who's the son of embattled former Baylor Coach Art. The Bears put up video game numbers on opposing defenses when Briles was their Offensive Coordinator. He also worked under Lane Kiffin at Florida Atlantic and spent a year with Major Applewhite at Houston. Briles knows offense, does a great job with crafting quarterbacks and needs to get Florida State back to performing competitively in a timely matter. The Seminoles have talented athletes and recruit well in the speed state, so it's only a matter of time before the light bulb comes on with the offense. The players have been working hard all off-season and we'll find out sooner than later if the offense has made any strides. Briles should be able to upgrade the Seminole's quarterback play and have two solid signal-callers to work with in James Blackman and Alex Hornibrook. Briles will also need to utilize Cam Akers' skill set and have him back performing at an All-ACC caliber level.
Greg Mattison, Defensive Coordinator, Ohio State: If you can't beat them, join them, seems like the approach Mattison took when he left Michigan's program for rival Ohio State. After all, Mattison served two separate stints as the Wolverines' Defensive Coordinator which were nearly two decades apart. The move was gutsy, but kind of a head-scratcher. Not sure if it was about the money to why Mattison jumped ship or if Michigan fans feel betrayed by it, but Ohio State had an opening and at the end of the day it is a business. No doubt Mattison is going to fill Ohio State in on all of Harbaugh's tendencies and how he operates his playbook. Michigan's defense has been a dominant unit over the past few years, especially the big boys up front, which is Mattison's forte. New Ohio State Coach Ryan Day can rely on Mattison's experience in the Big Ten and four decades worth of major College Football knowledge to guide the Buckeyes' defense this fall. Ohio State has a ton of four and five-star talent for Mattison and co Defensive Coordinator Jeff Hafley to operate with. The entire unit will be one of the Big Ten's best this fall, with multiple play-makers at every level of the defense. With that being said, Mattison's arrival can potentially have more of an impact on Ohio State's defense than Luke Fickell and Greg Schiano ever had.
Rich Rodriguez, Offensive Coordinator, Ole Miss: He seems to burn bridges everywhere he has coached, but there's no denying Rodriguez is a mastermind behind the spread offense. He's also a quarterback guru and groomed game-changing signal-callers Pat White, Denard Robinson and most recently Khalil Tate. Now Rodriguez is bringing his spread system to the SEC. You don't have to be smash-mouth on offense to be successful against opposing defenses in the SEC and Urban Meyer proved that during his time at Florida. Rodriguez offense looked good against SEC competition when West Virginia beat Georgia in the 2005 Sugar Bowl. The SEC is full of athletes with speed and Rodriguez's offenses have always packed a lot of that at the skill positions. His arrival is kind of perfect timing for the Rebels, considering their offense is undergoing a major overhaul. Ole Miss has to replace it's starting quarterback and entire receiving corp. So the Rebels' passing game is expected to take a step back, but their rushing-attack should make strides under Rodriguez. He knows how to effectively run the ball using multiple running backs and a dual-threat quarterback, who's smart at protecting the football. Opposing defenses have to cover every inch of the field when facing a Rodriguez offense. Projected starting quarterback Matt Corral will definitely be using his legs to move the chains more often than not. Don't be surprised to see him throw for 2,500 yards and run for 500 more by the end of the year. There will be some growing pains early-on for Ole Miss, especially playing in arguably the toughest divisions in all of College Football. However, once Rodriguez's offense catches on, it'll be a fun group to watch.
Steve Sarkisian, Offensive Coordinator, Alabama: He's back for his second stint leading the Crimson Tide's offense. Sarkisian has an eye for talent and he knows how to put points on the board. Alabama has had numerous Offensive Coordinators since Saban been on the sidelines, including Jim McElwain, Lane Kiffin and Mike Locksley. However, Sarkisian seems to be the most knowledgeable out of the group. He may come with some baggage, but is good at what he does on the field and should be able to keep the Tide rolling without missing a beat. After all, Sarkisian will be working with the best talent in all of College Football. Tua Tagovailoa, Jerry Jeudy and Najee Harris are arguably some of the best players at their respective positions. So there's no reason why Alabama can't improve on it's 45 points per game from last season. The offense should be able to put up video game numbers through the first five games of the season with ease before traveling on the road to face Texas A&M. It's hard to keep a number dialed on Sarkisian because he seems to change jobs as the wind blows and never settles in one place for a long period of time. Still, having the best assistant job in the game means he'll probably stay put with Nick Saban at Alabama until an attractive Power Five head coaching position becomes available.
Alex Grinch, Defensive Coordinator, Oklahoma: The Sooners' defense has been the teams' achilles heel and a liability for the past few seasons. Lincoln Riley fired Mike Stoops in the middle of the season last year after the Sooners surrendered 48 points to Texas. Ruffin McNeil replaced Stoops for the remainder of the season but couldn't stop the bleeding and it showed against Alabama in the College Football Playoff. Oklahoma has owned the Big 12, but finished last in the league in scoring, passing and total defense. Big 12 offenses throw the ball and spread defenses out all over the field. Grinch has dealt with similar schemes in the Pac-12 during his three-year stint at Washington State. He also worked under Urban Meyer with Greg Schiano at Ohio State last season. Oklahoma has a high-flying offense that can score tons of points on any defense, but it's hard to go undefeated when you constantly play in shootout games, which the Big 12 has grown accustomed to. Defenses around the league are constantly finding ways to improve each year, including Iowa State, Texas and TCU. The season-opener against Houston will be a great measuring stick for how far Oklahoma's defense has come along under Grinch. There will be pressure for Grinch to deliver this fall. Especially since the Sooner faithful believes a leaky defense is what has stood in the way of the program winning another National Championship.
Vic Koenning, Defensive Coordinator, West Virginia: Neal Brown is running the show now in Morgantown and Koenning joined him on his quest to elevate the Mountaineers. The defense Koenning fielded the past three years at Troy dominated the Sun Belt. Not to mention his defense held LSU to 21 points in a win at Tiger Stadium and Nebraska to 17 in a victory inside the Sea Of Red. Like other Big 12 programs West Virginia's defense needs to improve against the pass. Koenning's system is a drastic change from the previous regime and defenders will definitely get after the quarterback. Brown was one of the underrated hires during the post season and Koenning's scheme could potentially have an immediate impact on the Power 5 talent West Virginia has. Expect the Mountaineers' defense to be more physical up front, along with ball hawks in the secondary such as safety Kenny Robinson. It may not happen overnight, but the Mountaineers will eventually establish an identity on defense. The schedule early on is durable enough and West Virginia won't face an offense with a pulse until game five against Texas. It will be interesting to see how everything plays out once the Mountaineers reach the meat grinder of their Big 12 schedule.
Graham Harrell, Offensive Coordinator, USC: Clay Helton fired Tee Martin after the Trojans finished 10th in the Pac-12 in rushing and total offense last season. He lured in Harrell, a Mike Leach protege, from North Texas to install the infamous Air Raid offense. Leach's system has had a lot of success in the league and the Cougars led the Pac-12 in scoring and passing offense last season. North Texas' offense has been one of the best units in Conference-USA under Harrell's leadership the past two seasons. Not to mention the Mean Green finished in the Top 25 nationally in scoring and total offense. USC is still loaded with the best talent on the West Coast and Harrell will now get to work with four and five-star athletes. No doubt Helton is facing a crucial year this fall. Depending on how well the players adapt to Harrell's scheme will determine if Helton will be retained for another year. True sophomore quarterback JT Daniels showed flashes of greatness during his freshman campaign so the potential is there for the Trojans to be dangerous on offense. USC won't have much time to transition to the Air Raid though and will have to start strong out of the gates. Having to play a dangerous Mountain West team in Fresno State, followed by Stanford, a road trip to BYU, Utah, at Washington and Notre Dame is one of the toughest early schedules of any team in the country. Still, optimism is there for the Trojans' offense and Harrell was brought to Los Angeles to help the team get back to their winning ways.