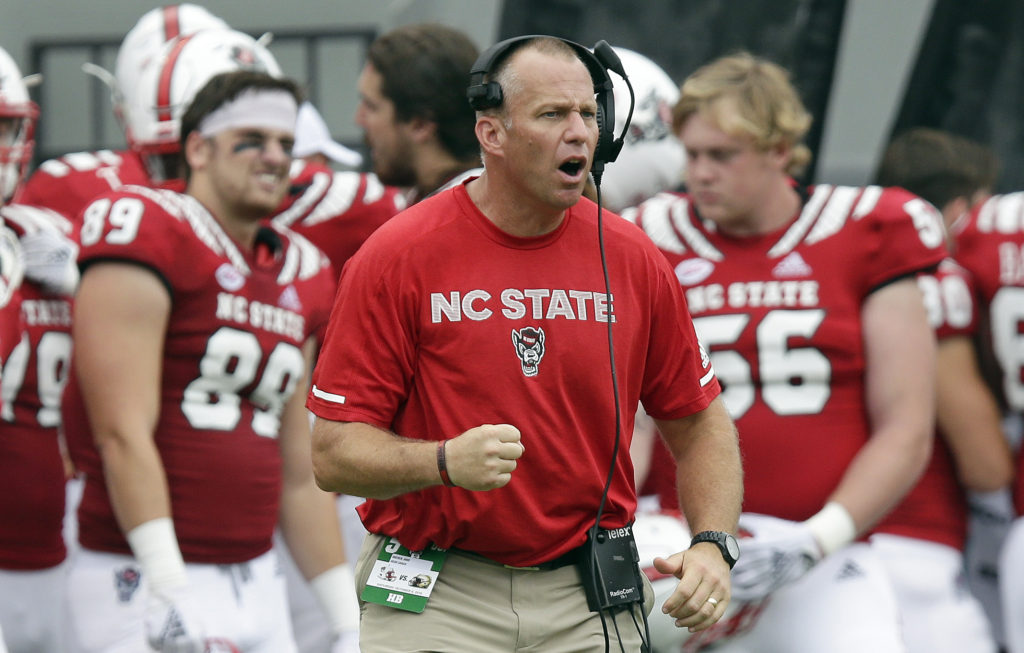 Doeren has made a name for himself in a conference full of parity, which also contains the reigning National Champs. North Carolina State's football team has once again become a staple in the ACC.
Coaches get contract extensions all the time, but when the Wolfpack decided to keep Doeren on board for an extra five years it solidified that the athletic administration believes he has the program on the rise. From the outside looking in the current state of the ACC is Clemson and everybody else.
However, Doeren has built NC State into one of the best teams in the league. Florida State is hungry, Syracuse is surging, plus Boston College and Wake Forest are always solid, which makes the Atlantic one of the toughest divisions in all of the Power 5.
Doeren is approaching his seventh season with an overall record of 43-34 at NC State, but is 20-28 in conference play. Still, the Wolpack owns the third-best record in the ACC over the last three years, going 25-14 during that span. NC State's current five-year run under Doeren has been the program's best since 1999-2003.
The 47-year old coach also continues to lure talent to Raleigh. This year's NFL Draft class will feature several players on both sides of the ball who Doeren recruited, groomed and coached so there's no denying his impact on the ACC.
Along with Doeren, there's currently a bunch of solid coaches around the league. With rock star coach Dabo Swinney and the return of Mack Brown, all of a sudden the ACC is no longer viewed as a basketball conference and is further establishing its' brand of football.
Longtime Commissioner John Swofford has kept the conference relevant throughout his 22 years on the job and the ACC Network will launch on ESPN a week before the start of the season. Doeren's five-year contract extension was perfect timing for all parties involved. It also provides stability. Swofford gets to keep one of the best coaches in the ACC around for a while as he continues to build on the league's success.
The contract extension was a win-win for Doeren also. Now he'll get an extra $50,000 for eight wins, $100,000 for nine wins, $250,000 if the Wolfpack makes the Playoff and $500,000 if they reach the National Title game. The ACC will get the opportunity of establishing itself early this fall. Blockbuster games on the non-conference slate with NC State against West Virginia, Florida State against Boise State, Clemson against Texas A&M and Miami against Florida.
With every ACC team currently in the middle of spring ball, everyone is getting a glimpse of what we're all going to see this fall. Doeren and NC State is simply capitalizing on the moment as the conference continues to grow stronger day by day.