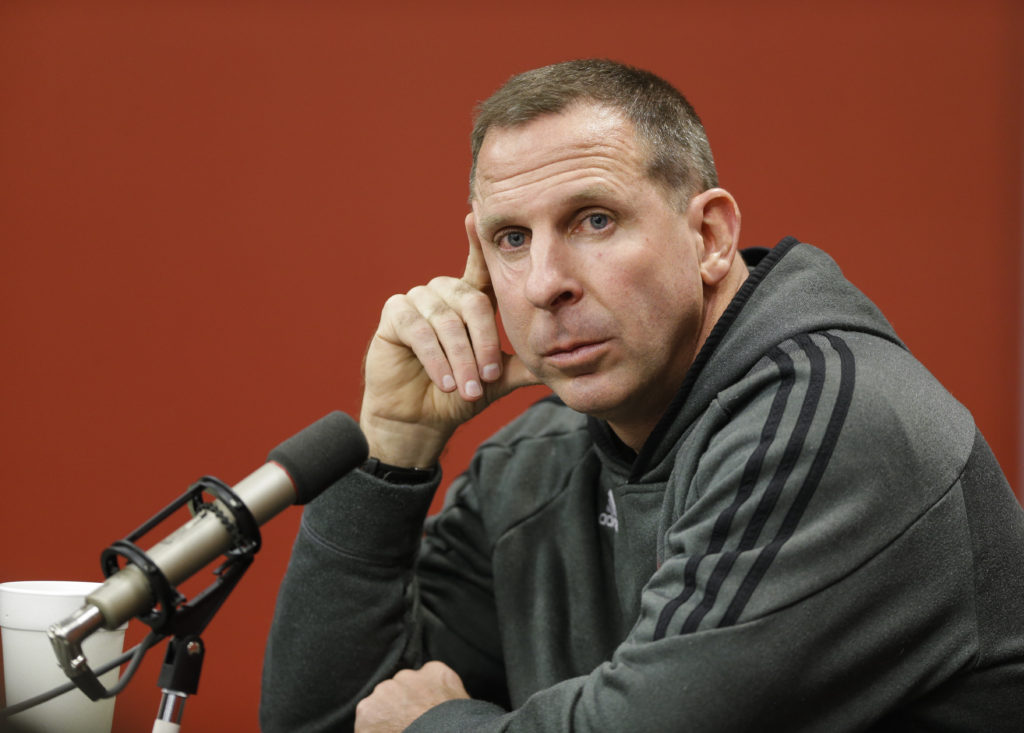 They were successful and established a winning culture during their time at the helms.
However, allegations, mistrust, scandals and lack of quality victories ended their tenures. Because of the potential baggage some of these coaches bring, even the desperate Power 5 programs won't take a chance on hiring them.
When it all boils down Universities must maintain integrity above winning. There's a thin line between setting an example versus winning at all cost, and sometimes the past pops up. It remains to be seen if a few of these coaches burned so many bridges that there's no turning back.
Bouncing back is hard for embattled coaches, however if granted a shot at Power 5 redemption could they change how they've been perceived? Never say never in today's game of College Football.
Tracey Claeys: He was an established Defensive Coordinator who stepped into the head coach position in the middle of Minnesota's 2015 season. Jerry Kill took an indefinite leave of absence, due to struggles with epilepsy. From that point on Claeys coached 19 games with the Golden Gophers. He finished with an 11-8 record, including a 9-4 campaign and two bowl wins. However, he was fired for standing behind his teams' boycott in support of several of Claeys' players accused of sexual assault. The move was controversial and the embattled coach had very little support. It's no surprise that Kill's recent remarks about current Minnesota Coach P.J. Fleck maybe had something to do with the University's fallout with Claeys. After all it was Kill who was perfectly fine with Clayes being his successor. Despite Claeys' shortcomings, he's on the right path to becoming a Power 5 Head Coach again. Mike Leach hired Claeys as his Defensive Coordinator at Washington State after Alex Grinch accepted an assistant position at Ohio State. What's ironic about the entire ordeal is the last team Claeys played against as Minnesota's Coach was Leach's Cougars. It'll be interesting to see how the Claeys experiment goes with the Air Raid wizard.
Rich Rodriguez: One of the masterminds behind the spread offense. His teams had speed, especially at the skill positions. Rodriguez groomed game-breaking quarterbacks Pat White, Denard Robinson and most recently Khalil Tate. There's no denying Rodriguez is one of the best at X's and O's, but he seems to burn bridges at every stop he makes. Rodriguez was highly successful at his alma mater West Virginia and won 63 games in seven seasons. However, after accepting the Michigan job, his departure with the Mountaineers was messy and costly for both sides. He lasted three seasons in Ann Arbor before he got axed after finishing with a 15-22 record. Still, Rodriguez bounced back and had a solid six-year tenure with Arizona, but was fired after sexual harassment allegations and lawsuits. The 55-year old coach took his services to the SEC and is currently Mississippi's Offensive Coordinator. Urban Meyer's spread offense worked at Florida, so Rodriguez's offense has the potential to flourish in the league. It remains to be seen if a couple good years in the SEC lands Rodriguez another Power 5 head coach position.
Bo Pelini: He was one of the best upcoming Defensive Coordinators in the game and was fresh off a National Championship with LSU when Pelini took the Nebraska job. Pelini was successful in the Big 12 and Big 10 and won nine or more games seven-straight years in Lincoln. However, Pelini lost four games every season and was perceived by many as a "Bully Coach." Pelini wasn't kind to the media either and Nebraska needed a classier individual leading the program. Countless meltdowns on the sidelines, blowout losses to quality teams and the release of an explicit audio about Husker fans was the nail in Pelini's coffin with Nebraska. As a matter of fact the Huskers just gave Pelini his last paycheck from the University last week. The 51-year old is currently in his fifth season as Youngstown State's Head Coach, with a 27-22 record. Pelini's Penguins also played for the FCS National Championship in 2016. He has shown he can get it done, winning 67 games at Nebraska. Pelini's defenses was successful against the high-flying Big 12 offenses and he had a winning Big 10 record. No doubt Pelini has the resume to lead several Power 5 programs, yet he's never considered a candidate when the jobs come open. Maybe he's comfortable in his hometown state of Ohio and coaching the Penguins, but If given an opportunity would he take a second blink at being a Power 5 head coach?
Lane Kiffin: Loose lips sink ships and Kiffin's mouth has always rubbed people the wrong way. There's no denying Kiffin has a great offensive mind in today's game. That's one of the main reasons why he gets a lot of high-profile gigs. The late Al Davis let him lead the Raiders and Kiffin had head coaching stops at Tennessee and USC. Davis fired him after one season in Oakland. Kiffin left the Tennessee program high and dry after one year for the USC job, which he wound up getting fired from after three and a half seasons. Not to mention his ousting came courtesy of a phone call on a plane ride home after a team loss in the middle of the 2015 season. Nick Saban took him under his wing for a couple of seasons and Kiffin rebounded and cleaned up his image. Kiffin is currently in his third year with Florida Atlantic. After an 11-win season with the Owls on Kiffin's first go-around, his team fell to 5-7 to in his second year. Kiffin is infamous for not staying in the same place for a long period. Another double-digit win season with Florida Atlantic will get him Power 5 offers. Who knows where he'll end up next, but if that opportunity happens Kiffin will likely dive in head-first.
Jim Tressel: He coached at Youngstown State and The Ohio State University and won a National Championship at both. The Buckeyes went to countless BCS Bowls and played for three National Championships under Tressel's watch. His success against Michigan had a lot to do with Lloyd Carr stepping down after the 2007 season. All of those victories for the Buckeyes came at a cost and everything came crashing down right before the start of the 2011 season. The memorabilia-for-tattoos scandal and how things played out with Terrell Pryor is what sealed Tressel's fate as Ohio State's coach. The scandal dated all the way back to the 2002 National Championship season and it's evident some shady business went on with Maurice Clarrett. Never the less Tressel is apparently past coaching on the sidelines and been serving as Youngstown State's President since 2014. No matter how much time passes, coaches never lose their love for the sport. The game has changed since Tressell resigned from Ohio State, and despite his past with the Buckeyes there's plenty of Power 5 programs that would love to lure Tressell back to the sidelines.
Tommy Tubberville: Tubberville has had a winning record everywhere he has coached, including Ole Miss, Auburn, Texas Tech and Cincinnati. He led the Tigers to an undefeated season in 2004, but the spotlight wasn't on the SEC yet, so the Tigers didn't get to play for the National Championship. Still, Auburn was arguably one of the best two teams in the country that season. Tubberville served 10 years on the plains and compiled a record of 85-40, but his last season with the Tigers was a 5-7 campaign. Unfortunately, Tubberville fired Al Borges and put all of his eggs into the Tony Franklin basket. Franklin wasn't successful implementing the spread into Auburn's offense that year and it cost Tubberville his job. He rebounded though and had a better tenure in a shorter period of time with the Red Raiders than Kliff Kingsbury. However, Tubberville's meltdown with an assistant on the sidelines when he snatched off his head gear was unforgettable and got thousands of views on social media. Tubberville's tenure with Cincinnati was solid, although he won only four games his last season with the Bearcats. At 64 he's currently not coaching, but with his experience it's only a matter of time before Tubbs gets back into the mix.
Art Briles: Talk about a rise and fall of an individual. Briles was a program builder and turned Houston's football team around and we all witnessed him take Baylor to heights the school never reached before. The Bears set the College Football world on fire and became the juggernaut of the Big 12. Briles' teams were equipped with speed to burn and had high-powered offenses that lit up scoreboards. Briles also guided Robert Griffin III to the Heisman Trophy in 2011 and that's pretty much the good. The bad was that during the height of Baylor's success, Briles covered up years of sexual misconduct by his players against women. The scandal cost Briles his job and forever left a stain on his coaching career. The ugly is the fact that no FBS school is willing to take a chance on Briles because of the backlash he'll bring. It's a ghost that continues to haunt the 63-year old to this day and he couldn't even secure a job in the Canadian Football League because of it. However, he found a home overseas with the Italian Football League and is currently the Head Coach of the Estra Guelfi. If Briles endures success there could it potentially lead to a job offer from a Power 5 school?
Steve Sarkisian: Another one of the game's bright, young offensive minds, who had successful stints at Washington and USC. Sarkisian has great chemistry with quarterbacks and even has experience in the NFL. He turned the Huskies around and won 34 games in five seasons. Sarkisian's tenure with USC was cut short due to more than one incident of public intoxication. Like Kiffin, Saban took Sarkisian under his wing before he darted to be the Offensive Coordinator of the Atlanta Falcons. Sarkisian was fired from the franchise after two seasons, but reunited with Saban. He's currently Alabama's Offensive Coordinator for the 2019 season. With Tua Tagovailoa at the helms and the best talent College Football has to offer, there's no reason why Sarkisian can't be successful with the Crimson Tide. The Alabama experiment went well for a few other coaches, so a couple of great seasons in Tuscaloosa should definitely land Sarkisian more Power 5 offers.
Bret Bielema: He was a great Defensive Coordinator under Barry Alvarez at Wisconsin and when the coach retired he left him the keys to the program. Bielema was highly successful with the Badgers and won 68 games in seven seasons that included three Big 10 Championships. He got bored with the job and wanted to take on a new challenge in the SEC. It's too bad he burned the bridge with Alvarez and Wisconsin along the way. Rebuilding Arkansas was tougher than what Bielema thought and the SEC West was a whole other animal than the Big 10. He found out quickly that everyone in the league was chasing Saban. Bielema compiled a record of 29-34 with Arkansas, including 11-29 in SEC play before the Razorbacks decided to part ways with him. He's currently not coaching, but with Bielema's success in the Big 10, it's only a matter of time before one of the league's coaching gigs comes open with his name as one of the top candidates.
Greg Schiano: The job Schiano did at Rutgers was phenomenal, winning 68 games over an 11-year period. However, the Scarlet Knights haven't been competitive since he left the building. Schiano has been all over the place since he departed Rutgers, including the NFL, but no other Power 5 head coaching gigs. Schiano was the Head Coach of the Tampa Bay Buccaneers for two seasons, but finished with a mediocre record and was shown the door. Schiano accepted the Tennessee head coaching job, but backlash from the Volunteer fan base kept that from happening. Schiano apparently had some skeletons in his closet involving Penn State's child abuse scandal with Jerry Sandusky that didn't sit well with the Tennessee faithful. Still, Schiano was a great Defensive Coordinator for Urban Meyer at Ohio State for a couple of years. He's now the Defensive Coordinator for the New England Patriots for the upcoming NFL season and was spotted alongside Bill Belichick at the Combine over the weekend. It wouldn't be a surprise to see him back in the Collegiate ranks a few years from now coaching a Power 5 team again. Schiano may even reunite with Rutgers in the near future.