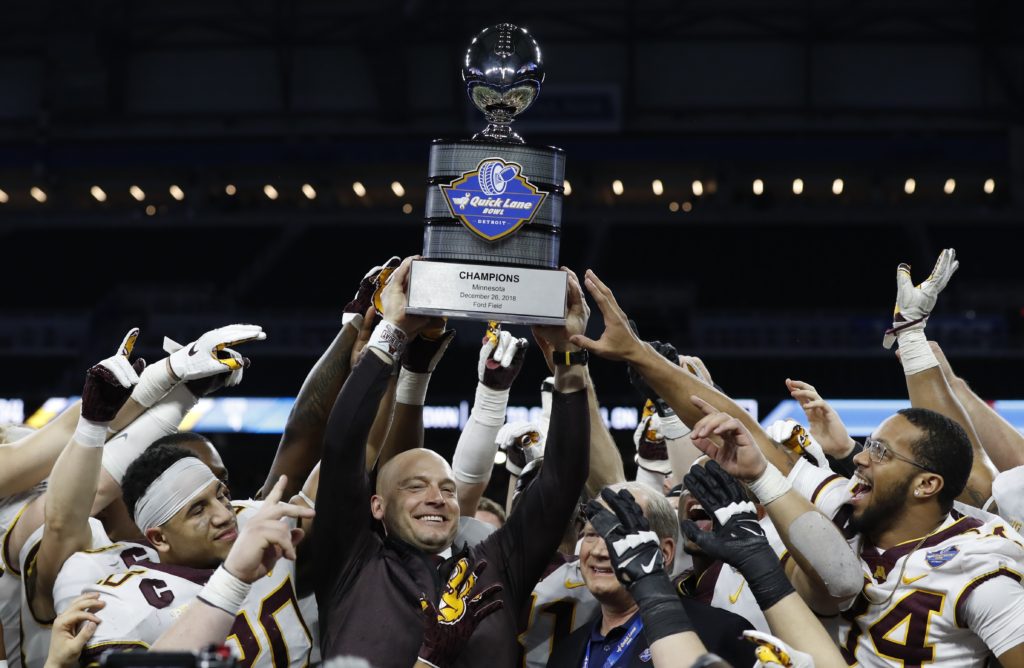 DETROIT, Mich.—The Golden Gophers were one of the youngest teams in the FBS this year and went through some growing pains, but became stronger as the season progressed and won four of their last six games.
After Minnesota's 34-10 whipping on Georgia Tech in the Quick Lane Bowl, the program now has a ton of momentum heading into the off-season. The benefit of having such a young team is that a lot of the players are now experienced and mostly everyone returns.
Fleck has finally put the pieces in the right place and his boys looked impressive on offense and defense during Minnesota's last three wins. The Golden Gophers averaged 37.3 points per game and allowed only 11.6 in those victories. When the Golden Gophers are clicking on all cylinders they are a fun bunch to watch.
Freshman running back Mohamed Ibrahim has blossomed into an All-Big 10 caliber player. The 5-foot-10, 205-pounder went on a tear in Minnesota's last five games, rushing for 696 yards and six touchdowns. He had his coming-out party the day after Christmas.
Not only did Ibrahim's 224-yard rushing performance eclipsed him over the 1,000-yard mark to finish the season, but he also broke Laurence Maroney's freshman rushing record and earned MVP of the Quick Lane Bowl. "It was huge for me, I only played in 10 games this season," Ibrahim said. "We had a whole month of preparation and knew everything about them(Georgia Tech) and we went out there and executed."
Junior wide receiver Tyler Johnson had only four catches against Georgia Tech, but two of those were his 11th and 12th touchdown snag of the season and he's currently the Big 10 leader in receiving yards and tied for first in receiving scores. "It felt amazing knowing that it was a record in our program," Johnson said. "Putting my name in the record books means a lot."
The Golden Gophers' defense has been tenacious and versatile in three of the team's last four games. Purdue's spread attack, Wisconsin's smash-mouth and Georgia Tech's triple option all put up decent points per game for the season, but Minnesota's defense held all three to 15 points or less.
Fleck has improved Minnesota's win total by two from year one and he extended the team's bowl-win streak to three games. The new challenge for the 38-year old will be to keep his team grounded because the Golden Gophers' recent success will raise expectations. "We got to change our best everyday," Fleck said. "We're going to find a way to get better every single day, academically, athletically, socially and spiritually."
He lured in a solid recruiting class in the early signing period which shows Fleck has Minnesota headed in the right direction. Now that everyone has seen the Golden Gophers' potential, they won't be sneaking up on anyone in 2019. Fleck's boys may very well become the hunted instead of being the hunters.
It will probably be beneficial if Fleck decides on who's going to be his No. 1 signal-caller. Tanner Morgan and Zac Annexstad will be sophomores and both quarterbacks earned valuable experience this season. Morgan is coming off a great bowl game and hopes to build on that performance. Spring ball will be interesting and whenever there's quarterback competition there's also quarterback controversy.
Overall, there's no denying Fleck's success in year two on the job. Winning seven games, finishing unblemished in non-conference play and beating Wisconsin for the first time since 2003 and hoisting the Paul Bunyan's Axe has cemented the foundation he's trying to build with the program.
The Golden Gophers will still be a young squad next year, but they may very well be the surprise team of the Big 10 West. Fleck will make sure his players stay humble and take nothing for granted. "Our team needs to continue to learn," he said. "Success is the challenge champions have and I believe our guys can handle it."
Fleck stated the price tag of his team went up after their bowl win and we'll all get to see how valuable the Golden Gophers will be next year when they go through their meat grinding Big 10 schedule. As for now, Minnesota is sitting on cloud nine and soaking in all that post season glory.