Quick Lane Bowl: In-depth Analysis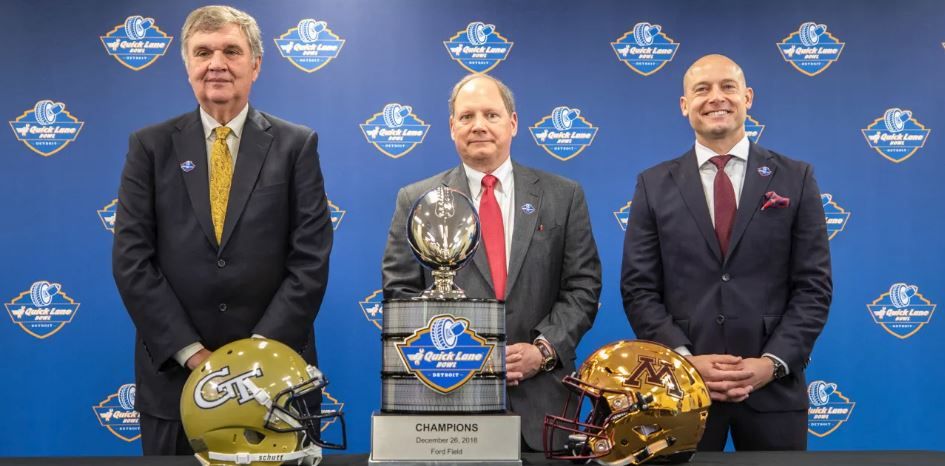 It will be Paul Johnson's final curtain call with Georgia Tech and P.J. Fleck's first bowl game with Minnesota in the Quick Lane Bowl.
Johnson is hanging up his headset after 22 years of patrolling the sidelines, posting a solid career record of 189-98. His triple option attack has always gave defenses headaches and he's still effective with it in today's game. After a 1-3 start, the Yellow Jackets had a strong finish to the 2018 season, winning six of their last eight games.
Minnesota is entering its' bowl game with a ton of momentum after a 22-point road win over rival Wisconsin. It was the Golden Gophers' first victory over the Badgers since 2003 and the team finally got to hoist the Paul Bunyan Axe. Fleck will now try to deliver Minnesota its' first winning season since 2016.
The Golden Gophers are no strangers to the Quick Lane Bowl, winning it against Central Michigan in 2015. It's only Fleck's second season on the job, but he'll try to extend Minnesota's bowl-game win streak to three games with a win over Georgia Tech.
Johnson is one of the dean coaches of the ACC and he'll be stepping down after the Quick Lane Bowl. He'll for sure be a Hall of Fame coach once the time comes. His boys will try to send him off on top. The Yellow Jackets have won their last two bowl games.
Georgia Tech's triple-option attack on offense gives opposing defenses fits, controlling time of possession, forcing opposing defenses to play assignment football and tough to prepare for on a week-to-week basis. However, Minnesota has had nearly a month of preparation and should be ready.
The Golden Gophers will be without two of their star players on both sides of the ball. Senior offensive tackle Donnell Greene decided to skip the bowl game and hired an agent for his NFL Draft preparation. Senior linebacker Blake Cashman led the team in tackles with 104, including 15 for loss and had 2.5 sacks. He earned second team All-Big 10 honors and will also be focusing on the NFL Draft.
The Yellow Jackets has one of the best offenses in the ACC this season, averaging 35.6 points per game and scored 57 total touchdowns. Leading rushers TaQuan Marshall and Tobias Oliver combined for 1,703 yards on the ground and 23 rushing scores. It's no surprise that Georgia Tech is one of the top rushing teams in the nation.
Minnesota had middle of the pack numbers in the Big 10 on both sides of the ball. Fleck mainly played two freshman quarterbacks this season in Zack Annexstad and Tanner Morgan. The two signal-callers combined for 2,546 yards, 16 touchdowns and 13 interceptions. Freshman Mohamed Ibrahim needs 64 yards to become a 1,000-yard rusher and junior wide receiver Tyler Johnson led the team in receptions, receiving yards and receiving touchdowns.
After struggling throughout the season, the Golden Gophers' defense has stepped it up as of late, allowing 16.3 points per game. Junior defensive end Carter Coughlin anchors the defensive line and has 15 tackles for loss and 9.5 sacks. Georgia Tech's defense hasn't been the best unit Johnson's had, but have been effective. Malik Rivera leads the team in tackles with 61 and defensive end Anree Saint-Amour has 11 tackles for loss and four sacks.
Georgia Tech kicker Wesley Wells has yet to miss a field goal and is 3 for 3 40 yards and beyond. The Yellow Jackets lead the ACC in net punting average. Juanyeh Thomas has two kick return touchdowns.
Minnesota kicker Emmit Carpenter made 15 field goals on 20 attempts and the team has returned two kickoffs for touchdowns. Minnesota is one of the most disciplined teams in the Big 10, with only 47 penalties on the season. However, turnovers has been the Golden Gophers' achilles heel.
This game will come down to which team can be dominant in the trenches and who makes the fewest mistakes. The ACC had a solid bowl season last year and is off to a great start after Wake Forest's win over Memphis. Georgia Tech wants to continue that trend. Minnesota is the first team up from the Big 10 to play in the bowl season. The Golden Gophers will look to make a statement for the league, which also had a strong post season in 2017.
This game will be a fun one to watch.