It's time to give Dave Clawson his due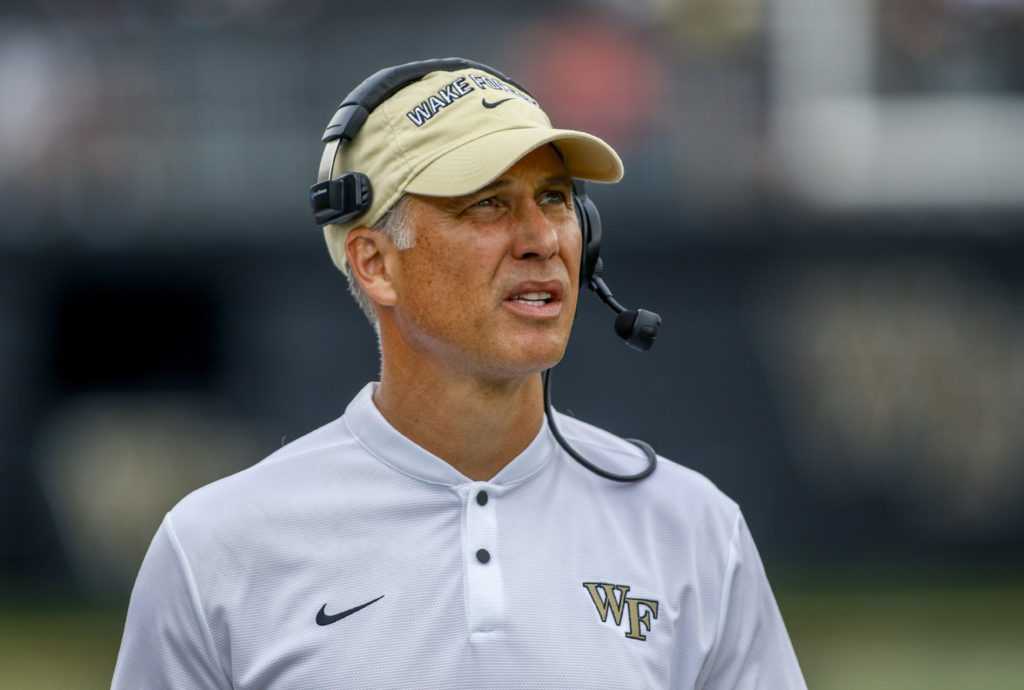 He's one of the best at getting more done with less in a crowded ACC Atlantic Division full of parity.
Clawson has a losing overall record with Wake Forest, but he has led the Demon Deacons to three-straight winning seasons. Wake Forest is currently the only team in the ACC with three-straight bowl victories after its' win over Memphis in the Birmingham Bowl.
The Demon Deacons were inconsistent through the first six games, but got better as the season progressed and closed out the year strong, winning four of their last six games. Clawson's boys are scrappy and always a tough team to put away.
The 51-year old coach has endured success at a school known more for its' academics than the football program. Clawson first two seasons were back-to-back three-win campaigns. However, Wake Forest is enjoying the school's best three-year run since the glory years of the Jim Grobe era with Riley Skinner behind center.
No one predicted Grobe would win a ACC Title and a BCS Bowl berth for Wake Forest 12 years ago. Clawson is carving his way into getting the program to those types of expectations. He has yet to finish with a winning conference record at Wake Forest, but next season the Demon Deacon may have a breakout year.
Wake Forest was, is and always will be an under the radar-type of job. Not saying Clawson has a stepping-stone gig, but don't be surprised if Clawson's name starts to surface in the coaching carousel at bigger schools in the near future. Especially if the Demon Deacons keep posting winning seasons.
It's jaw-dropping when a program posts multiple winning seasons, but rarely sniffs the Top-50 in recruiting. That just shows how much of a remarkable job Clawson has done during his five years in Winston Salem. He has established a winning culture at Wake Forest and the team is no longer an ACC cellar-dweller.
The Demon Deacons never gave up on their season, even after a 3-4 start through their first seven games. Clawson's team was resilient and won their last three games on the road. The Demon Deacon were a bit unpredictable and you never knew what to expect from them.
Wake Forest had one of the best offenses in the ACC this season and scored over 50 points in four different games. Clawson has a good system set in place and there's no reason to think why the unit shouldn't continue their production as long as he's on the sidelines.
It'll be interesting to see if Wake Forest can keep Clawson if bigger opportunities come calling, but for now the program has a solid football coach and he'll keep the wheels rolling.