What will life after Jake Browning and Myles Gaskin be like for Washington?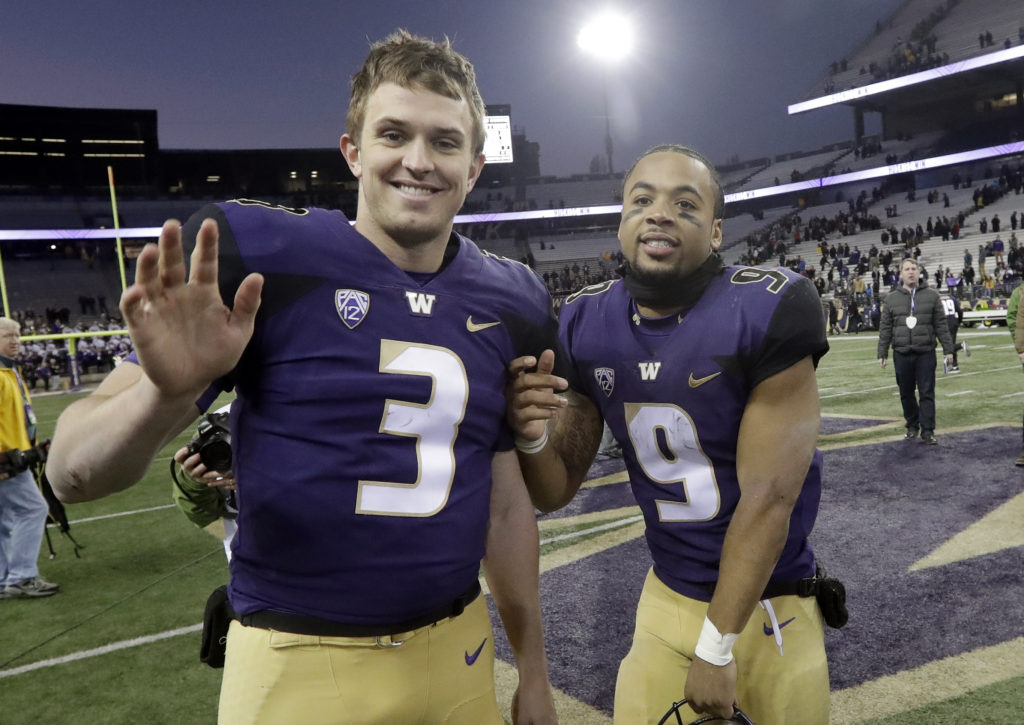 The dynamic duo has enjoyed the program's best four-year run in nearly 30 seasons, led their team to the College Football Playoff in 2016 and will have the opportunity to bring the Huskies their second Pac-12 Title in three years.
Steve Sarkisian didn't leave the cupboard bare, however Washington's 2015 recruiting class that contained both Browning and Gaskin laid down the foundation of what Chris Pederson has built in Seattle. A winning culture at a blue blood program on the west coast that competes annually for championships.
Since their arrival the Huskies' have flown to new heights the program hasn't seen since 2000 and compiled a record of 38-14. Both players have also opened up the school record books during their stay.
Browning has won 38 games as a starter, with a chance to reach 40 and he's the school's all-time leader in both passing yards and touchdown passes. The six-foot-two, 210-pound California native earned Pac-12 Offensive Player of The Year honors in 2016. He is also the winningest quarterback in Pac-12 history.
Gaskin is the hometown kid and the first running back in Pac-12 history to rush for a 1,000 yards or more in four-straight seasons. He's the school's all-time leader in career rushing and total touchdowns and yards on the ground. Gaskin is hard to get a hold of in the open field and reminds people of Darren Sproles with his explosiveness.
The Huskies are fresh off an upset win over the Cougars, which was also their sixth-straight victory in the Apple Cup and propelled the team into the the Pac-12 Championship Game. Washington is better than its' 9-3 record and the three losses this season were by a combined 10 points.
Washington is currently No. 10 in the latest AP Poll and has a chance to clinch a berth in a New Year's Six Bowl for a second-straight year with a win this Friday. The Huskies' offense is only averaging 28 points per game and their passing-attack has been nothing to smile about, which is why the unit depends heavily on the legs of Browning and Gaskin.
It's hard to imagine what the Huskies will be like after their two four-year starters at quarterback and running back are gone. The two have been the face of the program for four-straight seasons. Husky fans need to enjoy the team's last two games with Browning and Gaskin in the backfield.
The duo seems irreplaceable and like the famous Julius Caesar quote; they came, they saw and they conquered the Pac-12 record books. Browning and Gaskin have been a joy to watch and always give every game their all.