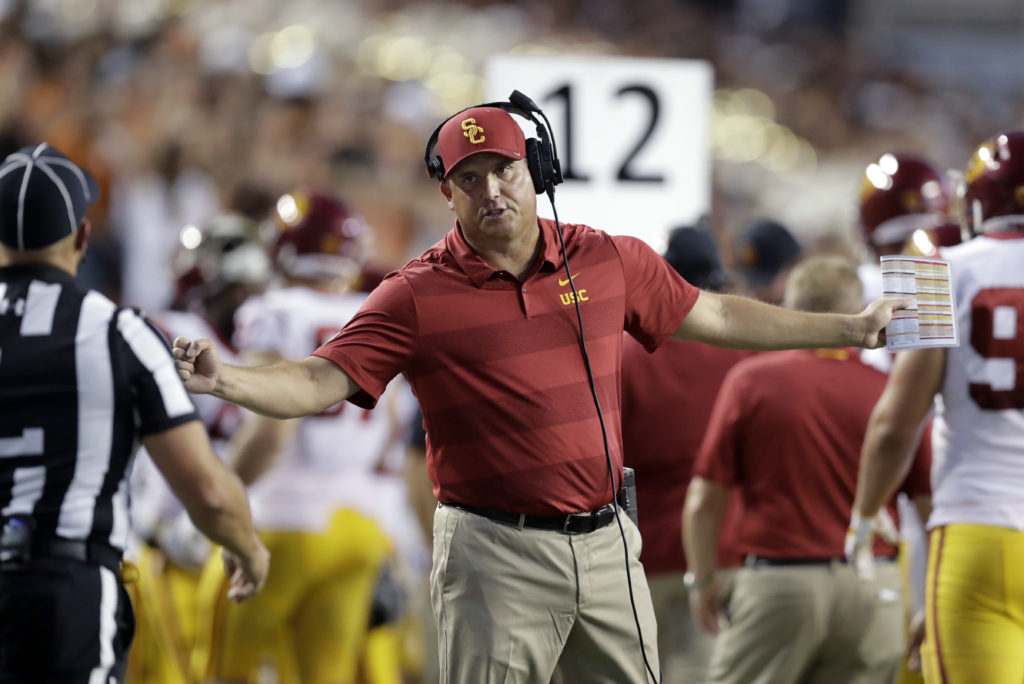 College Football has turned into a what have you done for me lately-type of sport and although the Trojans won a PAC-12 Title last year, the program is having its' worst season since 2000.
Life after Sam Darnold hasn't been pretty for the Trojans and the team has lost three of their last four conference games. Helton seems to have no answers to reverse that trend and the players may have packed it up for the rest of the season.
USC is probably one of the biggest underachieving teams in 2018. The Trojans came into the season at No. 15 in the Preseason AP Poll and were viewed as favorites to win the PAC-12 South, but quickly fell out after week two and won't resurface for the rest of the year. Helton has relied on freshman quarterbacks and USC's offense has been inconsistent at best.
The Trojans' offense is averaging 35 points per game in five wins this season, but a mere 18.8 in the team's five losses. USC been sputtering and currently No. 11 in the PAC-12 in total offense. Offensive Coordinator Tee Martin has been criticized for the team's offensive woes. The Colesium is no longer an intimidating venue and it's evident with USC dropping two-straight home games.
USC has been officially out of the PAC-12 South Division race since game eight. The team needs a win over cross-town rival UCLA this Saturday on the road to secure a 17th consecutive season of finishing with a winning conference record.
Helton has been strolling the sidelines for three-plus seasons, but the program is trending down instead of moving forward. Lack of talent can't be an issue because USC recruits well annually.  The Trojans have been plagued by injuries all season long, but that's still no excuse for the team to be playing tug of war to become bowl-eligible.
USC Athletic Director Lynn Swann will likely emerge from the shadows and that's never a good sign for a head coach. Swann will have a swift decision at the end of the regular season with the early signing period for recruiting looming and UCLA in rebuild mode. Helton may already have a foot out the door as the Trojans' coach. Could a win over the Bruins this weekend and the Fighting Irish in the season-finale save his job?
In hindsight it looks unlikely and the writing seems to be already on the wall for Helton, but It'll be interesting to see what direction USC chooses to go after the Notre Dame game.