Why Ohio State should be cautious of Michigan State's defense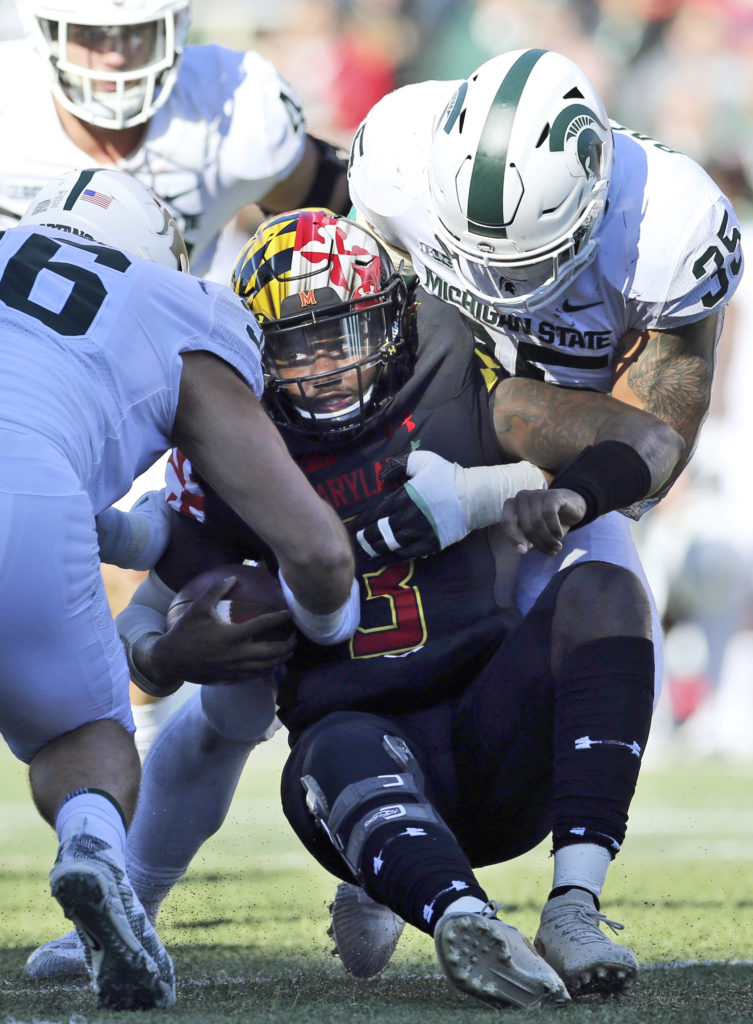 The Buckeyes' offense has been sluggish in their last three games and the Spartans' defense will be the best unit the team will face thus far.
Ohio State hung 48 on Michigan State at the Horseshoe last season so payback has to be on the minds of the players and the coaching staff. The Spartans have been inconsistent through the first half of the season, but is a completely different team right now with momentum and confidence.
Michigan State has won three of its' last four games and been doing it with great defense. Penn State was held to 17 points at home. Purdue's high-flying offense managed a mere 13 points and Maryland scored just a field goal. Michigan State is currently No. 3 in the Big 10 in scoring and total defense. The Spartans have the stingiest defense against the run and allows the least amount of yards per carry.
Ohio State is definitely catching Michigan State at the wrong time. The Buckeyes' offense been trending down lately and could be potentially walking into a hornets' nest when the team visits Spartans Stadium Saturday. The Buckeyes are a different team on the road than when they play at home averaging 48.1 points per game inside the Horsehshoe, but 23.5 in true road games this season.
Michigan State junior Joe Bachie is one of the best middle linebackers in the country and averages nearly eight tackles a game. He's the heart and soul of the defense and will have the boys fired up and will try to make life hell for Dwayne Haskins in the pocket.
However, Ohio State is one of the best passing teams in the Big 10. The secondary is the Spartans' achilles heel and Ohio State should have some success throwing the ball. Still, look for Michigan State to shut down Ohio State's rushing attack and make Haskins use his arm to make plays. Michigan State's defense has 13 interceptions on the season, including one returned for a touchdown.
This game will be low-scored and if it comes down to a field goal, Michigan State has a kicker who only missed one field goal attempt this season. There's is a lot to play for on both sides. The Buckeyes are sitting at No. 10 in the Playoff Rankings hoping to climb back up through their next three games. The Spartans are No. 24 in the AP Poll and with a win Saturday will be second in the Big 10 East Division Standings. So expect an intense game, that may get a little chippy in the fourth quarter