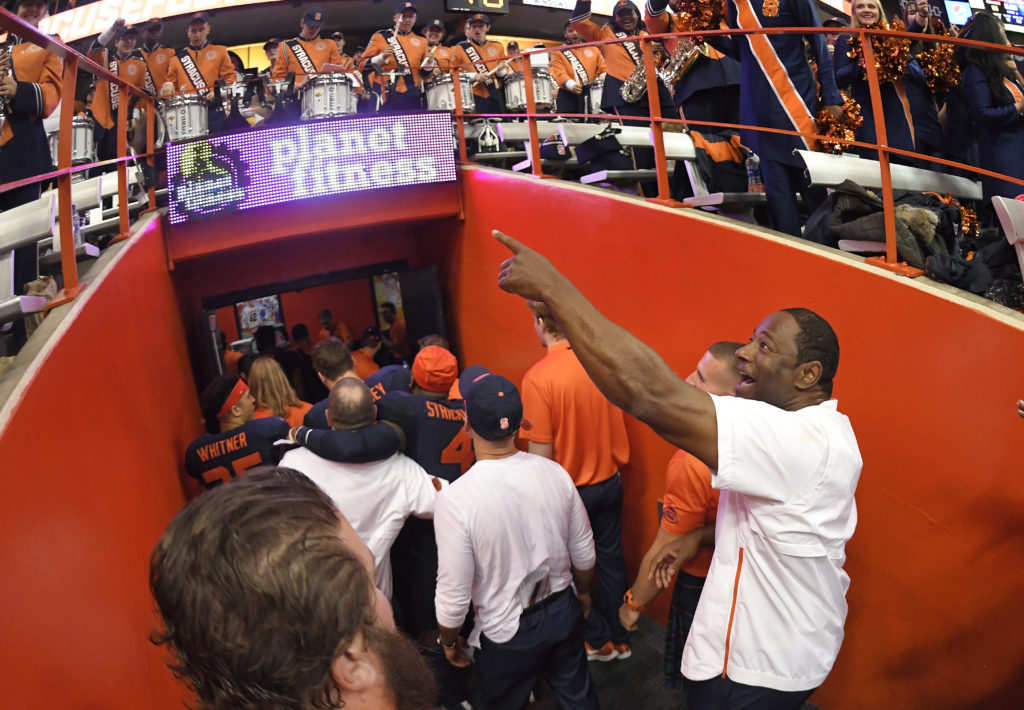 He inherited a program that went 14-23 under his predecessor Scott Shafer, but currently has Syracuse at 7-2 on the season and ranked No. 13 in the latest AP Poll.
After going 4-8 in Babers' first season, the Orange had a program-changing moment after upsetting Clemson last year.  Syracuse carried that momentum into year three and Babers has the program relevant again in football. Syracuse has its' highest ranking since 1998 when Donovan McNabb was behind center. Baber has established a culture of toughness and his players are very competitive.
The aura is back in the Carrier Dome and its evident with the Orange being undefeated at home this season. The Carrier Dome has been a house of pain for visiting teams and Syracuse's offense been scary good at home, averaging 46.8 points per game. Syracuse is also on a three-game conference win streak for the first time since 2001.
Babers' offense excels with lightning-fast tempo and numerous snaps. Senior signal-caller Eric Dungey has been a natural with orchestrating the offense. He's also the only quarterback in the ACC with at least 2,000 yards through the air and over 500 on the ground. Syracuse is also No. 2 in the league in total offense.
The Orange is one of the best passing teams in the conference, but also very effective with the run and No. 3 in the league in rushing touchdowns. It also helps that senior wideout Jamal Custis is a dangerous deep threat and can stretch the field on any defense.
The defense is allowing 28 points per game, however, the the front seven knows how to get after the quarterback and the secondary can force turnovers. The unit is No. 3 in the ACC in sacks and interceptions. The key to the team's success is getting the ball back into the hands of their explosive offense.
A New Year's Six Bowl berth is not out of the question if the Orange can win out. The team has a lot of momentum and it will be Senior Day this Friday against a horrible Louisville squad. The opportunity is there for Syracuse to make some serious noise towards the end of the regular season with Notre Dame and Boston College on the schedule. Both teams are currently ranked in the Top 20.
Babers may have gone 4-8 in his first two seasons, but his team has a chance to get 10 wins for the first time since 2001 and that's not including the bowl game. Although Dabo Swinney will get a lot of recognition for Clemson being undefeated, Babers has done more with less. If Babers isn't recognized as a National Coach of the Year candidate, he'll definitely be considered one for the ACC.