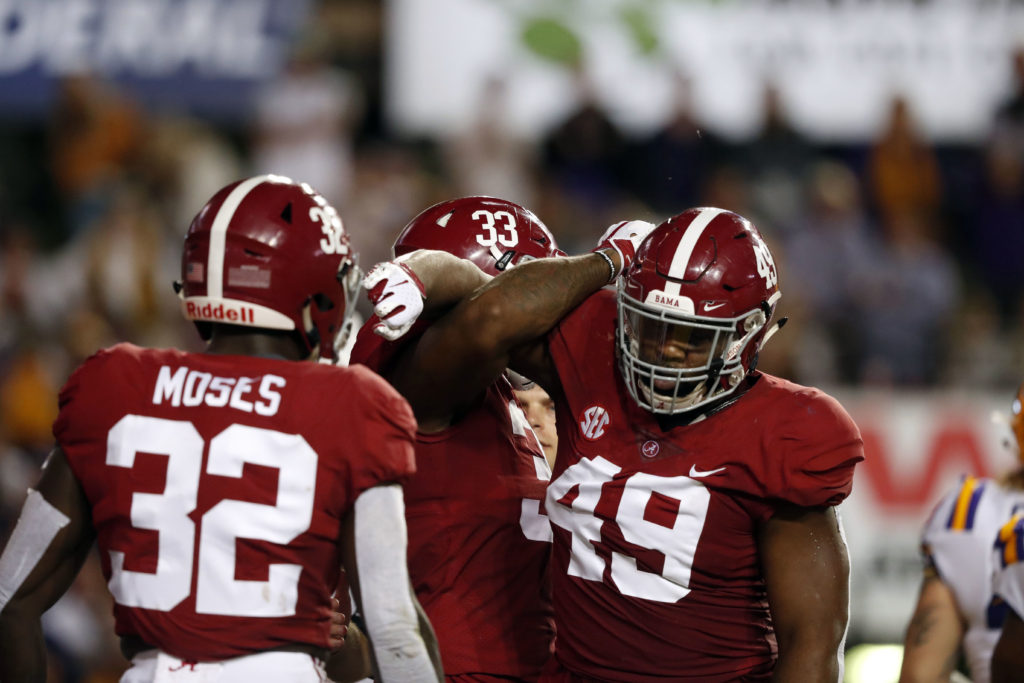 Like the Buckeyes, the Crimson Tide clinched a berth in the College Football Playoff without winning their own conference.
Alabama lost the Iron Bowl and didn't  play in the SEC Title Game, yet edged Big 10 Champs Ohio State in the final rankings to clinch the fourth seed. Although the Committee's final decision stirred up a ton of controversy, there was no way they would've left a one-loss Crimson Tide squad out of the Top-Four. The Committee looked spot-on in hindsight and Alabama went on to win the National Title.
Give Nick Saban 30 days to prepare for a game and the Crimson Tide could potentially demolish any opponent in their way. Everyone expects Alabama to win out after last week's dominant performance at LSU. Georgia got blown out at Death Valley, but Alabama's last two wins in Tiger Stadium were shutouts.
Saban's boys currently look untouchable. Tua Tagovailoa will be a Heisman finalist, Jerry Jeudy may win the Biletnikoff and the defense is tenacious as always. It's no surprise that two unblemished Power 5 teams and an undefeated Notre Dame round out the Top-Three of the second release of the rankings. Several one-loss teams are on the outside looking in just waiting for one of the Top-Three to fall.
Those teams should be careful what they ask for because an Alabama loss in the next three weeks would shake the College Football World to the core.  It's highly likely that the Crimson Tide wouldn't even fall out of the Top-Four after a loss. The Committee seems to be favoring head-to-head match-ups this time around and Alabama has passed the eye test.
Saban has established a dynasty and the team is showing no signs of slowing down. You're dreaming if you think all the success Alabama endured over the past 10 years has nothing to do with the perception of the program in the Committee's eyes. The Crimson Tide gets the benefit of the doubt because their recruiting has been superb, several players been drafted and five National Titles been won.
With that in mind, Alabama can do everyone a favor by staying undefeated, because a loss exposes all the clout the program has in the sport. The one-loss teams may have a better chance at getting in the Playoff discussion if Clemson or Notre Dame was to lose. That's when strength of schedule and non-conference play will hold a ton of weight. Until then, expect for the Tide to roll and stay atop the Playoff rankings.